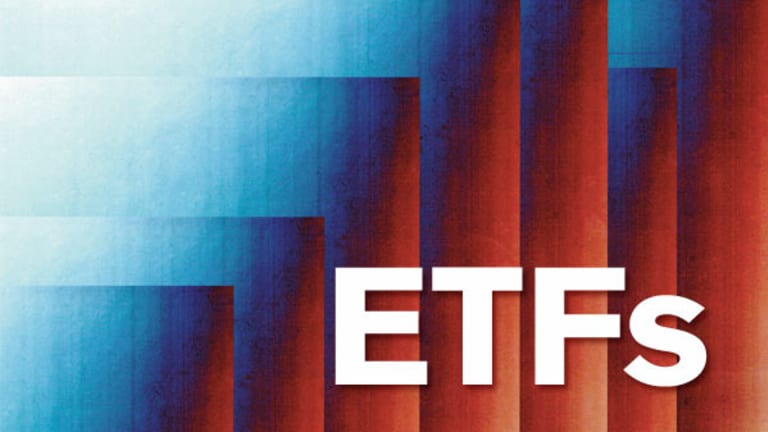 ETFs Are Not a Strategy
Time to think correctly about ETFs: Learn about the sector, then decide on the best ETF.
NEW YORK (TheStreet) -- Last week at the annual Inside ETFs Conference which is put on every year by ETF.com there was a crucial point of understanding about the use of exchanged trade products. Michael Sapir, CEO of ProShares, was reported by Barron's as saying "The mistake is in viewing an ETF as an investing strategy, it's paramount that you understand the strategy."
The context for the quote was so called smart beta ETFs which typically screen broad based indexes like the S&P 500 for a valuation measure or volatility or simply weighting the components by some metric other than market cap.
The reality is that the Sapir quote pertains to all exchange traded products that track some sort of index but there is more to his point.
As Sapir says ETFs are not strategies to which I would add that indexed ETFs simply provide one form of proxy for exposure that can be implemented to execute a strategy. There are other forms of proxies including closed end funds and traditional mutual funds.
Often an executive from an ETF provider will be interviewed and asked their opinion about the fundamental prospects for some specialized niche for which they offer a fund. When a fund provider offers a fund it is doing so in the belief that there is a demand for that fund now and that the perceived demand will persist. That should not be interpreted as an opinion on the investment fundamentals of that niche. ETF providers are simply providing access.
A resourceful ETF provider will be able to provide information that educates would be investors about funds it offers but the proper sequence of events is that the investor learns about a segment of the market and then if the investor then decides they want to invest in that segment they would explore the attributes of various funds or proxies for the segment they are interested in.
Where an investor is interested in German equities for example, there are six funds to consider in this space with the largest by far being the iShares MSCI Germany ETF (EWG) - Get iShares MSCI Germany ETF Report which provides large cap, market cap weighted exposure and has $6 billion in assets.
EWG exposes investors to Germany and also the euro currency. An investor might want exposure to Germany but not the euro so could consider the db X-trackers MSCI Germany Hedged Equity Fund (DBGR) - Get Xtrackers MSCI Germany Hedged Equity ETF Report or the WisdomTree Germany Hedged Equity Fund (DXGE) - Get WisdomTree Germany Hedged Equity Fund Report. DBGR tracks the same index as EWG but hedged out the currency and DXGE tracks a dividend oriented index while also hedging out the currency.
The First Trust Germany AlphaDEX Fund (FGM) - Get First Trust Germany AlphaDEX Fund Report tracks an enhanced index, a term very similar to smart beta and there are also a two ETF that provide small cap exposure to Germany including one from iShares.
It would be unnecessary for iShares to try to steer investors into one exposure or the other as opposed to saying it offers two exposures to Germany for investors to choose from based on analysis they themselves have done.
Where ETFs do become the strategy is when an active mutual fund manager gets into the ETF business with biggest example being PIMCO although there will be more of this soon. PIMCO currently offers 23 ETFs, nine of which are actively managed funds. Last week the Wall Street Journal reported that PIMCO will be rolling out 19 new funds, all of which will be actively managed.
A buyer of the PIMCO Total Return ETF (BOND) - Get PIMCO Active Bond ETF Report or the soon to be listed PIMCO Unconstrained Bond ETF is buying a strategy that they expect to justify the expense by virtue of superior nominal returns or risk adjusted returns.
The vast majority of ETFs track an index and Sapir is right about those but the soon to come increase of actively managed funds will change the dynamic of the ETF market place just as ETFs changed the investment industry.
At the time of publication the author held no positions in any of the stocks mentioned.
This article represents the opinion of a contributor and not necessarily that of TheStreet or its editorial staff.