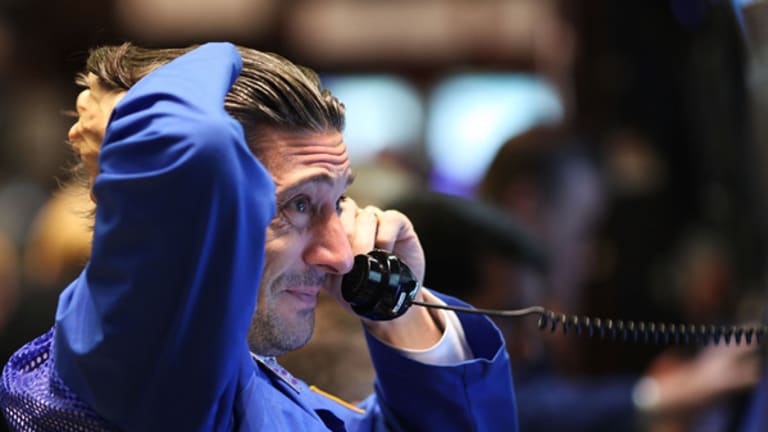 Publish date:
ETF Regulation Battle Bad for Investors
Commodities ETFs continue to steel themselves against an approaching army of regulators. See what Don Dion has to say in the video above.
Commodities ETFs continue to steel themselves against an approaching army of regulators. See what Don Dion has to say in the video above.
NEW YORK (TheStreet) -- Commodities ETFs continue to steel themselves against an approachingarmy of regulators.
iShares S&P GSCI Commodity Indexed Trust
(GSG) - Get Report
has followed the example of
United States Natural Gas
(UNG) - Get Report
and halted share-creation. As issuers andregulators prepare to clash, it is a third party, the individualinvestor, who stands to lose the most.
ETFs have offered unprecedented access to the commodities marketsthrough the use of derivatives such as futures contracts and swaps.Where once only institutions could invest, individuals have gainedaccess to "pure" commodities vehicles.
Top Commodity Play
var config = new Array(); config<BRACKET>"videoId"</BRACKET> = 35377913001; config<BRACKET>"playerTag"</BRACKET> = "TSCM Embedded Video Player"; config<BRACKET>"autoStart"</BRACKET> = false; config<BRACKET>"preloadBackColor"</BRACKET> = "#FFFFFF"; config<BRACKET>"useOverlayMenu"</BRACKET> = "false"; config<BRACKET>"width"</BRACKET> = 265; config<BRACKET>"height"</BRACKET> = 255; config<BRACKET>"playerId"</BRACKET> = 1243645856; createExperience(config, 8);
Investors rushed in, andfunds like
United States Oil
(USO) - Get Report
and UNG became bloated with assets.
Regulators such as the Commodities Futures Trading Commissionbelieve that these futures-based commodity ETFs have become too big fortheir britches and are looking to curb the funds with position limits.
The
PowerShares DB Commodity Index Tracking Fund
(DBC) - Get Report
and the
PowerShares DB Agriculture Fund
(DBA) - Get Report
have already been subject to changingregulation. On Aug. 20, the CFTC repealed an exemption that previouslyexempted these funds from position limits.
By limiting the number of futures contracts that a fund like UNG canown,
essentially give these fund issuers two choices.
The first and increasingly most popular option is to halt creation.If a fund can't buy more futures and grow, it can simply stop issuingnew shares. Creation of UNG was halted by force in July and extended bychoice in August. UNG's managers simply decided
not to risk running in the path of aregulatory freight train.
GSG, the most recent fund to follow inUNG's footsteps, joins the
iPath Dow-Jones-AIG Natural GasETN
(GAZ) - Get Report
and the
PowerShares DB Crude Oil Double Long ETN
(DXO)
in haltingshare-creation.
The second choice, most likely to be used in conjunction with the first,is for ETF managers to come up with another strategy. Funds like UNG andGSG use futures contracts to achieve their investment objectives. Ifthey can't use futures, they can find something else.
is already combining the first choice with the second and isselling futures contracts and buying swaps. These swaps are notregulated in the same way as futures contracts. Other products like GSGwill likely be forced to follow suit if position limits on futures areput in place.
Neither one of these options, halted creation or on-the-flyrestructuring, is good for investors. Creation plays a defining role inthe ETF process. It is through the creation and redemption processesthat ETFs actually track their underlying indices. A disruption ineither one of these steps will cause a disconnect between the price ofthe fund and what it is worth.
Investors will suffer by paying huge premiums to buy shares of fundslike UNG and GSG.
The implicit promise made to each ETF investor by the ETF industryis that the shares of a fund will track an underlying index. Haltingcreation means breaking this promise.
The consequences of on-the-fly restructuring could be even greater.Other derivatives markets make commodities futures look tame, andalternative strategies like swaps could put individual investors at evengreater risk.
If regulators
are truly worried about investors getting hurt byderivatives, they should consider the alternatives that these funds willuse to achieve their objectives.
GSG may be the latest fund toprotect itself from regulation, but it won't be the last. ETF issuershave been alerted by regulators that the rules could be changedmid-game. When the music stops, it is investors who will be leftstanding.
-- Written by Don Dion in Williamstown, Mass.
Don Dion is president and founder of
, a fee-based investment advisory firm to affluent individuals, families and nonprofit organizations, where he is responsible for setting investment policy, creating custom portfolios and overseeing the performance of client accounts. Founded in 1996 and based in Williamstown, Mass., Dion Money Management manages assets for clients in 49 states and 11 countries. Dion is a licensed attorney in Massachusetts and Maine and has more than 25 years' experience working in the financial markets, having founded and run two publicly traded companies before establishing Dion Money Management.
Dion also is publisher of the Fidelity Independent Adviser family of newsletters, which provides to a broad range of investors his commentary on the financial markets, with a specific emphasis on mutual funds and exchange-traded funds. With more than 100,000 subscribers in the U.S. and 29 other countries, Fidelity Independent Adviser publishes six monthly newsletters and three weekly newsletters. Its flagship publication, Fidelity Independent Adviser, has been published monthly for 11 years and reaches 40,000 subscribers.