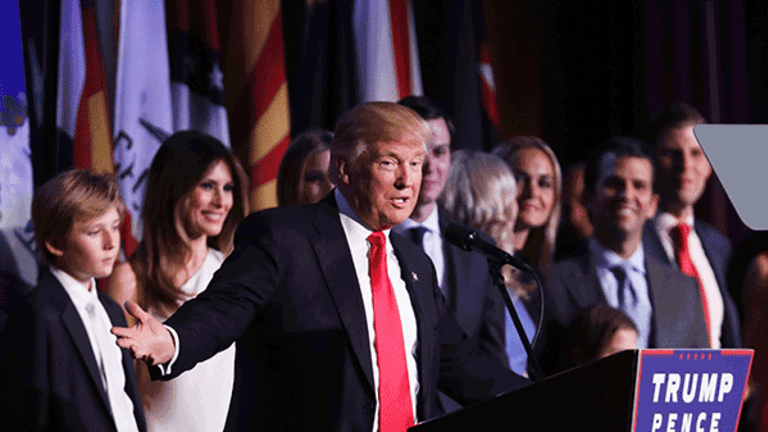 Publish date:
ETF Outlook: Winners and Losers In a Trump Presidency
Donald Trump rocked the world in claiming the U.S. presidency on November 8. Now, for ETF investors, it's choosing time again.
Donald Trump rocked the world in claiming the U.S. presidency on November 8. Now, for ETF investors, it's choosing time again.
Wall Street is agog over post-election stock prices this week, with the U.S. stock market cresting record highs through early Monday trading this week.
Many analysts had expected a major market reversal on the election results, and U.S. stock futures did fall by some 800 points immediately after Donald Trump won the 270 electoral votes needed to gain the White House. But the Dow finished up more than 200 points the following day, and the Trump rally has been robust since.
"Wall Street welcomed the surprise victory of Republican Donald Trump and the outcome was not bad as expected," said Zacks Research, in a research note late last week. "This is especially true as the major indices logged in more than 1% gains following the results, reflecting a dramatic reversal from the knee-jerk panic seen in global markets overnight when Trump showed a stunning advance in votes."
For sure, in the exchange-traded fund market, the Trump presidency is already separating the winners and the losers.
In the winner's circle sit health care funds, states Zacks. The firm especially likes biotechnology and pharmaceutical sectors, which have "emerged as the clear winners as Trump moving to White House has erased concerns over the limit to drug pricing, which was the highlight of Hillary Clinton's campaign." On an individual fund basis, Zacks touts ALPS Medical Breakthroughs ETF (SBIO) - Get ALPS Medical Breakthroughs ETF Report and Eleven Bio (EBIO) , which are already up significantly in the week following the election. 
On the downside, Zacks points to ETFs linked to the Mexican economy as the "hardest hit" from a Trump victory, citing a sinking peso and declining stock prices going forward. "That's because Trump threatened to renegotiate or terminate the North American Free Trade Agreement that would hamper the trade relationship between Mexico and the U.S., and hurt the country's exports," Zacks states. "In addition, Trump seeks to build a wall along the U.S. southern border to keep Mexican immigrants away. This would directly restrain Mexico's balance of payments." Zacks cites iShares MSCI Mexico Capped ETF (EWW) - Get iShares MSCI Mexico ETF Report , as a primary potential victim of a Trump presidency.
Other winners and losers in ETFs are mounting up, too.
Take the finance sector, which should benefit from President-elect Trump's massive national infrastructure plan.
"It is believed that one of Trump's first actions will be to issue a $500 billion, 30-year note at a rate significantly above current market rates," says Gabriel Pincus, president and portfolio Manager of GA Pincus." He will use that money to finance his planned infrastructure spending."
Pincus notes the financial sector has performed well since last Tuesday's election and will likely continue to perform well as rates are increased back to historic averages. "I believe we can expect to see the Federal Funds rate increase to approximately 4% to 5% during his tenure as president," he says. "This will specifically benefit the financial sector ETFs including the SPDR Industrial ETF (XLF) - Get Financial Select Sector SPDR Fund Report , which should also benefit due to this projected increase in spending."
But technology stocks may well see a pullback in prices under a Trump presidency, as Trump doesn't agree with the management style of many of the large technology companies in the U.S., Pincus states. "Internet stocks will underperform during Trump's presidency," he adds. "The FANG stocks (Facebook (FB) - Get Facebook, Inc. Class A Report , Amazon (AMZN) - Get Amazon.com, Inc. Report , Netflix (NFLX) - Get Netflix, Inc. (NFLX) Report , and Alphabet's Google (GOOGL) - Get Alphabet Inc. Class A Report ) may be the hardest hit, but the broader group of internet stocks will likely fall as well." Pincus points to The First Trust Dow Jones Internet Index Fund (FDN) - Get First Trust Dow Jones Internet Index Fund Report , "which will likely under-perform due to its heavy weighting in companies whose CEOs and management styles are not aligned with Trump and his goals," he says.
On the commodities side, gold ETFs should yield a bumper crop for investors, offers John Sedunov, assistant professor of finance at the Villanova School of Business. "Gold ETF's could increase in value as the incoming administration transitions to power, Sedunov says. "Gold is a hedge against uncertainty and potential currency fluctuations. Currency fluctuations may increase especially as trade deals like NAFTA and TPP will come under the magnifying glass. "
Energy funds cold prosper, too, in a Trump administration.
"Energy ETF's may thrive under the Trump Administration," he adds. "Trump has pledged to remove barriers to the Keystone Pipeline and to invest in energy infrastructure. This plan would be a boon for the industry and could spur further growth. Moreover, Trump seems to oppose climate change legislation, which may also remove some regulatory barriers for these companies."
As far as uncertainty and potential pitfalls go, Sedonov says any fund loaded with U.S. companies that are big on exports could face problems. "The impact of the Trump administration on industrials is uncertain," he states. "Trump's view on trade is clearly protectionist, which may lead to difficulties for American companies to export goods for sale, or to import raw materials and components."
"While these policies may lead to an increase in jobs at home, it could have the effect of increasing the cost of labor or materials while also restricting the markets in which American products can be sold," Sedunov explains. "In turn, these effects may erode the profitability of industrial or manufacturing firms."
Then there are real estate funds, which operate right in President-elect Trump's wheelhouse, and are a good bet to do well over the next four years, notes Gil Luria, managing director, equities research at Wedbush Securities. "Specifically, home construction companies could benefit from favorable regulations on real estate development by a president that made his fortune in real estate," he states.
On the flip side, clean energy companies "are less likely to see favorable legislation and the types of subsidies they have been accustomed to," Luria states.
For ETF investors, President-elect Trump really is a change agent. Whether that change is positive or negative depends on which industry you favor.
The smart money, though, should go to the sectors Trump and his White House team favors.