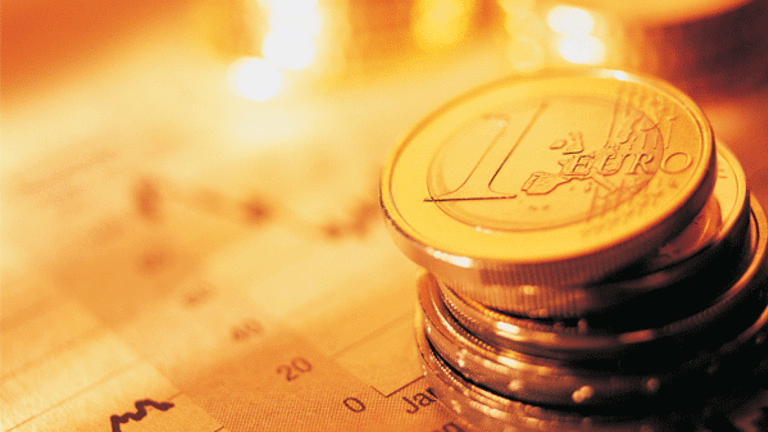 Publish date:
ETF Investors Bet on the Dollar
Despite the decline in U.S. dollar, a surprising number of investors have been using ETFs to make bullish bets on the dollar this year.
Despite the decline in U.S. dollar, a surprising number of investors have been using ETFs to make bullish bets on the dollar this year.
NEW YORK (
) - The dollar has slid rapidly in recent months, but don't tell that to
in the
PowerShares DB US Dollar Bullish ETF
(UUP) - Get Report
While a weakening U.S. dollar has helped to usher many investors into
, like bullion-backed
SPDR Gold Shares
(GLD) - Get Report
and inflation-protection ETFs like
iShares TIPs
(TIP) - Get Report
, a
surprising number of investors
are using ETFs to make bullish bets on the buck.
In November, $700 million in assets flowed into UUP, a fund whose size and trading volume far outstrip that of its peer --
PowerShares DB US Dollar Bearish ETF
(UDN) - Get Report
.
Both UDN and UUP offer leveraged exposure for investors looking to bet on the value of the dollar. UDN tracks the Deutsche Bank Short US Dollar Index, which is made up of short USDX futures contracts, while UUP tracks the Deutsche Bank Long US Dollar Index, made up of long USDX futures contracts.
Through its derivative-based structure, UUP gives investors exposure to the performance of being long the US Dollar against the following currencies: euro, Japanese yen, British pound, Canadian dollar, Swedish krona and Swiss franc. UDN offers opposite exposure.
You would think that a continuing decline in the dollar, which began its slide in 2000, would urge investors to load up on the bearish UDN and shun the bullish UUP. The opposite, however, has occurred.
Despite a declining dollar in 2009, investors have utilized the bullish dollar bet far more than the bearish dollar bet. Year to date, net assets in UUP have grown by $1.1 billion, while net assets in UDN have only increased by $185 million. UUP currently has total assets of $1.7 billion and a three-month average daily trading volume of 4 million shares. UDN has total assets of $382 million and an average daily trading volume of 430 million shares.
There are a variety of reasons why both sophisticated investors and institutions use ETFs, particularly funds that offer leveraged exposure, as part of a larger investment strategy. A fund like UUP, for example, could be used to hedge a portfolio that is heavy in gold and emerging market equities. Likewise, UDN could be used to hedge a portfolio that is heavily invested in U.S. securities.
The
Federal Reserve
continues to reassure the American public that rates will be low for the foreseeable future, and economic data continues to make a compelling argument for being bearish on
in the short term.
Still, the rapid influx of assets into UUP is hard to ignore. The
of investor interest in this bullish ETF actually brought the fund to a breaking point in November. In an incident reminiscent of problems with the
United States Natural Gas ETF
(UNG) - Get Report
last summer, the demand for UUP shares
of pre-approved shares on Nov. 5. ) As share creation ground to a halt, UUP began trading at a premium.
While UUP has since resumed trading normally, the disruption in November is a good reminder of the fact that derivative-based ETFs are complex trading instruments that are designed for
sophisticated investors
.
Many commodity and leveraged ETFs use derivatives like futures and swaps to achieve their objectives, and investors should take the time to understand these funds before selecting one.
The direction of the dollar is difficult to predict, especially in a market place so heavily influenced by government intervention, relative fund flows into UDN and UUP may hold significance for the market as a whole. Whether you're a dollar bull or dollar bear, UDN and UUP are certainly funds
.
-- Written by Don Dion in Williamstown, Mass.
At the time of publication, Dion Money Management and ETF Action Newsletter own PowerShares DB US Dollar Bearish ETF.
Don Dion is president and founder of
, a fee-based investment advisory firm to affluent individuals, families and nonprofit organizations, where he is responsible for setting investment policy, creating custom portfolios and overseeing the performance of client accounts. Founded in 1996 and based in Williamstown, Mass., Dion Money Management manages assets for clients in 49 states and 11 countries. Dion is a licensed attorney in Massachusetts and Maine and has more than 25 years' experience working in the financial markets, having founded and run two publicly traded companies before establishing Dion Money Management.
Dion also is publisher of the Fidelity Independent Adviser family of newsletters, which provides to a broad range of investors his commentary on the financial markets, with a specific emphasis on mutual funds and exchange-traded funds. With more than 100,000 subscribers in the U.S. and 29 other countries, Fidelity Independent Adviser publishes six monthly newsletters and three weekly newsletters. Its flagship publication, Fidelity Independent Adviser, has been published monthly for 11 years and reaches 40,000 subscribers.