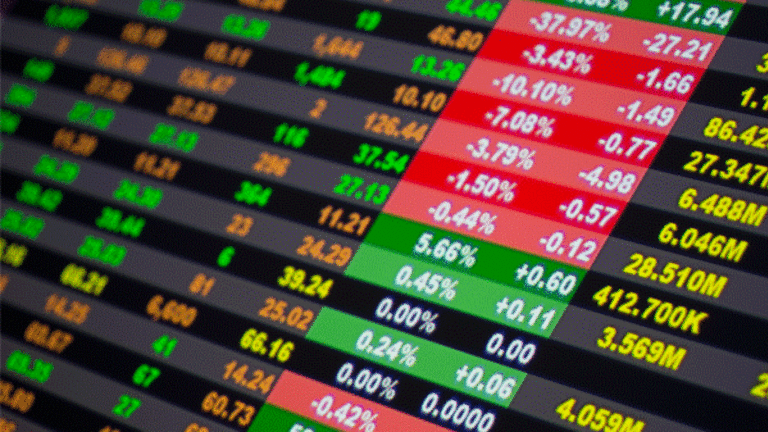 ETF Deathwatch
Investors should avoid ETFs with limited assets and negligible trading volume.
NEW YORK (TheStreet) - Dozens of new ETFs have appeared lately, but not all of them will survive, says Ron Rowland, president of Capital Cities Asset Management, a financial advisor in Austin, Texas. Funds that fail to attract sizable assets are unprofitable to operate, and they could be shut down.
To alert investors about unprofitable funds, Rowland publishes a list that he calls "ETF Deathwatch," which appears on
investwithanedge.com
. The list includes funds that have had less than $5 million in assets for the past three months or average daily trading volume of less than $100,000.
This month the list features 143 funds, including
iShares MSCI Emerging Markets Materials
(EMMT)
, which has $9.9 million in assets;
PowerShares Dynamic Financials
(PFI) - Get Invesco DWA Financial Momentum ETF Report
, with $19 million; and ProShares
UltraShort Healthcare
(RXD) - Get ProShares UltraShort Health Care Report
, with $4.4 million.
Rowland says that investors should avoid funds with limited assets and negligible trading volume. When a fund shuts down, shareholders will be forced to spend time and money to find a replacement. Sometimes shareholders who stick around to the end can be stuck covering the costs of liquidation, which can total more than 3% of assets.
Even when they survive, small funds can be poor choices because of high trading costs. Consider
ELEMENTS CS Global Warming
(GWO)
, an exchange-traded note (ETN) which has $3.5 million in assets.
To calculate total trading costs, you should include brokerage commissions and the bid-ask spread, the difference between what buyers want to pay and sellers will accept. The bid of ELEMENTS was recently $7.10, while the ask was $7.88. To make a purchase, a trader would have to pay the higher price. To sell, investors may have to accept the lower price. So trading the ETN is not cheap. Total transaction costs could cost a buyer more than 11%.
To hold down trading costs, Rowland buys only funds among the 20% with the greatest trading volumes. These funds trade shares worth millions of dollars a day, and the bid-ask spreads are tiny.
When he wanted to buy a mid-cap blend fund recently, Rowland started by screening through the 15 available choices. He eliminated two-thirds because their trading volumes were too low. A finalist on his list was
iShares Russell MidCap Index
(IWR) - Get iShares Russell Midcap ETF Report
, which has $6.2 billion in assets and a minuscule bid-ask spread of 0.03%. But he elected to buy
iShares S&P Midcap 400
(IJH) - Get iShares Core S&P Mid-Cap ETF Report
, which has $9.5 billion in assets and a bid-ask spread of 0.02%.
Rowland says that some of the most likely candidates for liquidation are actively managed ETFs, which aim to outdo benchmarks. So far active funds have not gained large followings because ETF investors mainly prefer index funds.
Active funds on the Deathwatch include
Grail RO Growth ETF
(RPX)
and
PowerShares Active Alpha Multi-Cap
(PQZ)
. All five of the active Grail funds are on the list, and the company has announced that it is putting itself up for sale. "Eventually people will leave active mutual funds and switch to active ETFs, but that will take some time to happen," Rowland says.
The number of names on the Deathwatch is likely to increase because money managers are planning to introduce hundreds of new funds. Big companies that have registered ETFs include
Goldman Sachs
(GS) - Get Goldman Sachs Group, Inc. Report
, John Hancock and
T. Rowe Price
(TROW) - Get T. Rowe Price Group Report
. "Major mutual fund companies are hurrying to bring out new issues because they are afraid that ETFs are stealing market share," says Matt Hougan, global head of editorial of
indexuniverse.com
.
Many of the new crop of ETFs target narrow niches, such as steel or smartphones. Not many of such narrow funds have succeeded in recent years. A noteworthy liquidation occurred when XShares Group closed all 19 of its specialized healthcare funds. The funds focused on fields such as cardiology. Most investors were not impressed and continued buying funds that track broad benchmarks.
Stan Luxenberg is a freelance writer specializing in mutual funds and investing. He was executive editor of Individual Investor magazine.