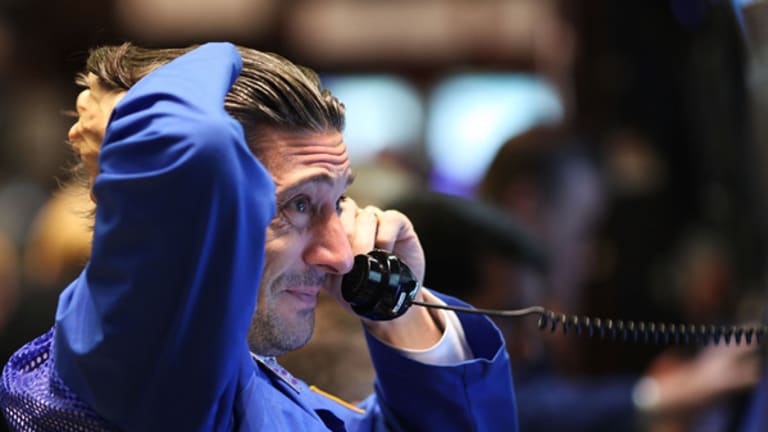 Energy ETFs: Waiting for a Rally
The energy ETFs are looking for a boost from the earnings of several oil companies reporting this week.
NEW YORK (TheStreet) -- Energy ETFs such as Energy Select Sector SPDR (XLE) - Get Energy Select Sector SPDR Fund Report and WisdomTree International Energy (DKA) offer low valuations and solid yields after trailing the broader market for most of the past 18 months.
The story of energy underperformance is perhaps best exemplified by the performance of
Exxon Mobil
(XOM) - Get Exxon Mobil Corporation Report
.
In early July, shares of the oil giant fell below their 2009 lows, hurt by the stock market selloff and a sharp drop in oil prices in the preceding weeks. While other oil firms slid during this period, XOM underperformed other majors such as
Chevron
(CVX) - Get Chevron Corporation Report
and
ConocoPhillips
(COP) - Get ConocoPhillips Report
. Even some of the companies involved in the BP disaster, most notably
Anadarko Petroleum
(APC) - Get Anadarko Petroleum Corporation Report
, did not fall below their 2009 lows.
Earnings estimates for the current quarter have been trending up for Exxon, but the full year and next year estimates have been declining. CVX and COP have also seen a decline in estimates for next year's earnings, though their shares have performed much better.
Investors appear to be pricing in a very negative outlook for these companies, with lower energy prices and very slow global economic growth, but oil prices are close to $80 a barrel and natural gas prices have rebounded from their lows, while growth in emerging markets remains robust and is offsetting the slow recovery in developed markets.
Video: Energy ETFs Are Still Cheap >>
The BP disaster has helped overshadow the positive news over the past two months. Negative news from the Gulf and the deepwater drilling ban has weighed on shares in this sector. Meanwhile, positive economic data from Asia has gotten little attention.
China continues to grow at near 10%, with the pessimistic forecasts from the country calling for 9.5% growth. Although China disputed recent analysis that declared it the world's largest energy consumer; but at these growth rates, it won't be long before China takes the crown.
India has had a very quiet economic recovery. The country raised interest rates again yesterday as growth remains strong and inflation is above 10%. With almost 2.5 billion people in these two countries, global energy demand can only increase in the long-run.
In terms of valuation, XOM, COP and CVX trade for roughly 10 times this year's earnings, while yielding between 3 and 4%. They're even cheaper using next year's anticipated earnings, which I think are too low.
The ETFs that offer the most exposure to these domestic players are XLE and
iShares Dow Jones U.S. Energy
(IYE) - Get iShares U.S. Energy ETF Report
.
Exxon is the largest holding in these energy ETFs by a large margin, which has contributed to the general underperformance of these funds relative to the broader market.
XLE is the more balanced of the two, but it still holds 18.4% in XOM, 13.5% in CVX and 5.3% in COP, for a combined 37.2%. Other familiar energy names round out the portfolio, but the allocations quickly drop to 2.6% by number 10 holding APC and down to less than 0.5% for the smallest holdings in this fund.
IYE is even more concentrated, despite having more than twice as many holdings at 88. XOM, CVX and COP make up 43.5% of IYE and allocations similarly slide rapidly by the time on reaches the number 10 holding, also APC, with 2.3% of assets.
Much of the rest of the portfolio includes companies with small or no dividends at all, so XLE and IYE sport yields of 1.9% and 1.6%, respectively. In addition to having half as many holdings, XLE also has half the expenses, at 0.21% versus 0.47%.
For a larger yield, investors can use WisdomTree International Energy. The fund yields 3%, and its fees and holdings are midway between XLE and IYE, at 0.58% and 61.
DKA is also a little more balanced, with
Total
its single largest holding, at 8.3% of assets. However, it does hold two classes of
Royal Dutch Shell
(RDS-A)
and
undefined
, which combine for 12.8% of assets.
Country exposure is led by the U.K. and Australia, at 20.8% and 18.2% of assets. France, Norway and Italy each account for 10-12% of assets. Spain, China, Japan, Netherlands, Austria and Portugal make up the bulk of the remaining exposure.
Over the past year,
SPDR S&P 500
(SPY) - Get SPDR S&P 500 ETF Trust Report
gained 16%, while XLE, IYE and DKA returned 7.9%, 3.4% and negative 2.0%.
Major oil companies including XOM, CVX, COP and TOT start to report earnings this week. Short-term investors looking for a trade may want to wait to see if those earnings prove to be a catalyst, but long-term investors can add shares and get paid while they wait for the sector to rally.
-- Written by Don Dion in Williamstown, Mass.
Readers Also Like:
>>ETFs in the Fastest-Growing Economy (Not China)
At the time of publication, Dion Money Management did not own any of the equities mentioned.
Don Dion is president and founder of
, a fee-based investment advisory firm to affluent individuals, families and nonprofit organizations, where he is responsible for setting investment policy, creating custom portfolios and overseeing the performance of client accounts. Founded in 1996 and based in Williamstown, Mass., Dion Money Management manages assets for clients in 49 states and 11 countries. Dion is a licensed attorney in Massachusetts and Maine and has more than 25 years' experience working in the financial markets, having founded and run two publicly traded companies before establishing Dion Money Management.
Dion also is publisher of the Fidelity Independent Adviser family of newsletters, which provides to a broad range of investors his commentary on the financial markets, with a specific emphasis on mutual funds and exchange-traded funds. With more than 100,000 subscribers in the U.S. and 29 other countries, Fidelity Independent Adviser publishes six monthly newsletters and three weekly newsletters. Its flagship publication, Fidelity Independent Adviser, has been published monthly for 11 years and reaches 40,000 subscribers.