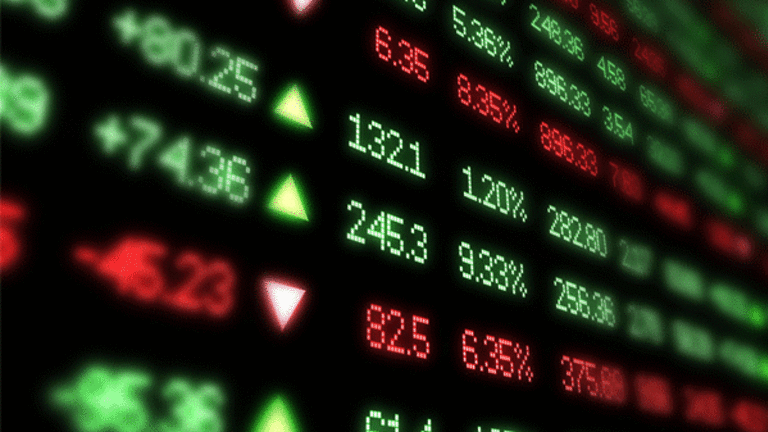 Emerging-Market ETFs Still Have Steam
Gain exposure to these developing nations, rich in natural resources and commodities, through one of these ETFs.
NEW YORK (TheStreet) -- Despite the recent global market selloff, opportunities in emerging markets still remain relatively prevalent.
Most recently, the risk premium on JPMorgan's Emerging-Market Bond Index Global Fund rose by a whopping 14 basis points over U.S. Treasuries and the Bank of New York Mellon Emerging-Markets ADR index dropped over 4%. This descent in emerging-market assets has been primarily driven by sovereign debt problems seen in the Euro Zone and an unstable U.S. employment market.
Other factors that have been causing this selloff include fears that developing nations are overvalued and the likelihood that interest rates in these nations will rise, eventually adding more volatility to an already risk-averse sector. In fact, many risk experts suggest that emerging markets are nearly 50% more volatile than developed markets.
Although a combination of the aforementioned has increased demand for traditional safe havens like the U.S. dollar and Treasuries, the outlook for developing nations remains bright and robust.
First off, it appears that developing nations have softened their dependency on developed nations and are starting to grow off of one another and are heading toward self-sufficiency. Over the past year, gains that have been seen in Asian nations have been primarily driven by the strength and growth of China and not developed nations like the United States or the United Kingdom.
Additionally, emerging markets make up the bulk of industrial production and the world's population. As a whole, emerging markets comprise more than 50% of global GDP using purchasing power parity. The exponential growth of a vibrant middle class in these developing nations is what is keeping the global economy's wheels churning and will likely continue to do so.
To add further appeal, the governments and corporations in some of these developing nations are optimistic about their future. A new stream of government and corporate bond issues has hit the market in parts of emerging Europe, like Lithuania, and Asia, like Hong Kong.
Lastly, many developing nations are rich in natural resources and commodities that are sought after as populations grow and demand rises. Take Russia, for example, home to the world's largest natural gas producer and distributor,
Gazprom
. It also supplies energy sources to various European nations. Going south of the equator, Brazil is rich in natural resources and boasts big energy players like
Petrobras
(PZE)
and will likely remain popular as populations grow and the demand for energy and agricultural-based commodities increases.
One of the best and easy ways to gain exposure to these developing nations and their companies is through one of the following ETFs:
iShares MSCI Emerging Markets
(EEM) - Get Free Report
, which boasts South Korea's Samsung Electronics and Brazilian financial giant
Itau Unibanco
(ITUB) - Get Free Report
in its top holdings. EEM closed at $37.62 on Thursday.
SPDR S&P Emerging Markets
undefined
, which boasts Gazprom and Petrobras in its top holdings. GMM closed at $58.76 on Thursday.
Vanguard Emerging Markets Stock ETF
(VWO) - Get Free Report
, which boasts
China Mobile
(CHL) - Get Free Report
and
TEVA Pharmaceuticals
(TEVA) - Get Free Report
in its top holdings. VWO closed at $37.62 on Thursday.
Although investing in emerging markets carries its risks, a good way to mitigate these risks is through the use and implementation of an exit strategy, which triggers price points at which an upward trend could potentially be coming to an end.
According to the latest data at
, the price points for the aforementioned ETFs are EEM at $37.13; GMM at $57.96; and VWO at $37.06. These price points fluctuate on a daily basis and reflect changes in market conditions. Updated data can be found at www.SmartStops.net.
Written by Kevin Grewal in Laguna Niguel, Calif.
Kevin Grewal serves as the editorial director and research analyst at The ETF Institute, which is the only independent organization providing financial professionals with certification, education, and training pertaining to exchange-traded funds (ETFs). Additionally, he serves as the editorial director at SmartStops.net where he focuses on mitigating risks and implementing exit strategies to preserve equity. Prior to this, Grewal was an analyst at a small hedge fund where he constructed portfolios dealing with stock lending, exchange-traded funds, arbitrage mechanisms and alternative investments. He is an expert at dealing with ETFs and holds a bachelor's degree from the University of California along with a MBA from the California State University, Fullerton.