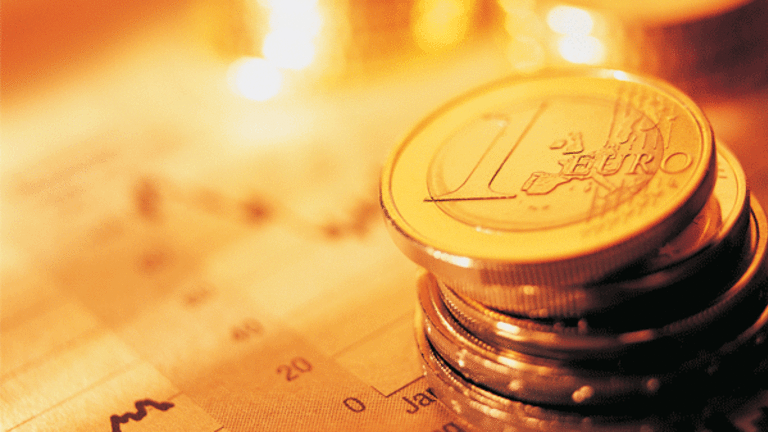 Don't Expect Much From This Inflation-Fighting ETF for Now
The SPDR SSgA Multi Asset Real Return ETF is designed to protect investors from inflation. But until we see significant inflation, you can expect this fund to underperform.
NEW YORK (
) -- A few months ago,
State Street
(STT) - Get State Street Corporation Report
launched the
SPDR SSgA Multi Asset Real Return ETF
(RLY) - Get SPDR SSgA Multi-Asset Real Return ETF Report
. Its objective is inflation protection and real return, and it attempts to accomplish this by actively managing a portfolio of other exchange-traded funds.
The fund's active management makes it part of the latest segment to proliferate in the ETF industry.
The actively managed funds that have come out so far cover a wide range of strategies and asset classes, including bonds, equities and funds of funds. It's likely that more ETF providers will offer new products in this space.
In RLY's case, the fund targets natural resources (40%), real estate (23%), inflation-linked bonds (21%) and commodities (16%). The fund also can hold cash, but it does not hold any currently. This is an actively managed fund, so it is important to remember that those weightings can be changed as the fund's manager sees fit.
There are currently 15 holdings in the fund. The largest by far is the
SPDR S&P Global Natural Resources ETF
(GNR) - Get SPDR S&P Global Natural Resources ETF Report
, which accounts for 26% of the RLY's holdings.
RLY allocates another 13% to the
SPDR Barclays Capital TIPS ETF
(IPE)
, 12% to the
SPDR DJ REIT ETF
(RWR) - Get SPDR Dow Jones REIT ETF Report
, 10% to the
PowerShares DB Commodity Index Fund
(DBC) - Get Invesco DB Commodity Index Tracking Fund Report
and another 10% to the
SPDR DJ International Real Estate ETF
(RWX) - Get SPDR Dow Jones International Real Estate ETF Report
. Several other holdings have smaller weightings.
Obviously, the inclusion of DBC means that RLY can hold funds from other providers, not just SPDR. Five of the 15 funds are from fund provider PowerShares.
The enormous holding in GNR merits a close look because obviously something with a 26% weighting is likely to be a large driver of returns.
GNR owns resource-related equities with the largest group being integrated oil companies. That means
Exxon Mobil
(XOM) - Get Exxon Mobil Corporation Report
,
Chevron
(CVX) - Get Chevron Corporation Report
and
BP
(BP) - Get BP Plc Report
.
GNR also is heavy in fertilizer, mining and steel companies. These are volatile groups that have been underperforming the market, so RLY has lagged the broad market since its debut earlier this year.
The real estate holdings SPDR DJ REIT ETF and SPDR DJ International Real Estate ETF give RLY yield (2.9% and 3.9%, respectively), but also expose RLY to further potential declines in real estate.
I don't mean to say there will be another significant downturn for real estate. I just want to point out that any fund with more than 20% exposure to real estate will be vulnerable to a potential downturn.
RLY has a total expense ratio of 0.7%, which covers the underlying ETFs' expenses. SPDR has reported a yield of 1.77% to the
Securities and Exchange Commission
, but it is too soon to know what the actual annual dividend will be.
As mentioned above, RLY has lagged the
S&P 500
index since its inception in April by a little more than 2%. RLY is intended to protect investors against inflation. There is very little chance that an inflation protection strategy, like the one that underlies RLY, can offer much in the way of added portfolio benefit over the course of a few months.
Inflation eats away at purchasing power over long periods of time. If there is to be any benefit from holding RLY, it would be over the long term.
A final point is that although this fund is aimed at inflation protection, for years the government has reported inflation statistics that appear tame.
Many people believe that government statistics don't accurately reflect real inflation, but as long as these numbers remain tame, they'll be a headwind for RLY.
At the time of publication, Nusbaum held no positions in securities mentioned.
This article is commentary by an independent contributor, separate from TheStreet's regular news coverage.
This contributor reads:
On Twitter, this contributor follows: