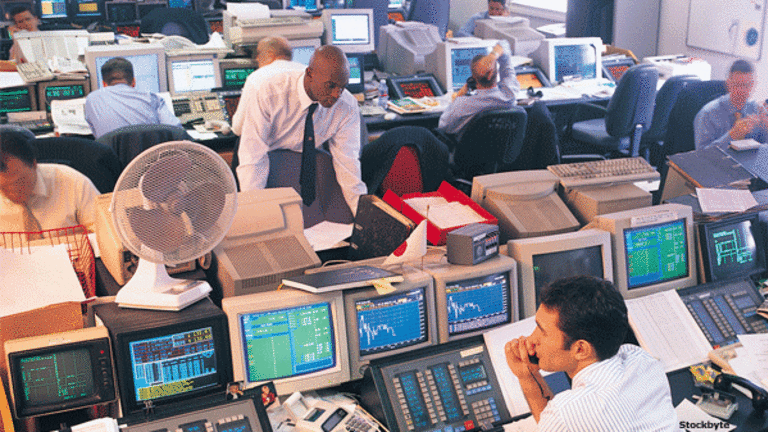 Don Dion's Weekly ETF Winners and Losers
Japanese small-cap funds and Treasury funds did well, while some China and solar funds tailed off.
The past week on Wall Street was marked by the start of earnings season and major bellwethers companies such as
Alcoa
(AA) - Get Alcoa Corporation Report
,
Intel
(INTC) - Get Intel Corporation Report
and
JPMorgan Chase
(JPM) - Get JPMorgan Chase & Co. Report
issuing reports that were met with much scrutiny by the market.
Retails sales in December were reported to be worse than expected, and that was taken by the market as an indication of what may happen when retailers report fourth-quarter earnings.
> > Bull or Bear? Vote in Our Poll
This week also saw the stunning news that
Google
(GOOG) - Get Alphabet Inc. Class C Report
may exit its search business in China, after announcing that it was frustrated with government censorship there. Google also said that its mail service in China had been attacked by sophisticated cyber hackers last year. The hackers sought to access the email accounts of two Chinese human rights activists, leading to speculation by many that it may have been the Chinese government itself that was responsible.
China was also in the news when the government announced that it would be raising the reserve ratio for banks in an effort to reduce liquidity and prevent asset bubbles in the country.
In commodities, the much anticipated physical platinum ETF that was released Jan. 8 is already a popular fund in its first full week of trading, although it is yet to show much price movement.
ETF assets also passed a landmark this week when the number breached the $1 trillion mark.
Overall, market losses on Friday meant the indices lost ground for the week. The
S&P 500
dropped 0.8%, the
Nasdaq
declined 1.3% and the
Dow
lost 0.1%.
And here are the winners and losers for the week:
Winners
iShares MSCI Japan
(EWJ) - Get iShares MSCI Japan ETF Report
+3.5%
WisdomTree Japan Small Cap
(DFJ) - Get WisdomTree Japan SmallCap Dividend Fund Report
+3.3%
iShares MSCI Japan Small Cap
(SCJ) - Get iShares MSCI Japan Small-Cap ETF Report
+2.4%
CurrencyShares Japanese Yen
(FXY) - Get Invesco Currencyshares Japanese Yen Trust Report
+1.9%
Japan ETFs were winners last week thanks to the return from the Japanese yen, as the Nikkei 225 was up only 1.7% for the week.
Claymore/Delta Global Shipping
(SEA) - Get Invesco Shipping ETF Report
+4.1%
Although shares stumbled on Friday along with the broader market, SEA continues its 2010 march to higher ground. Increased economic activity and a phase-out of single hull ships has put upward pressure on the rates charged by the shipping firms that make up SEA, and a Jefferies analyst's positive comments helped lift the sector.
SEA made the winners list last week and the 2010 cumulative gain is now 16.9%.
iShares Barclays 20+ Year Treasury
(TLT) - Get iShares 20+ Year Treasury Bond ETF Report
+2.0%
SPDR Barclays Long Term Treasury
(TLO)
+1.8%
Long-term Treasuries tend to perform well in down markets as investors push down yields, and this week was no exception.
Losers
PowerShares DB Oil
(DBO) - Get Invesco DB Oil Fund Report
-5.3%
U.S. Oil
(USO) - Get United States Oil Fund LP Report
-6.2%
Higher oil inventories knocked crude down a few dollars per barrel, but selling was already under way as oil retreated from a recent high above $80 per barrel and there was no up day during the week.
iShares FTSE/Xinhua China 25
(FXI) - Get iShares China Large-Cap ETF Report
-5.8%
Claymore/AlphaShares China Real Estate
(TAO) - Get Invesco China Real Estate ETF Report
-6.6%
Claymore/AlphaShares China Small Cap
(HAO) - Get Invesco China Small Cap ETF Report
-0.5%
China tightened lending this week and that sent Chinese financial and property shares sharply lower. FXI has about 50% of its portfolio in financials, while HAO has only 13%. HAO has been a steady outperformer this year, however, and there are reasons why it should continue to outperform other broad China ETFs
Market Vectors Solar
(KWT)
-11.1%
Claymore/MAC Global Solar
(TAN) - Get Invesco Solar ETF Report
-10.8%
France cut its subsidies to solar power makers and Germany is expected to follow, sending shares of solar makers to the downside. Other cash-strapped governments around the world may eventually make the same policy decision, as they cannot afford to subsidize inefficient technologies in the midst of general funding issues.
The news overshadowed good news from
Suntech Power
(STP)
, which said it has already sold out production through the second quarter.
Don Dion is president and founder of
, a fee-based investment advisory firm to affluent individuals, families and nonprofit organizations, where he is responsible for setting investment policy, creating custom portfolios and overseeing the performance of client accounts. Founded in 1996 and based in Williamstown, Mass., Dion Money Management manages assets for clients in 49 states and 11 countries. Dion is a licensed attorney in Massachusetts and Maine and has more than 25 years' experience working in the financial markets, having founded and run two publicly traded companies before establishing Dion Money Management.
Dion also is publisher of the Fidelity Independent Adviser family of newsletters, which provides to a broad range of investors his commentary on the financial markets, with a specific emphasis on mutual funds and exchange-traded funds. With more than 100,000 subscribers in the U.S. and 29 other countries, Fidelity Independent Adviser publishes six monthly newsletters and three weekly newsletters. Its flagship publication, Fidelity Independent Adviser, has been published monthly for 11 years and reaches 40,000 subscribers.