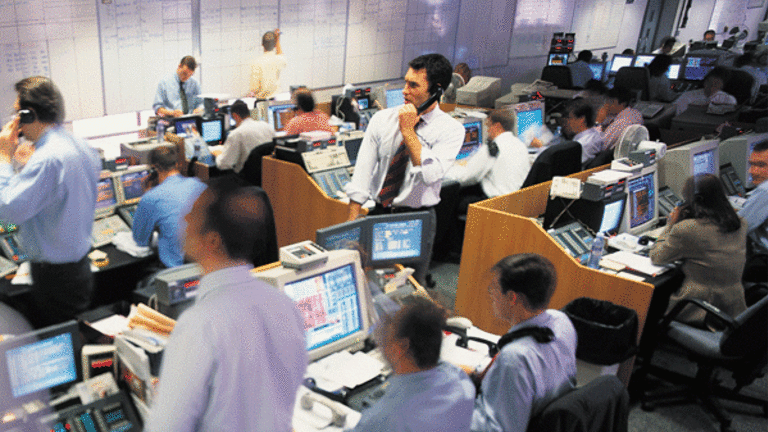 Don Dion's Weekly ETF Winners and Losers
Gainers were dominated by inverse ETFs, and long funds with gains were scarce due to weakness in government debt that hurt the weekly return.
The past week was reminiscent of the autumn of 2008. Last year, the only place to hide was in shorts, yen, dollars and government debt, and this week was mostly the same.
The
fell 4% for the week, and there were very few long ETFs in positive territory. Gainers were dominated by inverse ETFs, and long funds with gains were scarce due to weakness in government debt that hurt the weekly return, even though Treasuries did perform well on the big down days.
On the other end of things, some long ETFs managed to deliver losses that exceeded those of leveraged ETFs.
The market doesn't need a reason to sell off. Last week, the market behaved very poorly based on one analyst's comments about
Wells Fargo
(WFC) - Get Free Report
.Headlines blamed the losses on poor consumer numbers.
With that in mind, here are last week's winners and losers.
Winners
ProShares Ultra Short Russell 2000
(TWM) - Get Free Report
+13.0%
On
and again on
, I mentioned that the Russell 2000 Index was one of the poorer-performing indexes and that bears who were looking for something to buy should consider TWM.
I advised readers of my
RealMoney
blog
to cover ahead of the GDP report
. That was good for one day, but the Friday gains erased Thursday's losses and left TWM above its Wednesday close.
Still, the Russell 2000 remains a good broad index for the bears to target. Conversely, the
Dow Jones Industrial Average
has been relatively strong.
CurrencyShares Japanese Yen
(FXY) - Get Free Report
+2.3%
PowerShares DB U.S. Dollar Bullish
(UUP) - Get Free Report
+1.2%
Dollar down, market up. Dollar up, market down. It's not much more complex than that these days. Many investors are short the U.S. dollar and yen, and many borrow those currencies and then sell them to buy emerging markets, commodities, real estate, etc. When they want to close out their positions, they sell those assets and buy back the U.S. dollar and yen.
The strategy earns small profits over time, but leads to large losses that build up very quickly, as we saw in 2008 and this past week.
Losers
PowerShares Dynamic Oil Services
(PXJ) - Get Free Report
-10.5%
Stocks and energy prices tumbled this week, and that was a double whammy for PXJ and other ETFs in this space. What worked together to power energy shares higher in previous weeks slammed into reverse and pounded shares. PXJ ended up closing at its lowest point since early September.
iPath Natural Gas
(GAZ) - Get Free Report
-9.9%
U.S. Natural Gas
(UNG) - Get Free Report
-9.0%
Natural gas has been brutal for several months now for all but the bears and the nimblest of traders. This week saw prices hit yet again, and the Energy Information Administration reported that "working gas stocks in the West region exceeded the regional demonstrated peak capacity."
Market Vectors Solar
(KWT)
-10.7%
What goes for PXJ and the other oil related ETFs applies to KWT as well, plus greater volatility. Shares of KWT closed at their lowest point since Sept. 1-2, the only two days they traded lower since the end of April.
Investors looking for more picks should sign up for a free trial of my ETF Action service.
> > Bull or Bear? Vote in Our Poll
Don Dion is president and founder of
, a fee-based investment advisory firm to affluent individuals, families and nonprofit organizations, where he is responsible for setting investment policy, creating custom portfolios and overseeing the performance of client accounts. Founded in 1996 and based in Williamstown, Mass., Dion Money Management manages assets for clients in 49 states and 11 countries. Dion is a licensed attorney in Massachusetts and Maine and has more than 25 years' experience working in the financial markets, having founded and run two publicly traded companies before establishing Dion Money Management.
Dion also is publisher of the Fidelity Independent Adviser family of newsletters, which provides to a broad range of investors his commentary on the financial markets, with a specific emphasis on mutual funds and exchange-traded funds. With more than 100,000 subscribers in the U.S. and 29 other countries, Fidelity Independent Adviser publishes six monthly newsletters and three weekly newsletters. Its flagship publication, Fidelity Independent Adviser, has been published monthly for 11 years and reaches 40,000 subscribers.