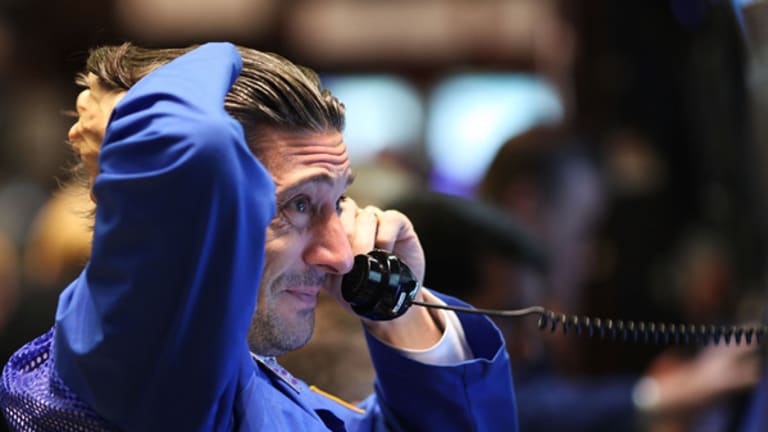 Don Dion's Weekly ETF Blog Wrap
A look at Mexico funds, a pipeline spark for natural gas and ETFs for tipping a toe into Amazon.
Here is some of what Don Dion blogged about on RealMoney this past week.
Still Bullish on Mexico
Posted 1/19/2010 2:49 p.m. EST
When it comes to international ETFs in 2010, some of the most promising strength appears to be coming from Mexico.
While I continue to hold the
iShares MSCI Mexico Investable Market Index Fund
(EWW) - Get iShares MSCI Mexico ETF Report
as a play on strength across the broad Mexican markets, I am also optimistic about the country's peso vs. the U.S. dollar. For this reason, I hold the
CurrencyShares Mexican Peso Trust
(FXM)
as a small currency position as well. With the Mexican and U.S. economies heading toward recovery, the stage is set for both of these funds to head higher.
I'm not alone in my positive outlook for the nation's currency. Recently, firms including Deutsche Bank, Pimco and Aberdeen have come out to share their own optimistic outlooks for the Mexican currency. In an article by
Bloomberg
, an Aberdeen representative said that Mexico's peso is significantly undervalued and offers some of most upside in Latin America.
> > Bull or Bear? Vote in Our Poll
Already this year the peso's 3% rise against the U.S. dollar makes it the second-strongest currency against the greenback, beaten only by the Korean won.
While a strong peso will buoy FXM, EWW should also be a beneficiary. All else held equal, a strong peso would hinder exports to foreign nations like the U.S., but the United States' growing demand for more goods and services should offset currency-driven losses.
Additionally, as I mentioned when discussing the Korean won, the peso has remained markedly weaker vs. the dollar than other currencies over the past five years, including the yen, euro and real. The peso still appears to have room to appreciate against the dollar before valuation begins to cut into exports.
The outlook for exports appears optimistic in light of peso strength, but even if companies do see a decline in their exports, investors holding EWW should still see net upside. The underlying holdings of the fund --
America Movil
(AMX) - Get America Movil SAB de CV Report
,
Walmart de Mexico
(WMMVY), etc. -- are priced in pesos and many do a large amount of their business domestically, where a stronger peso has no effect to a slightly positive effect (as import prices decline). Therefore, American investors in these firms' shares will capture all gains in the peso vs. the U.S. dollar, while earnings will take a smaller hit from any lost exports.
A Pipeline Spark for Nat Gas
Posted 1/19/2010 10:49 a.m. EST
JPMorgan Alerian MLP Index ETN
(AMJ) - Get J.P. Morgan Alerian MLP Index ETN Report
will benefit from a restructuring at
Williams Cos.
(WMB) - Get Williams Companies, Inc. Report
and its two publicly traded partnerships.
Williams Partners
(WPZ)
will acquire
Williams Pipeline Partners
(WMZ)
, in addition to purchasing pipeline assets from Williams Cos. The combined entity will have more than 14,000 miles of pipeline, including a key pipeline that runs from Texas to New York City, right through the potentially huge reserves of the Marcellus Shale in Pennsylvania.
Investors sent shares of all three stocks rising more than 10% in early trading Tuesday, with Williams Partners in the lead, up 15% this morning.
This is another bullish piece of evidence for natural gas as a long-term fuel source. It also supports my investment thesis that producers and transport firms are the best way to play this trend. Though natural-gas prices remain low due to high production, companies such as Williams Partners are well-positioned to benefit from the large volume. As more energy consumption shifts to cheaper natural gas, prices will eventually rise.
AMJ allocates only 0.4% of its assets to Williams Pipeline Partners, and another 1.3% to Williams Partners.
Enterprise Products Partners
(EPD) - Get Enterprise Products Partners L.P. Report
and
Kinder Morgan Energy Partners
(KMP)
will still trump the restructured Williams Partners in terms of earnings. They make up 13.5% and 12%, respectively, of AMJ, which tracks a market-cap-weighted index.
Another ETF,
iShares S&P Global Infrastructure Index Fund
(IGF) - Get iShares Global Infrastructure ETF Report
, invests 3.1% of assets in Williams Cos.
Oklahoma ETF
(OOK)
has the largest exposure -- 7.9% in Williams Cos., 4.1% in Williams Partners, and 2.4% in Williams Pipeline Partners -- but the fund averages less than 2,000 shares a day in volume, making it too illiquid to trade at this time.
Investors interested in the broader natural-gas story should consider
First Trust ISE-Revere Natural Gas
(FCG) - Get First Trust Natural Gas ETF Report
, which owns both natural-gas producers and explorers.
ETFs for Dipping a Toe Into Amazon
Posted 1/21/2010 9:50 a.m. EST
Amazon's
(AMZN) - Get Amazon.com, Inc. Report
brilliant and aggressive strategy with its Kindle shows why the company continues to be an investor favorite. Its latest move, at once a strike at the jugular of the publishing industry and a pre-emptive move against
Apple
(AAPL) - Get Apple Inc. Report
, highlights the company's business instinct.
Yesterday, Amazon announced that the company will give authors and publishers 70% of the sales from their Kindle books, minus delivery costs of about 6 cents. Though there are some stipulations and the move seems aimed at smaller and independent publishers, the industry needs to be worried because of the rising popularity of e-books.
An L.E.K. Media Consumption Survey shows that e-reader owners are reading 18.2 hours per week. This implies that users are heavy readers and many are shifting consumption from physical to digital products, in addition to consuming more overall.
With Apple set to launch a tablet computer that is rumored to have e-reader capabilities, the number of users may surge as Apple draws its fan base into the e-book market. I also expect that if the rumored functions are true, Apple will also move in on Amazon's market and try to do for e-books what the company did for digital music.
Since Amazon has established itself in books and has launched an e-reader, however, I believe that it is well positioned to battle Apple in a way that music sellers were not. During the holiday season, I said that the fight between Amazon and
Wal-Mart
(WMT) - Get Walmart Inc. Report
was bad news for their competitors. The same can be said of Amazon and Apple, as they will likely create far more collateral damage to competitors than direct damage to each other, and a direct battle may even be a win-win if it boosts sales of their products.
My main concern with Amazon is the firm's valuation. Even if it can increase 2010 earnings 30% above consensus estimates -- three of its last four quarterly earnings surprised by more than 30% to the upside -- that assume 25% growth already, shares would still be trading at nearly 40 times 2010 earnings. This is a bullish story for a bullish market, but a slip up in either could batter shares.
For ETF investors interested in Amazon-weighted funds, the
Internet HOLDRs
(HHH)
has 40.3% of assets in Amazon,
PowerShares Nasdaq Internet
(PNQI) - Get Invesco NASDAQ Internet ETF Report
has 7.3% of assets in Amazon; and
First Trust Dow Jones Internet Index
(FDN) - Get First Trust Dow Jones Internet Index Fund Report
has 6.3% of assets in Amazon.
With another 20% in
eBay
and 15% in
Yahoo!
(YHOO)
, HHH is too concentrated for my tastes. PNQI and FDN have very similar portfolios, but FDN has greater trading volume, making it my preferred choice for an Amazon-weighted ETF.
Another reason I like FDN (and PNQI, if it had more volume) is that the fund holds other Internet retailers that are changing the face of retail, in addition to the firms that supply the infrastructure and support services for these companies. The larger the fight between Amazon and Apple, for instance, the more money is likely to end up in the hands of many of the firms that make up FDN, which is why I continue to hold it in my
.
A special note from Don: Jim Cramer himself says, "No one else knows ETFs like Don Dion."
And now you can benefit from my ETF expertise. My new service
TheStreet ETF Action by Don Dion
can help investors at all levels profit from the world of ETFs.
Click here to be eligible for a charter membership. Space is limited, so act now.
At the time of publication, Dion was long FMM, EWW and FDN.
Don Dion is president and founder of
, a fee-based investment advisory firm to affluent individuals, families and nonprofit organizations, where he is responsible for setting investment policy, creating custom portfolios and overseeing the performance of client accounts. Founded in 1996 and based in Williamstown, Mass., Dion Money Management manages assets for clients in 49 states and 11 countries. Dion is a licensed attorney in Massachusetts and Maine and has more than 25 years' experience working in the financial markets, having founded and run two publicly traded companies before establishing Dion Money Management.
Dion also is publisher of the Fidelity Independent Adviser family of newsletters, which provides to a broad range of investors his commentary on the financial markets, with a specific emphasis on mutual funds and exchange-traded funds. With more than 100,000 subscribers in the U.S. and 29 other countries, Fidelity Independent Adviser publishes six monthly newsletters and three weekly newsletters. Its flagship publication, Fidelity Independent Adviser, has been published monthly for 11 years and reaches 40,000 subscribers.