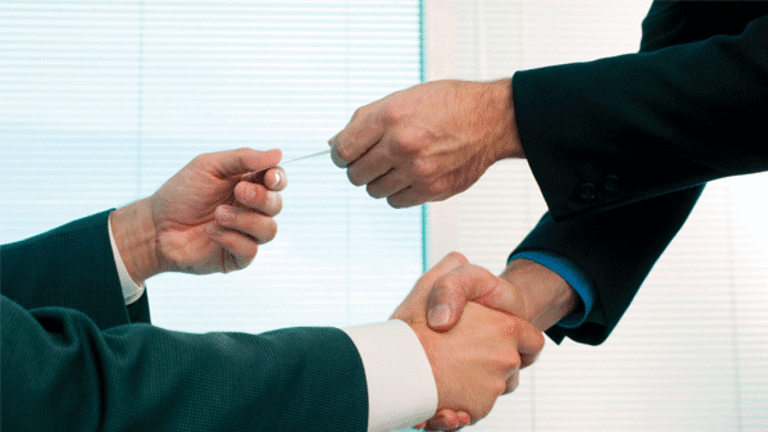 Publish date:
Don Dion's Weekly ETF Blog Wrap
Here's some of what Don Dion blogged about on <I>RealMoney</I> this week.
Here's some of what Don Dion blogged about on <I>RealMoney</I> this week.
Here is some of what Don Dion blogged about on RealMoney this past week.
Lessons From an ETF 'Crossover' Stock
Posted 12/17/2009 2:35 p.m. EST
The presence of
Cree
(CREE) - Get Report
in a variety of semiconductor and green ETFs means the stock is drawing investors from diverse market segments.
One of the driving factors behind a stock's performance is investor demand, and stocks that achieve high growth often have support from multiple sectors or multiple "stories." A company that can market itself to different groups of investors will be able to tap more investor dollars. ETFs facilitate sector investing and "story" investing to a degree that wasn't as readily available a few years ago, and this year we have seen the effects with semiconductors and clean energy.
American Semiconductor
(AMSC) - Get Report
is found in many alternative-energy ETFs but not the semiconductor ETFs, while Cree is found in both. AMSC is involved with wind power, while CREE makes energy-saving LEDs.
Year to date, AMSC is up 145.7% and CREE is up 229.6%. Both returns are stellar, but it helps that CREE is pulling in dollars from semiconductor ETFs in addition to a slew of alternative-energy funds. According to NSX data,
iShares S&P North American Tech Semiconductors
(IGW)
has seen inflows of $43 million in the 11 months through Nov. 30, and
SPDR S&P Semiconductor
(XSD) - Get Report
has taken in $44 million. Compare that $87 million total with the $120 million that has flowed into the eight clean-energy funds listed on the table below.
It would take a lot more money flowing into these ETFs to really move these stocks, though. The total holdings in AMSC in the above ETFs amounts to only about 2% of its market capitalization of $1.8 billion, while the holdings in CREE come to about 1% of its $5.4 billion market cap.
>>Bull or Bear? Vote in Our Poll
Still, the ETFs also serve as a gauge of investor interest. If clean energy and semiconductors both see large inflows, for instance, CREE would likely be an even stronger performer.
If CREE were a consumer product, I'd say it was marketing itself well. Whether that means CREE is a buy here is another question, and it's one that single-stock investors may want to answer.
Dollar Rally or Euro Decline?
Posted 12/15/2009 at 4:21 p.m. EST
Many investors and traders watch the U.S. Dollar Index and ETFs that track this index, such as
PowerShares DB U.S. Dollar Bearish Fund
(UDN) - Get Report
and
PowerShares DB U.S. Dollar Bullish Fund
(UUP) - Get Report
, to get an idea of the value of the dollar.
The euro makes up about 58% of the U.S. Dollar Index, however, with another 25% or so split between the Japanese yen and British pound plus 9% for the Canadian dollar. Other developed nations' currencies make up the rest of the index.
Notably missing are emerging-market currencies. Brazilian real, Chinese yuan, Indian rupee and South Korean won are absent from the index calculation. An extended rally in the U.S. Dollar Index would signal investors to shift assets from an ETF such as
iShares MSCI EAFE
(EFA) - Get Report
to a global ETF such as
iShares S&P Global 100
(IOO) - Get Report
or a domestic ETF such as
SPDRs
(SPY) - Get Report
, but it wouldn't say much about other markets.
In the past five days through Monday, UDN lost 0.64%, less than the 1.08% drop in
CurrencyShares Euro
(FXE) - Get Report
. Clearly, the decline in UDN this past week was due to a weaker euro. Problems in Greece and Austria were among the reasons why the currency headed lower vs. the greenback.
Meanwhile,
CurrencyShares Japanese Yen
(FXY) - Get Report
gained 1.06%, while
WisdomTree Dreyfus New Zealand Dollar
(BNZ)
gained 2.47% and
CurrencyShares Australian Dollar
(FXA) - Get Report
gained 0.65%.
WisdomTree Dreyfus Emerging Currency
(CEW) - Get Report
fell 0.37%.
These moves were mirrored by the equity funds:
iShares MSCI EMU Index
(EZU) - Get Report
fell 1.68%;
iShares MSCI Japan
(EWJ) - Get Report
gained 0.50%;
iShares MSCI Australia
(EWA) - Get Report
added 0.17%;
iShares MSCI Emerging Markets
(EEM) - Get Report
climbed 0.36%.
While FXA and FXY fell more than FXE today, FXE and EZU were among the worst performing of the aforementioned ETFs. UUP gained 0.71% on the day.
At least for the past week, the advance in the U.S. dollar was mainly against the euro, suggesting that capital is still flowing from the U.S. and into markets such as Brazil, India, China and South Korea, as well as Australia and New Zealand. As I warned last week about
and with
having banking issues, thus far the situation is a weak euro rather than a strong dollar. Allocate accordingly.
At the time of publication, Dion was long UDN and IOO.
Talking Turkey
Posted 12/14/2009 at 9:33 a.m. EST
Right now,
iShares Turkey
(TUR) - Get Report
is at a crossroads. A six-week slide had left the fund's momentum weakened and it riskaed becoming an also-ran emerging-market ETF. However, if TUR continues its recent recovery, the trend may accelerate, thanks to improving technical factors.
TUR used to run with the leading emerging-market ETFs, such as
iShares Brazil
(EWZ) - Get Report
and
Market Vectors Russia
(RSX) - Get Report
. Its long-term momentum was among the highest of all ETFs this summer, but it peaked on October 14 and has been losing long-term momentum since then.
It bottomed on November 27, the day on which Dubai shook the markets, but then started a rapid rebound on November 30. The upswing was helped by Fitch's December 3 upgrade of Turkey's credit rating to one notch below investment grade.
Last week, the Turkish Statistical Institute said third-quarter GDP fell 3.3% year on year, better than the expected 3.7% drop. However, it also revised upward the country's Q2 GDP decline from 7% to 7.9% year over year. Though the Q2 number was adjusted down, the outlook has improved, and
J.P. Morgan
(JPM) - Get Report
(JPM) recently upgraded its recommendation on the country from neutral to overweight.
Politics is never far from investors' minds as far as Turkey is concerned, though. The pro-Kurdish Democratic Society Party was outlawed by the Turkish high court on Friday because of its alleged ties to the PKK, or Kurdistan Workers' Party, an armed rebel group. Although markets in Turkey were closed at the time of the decision, the result had Turkish assets trading down.
I believe, however, that investors shouldn't get caught up with the politics unless something earth shattering occurs. It pays to follow the dominant trends and, in that regard, TUR is regaining short-term momentum and ranks ahead of
PowerShares India
(EPI) - Get Report
,
Claymore/AlphaShares China Small Cap
(HAO) - Get Report
and
iShares MSCI Mexico
(EWW) - Get Report
in terms of long-term momentum.
Positive news from Dubai also offset the political jitters from Friday's decision in Turkey. News that Abu Dhabi will provide $10 billion to Dubai lifted Turkish markets as part of a broader Middle Eastern rally.
TUR has the potential to re-establish itself as one of the strongest emerging-market ETFs, I believe, and may be an outperformer if Middle Eastern and other emerging markets continue to rally on positive news from Dubai.
At the time of publication, Dion held RSX and EWZ.
A special note from Don: There's no doubt in my mind that ETFs are the most exciting investment vehicles of the decade.
That's why I'm thrilled to announce
TheStreet ETF Action by Don Dion
, TheStreet's newest premium service.
You can build a profitable ETF portfolio right alongside me - click here to find out how.
Don Dion is president and founder of
, a fee-based investment advisory firm to affluent individuals, families and nonprofit organizations, where he is responsible for setting investment policy, creating custom portfolios and overseeing the performance of client accounts. Founded in 1996 and based in Williamstown, Mass., Dion Money Management manages assets for clients in 49 states and 11 countries. Dion is a licensed attorney in Massachusetts and Maine and has more than 25 years' experience working in the financial markets, having founded and run two publicly traded companies before establishing Dion Money Management.
Dion also is publisher of the Fidelity Independent Adviser family of newsletters, which provides to a broad range of investors his commentary on the financial markets, with a specific emphasis on mutual funds and exchange-traded funds. With more than 100,000 subscribers in the U.S. and 29 other countries, Fidelity Independent Adviser publishes six monthly newsletters and three weekly newsletters. Its flagship publication, Fidelity Independent Adviser, has been published monthly for 11 years and reaches 40,000 subscribers.