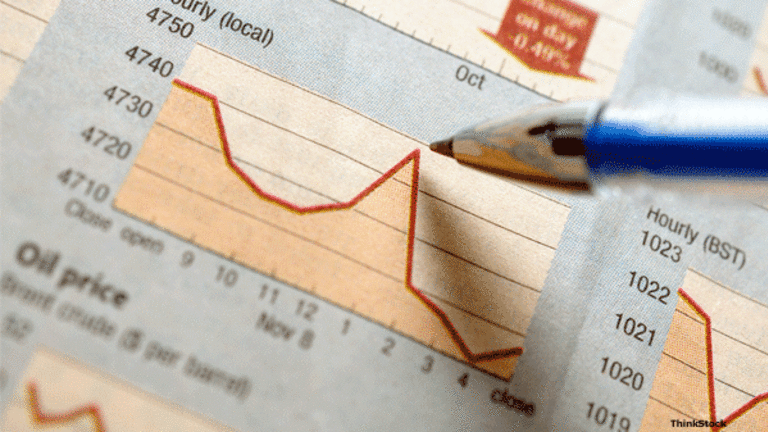 Publish date:
Don Dion's Weekly ETF Blog Wrap
Here's some of what Don Dion blogged about over the past week.
Here's some of what Don Dion blogged about over the past week.
Here is some of what Don Dion blogged about on RealMoney this past week.
Picking a Natural-Gas Play
Posted 12/11/2009 1:52 p.m. EST
The future for natural-gas prices remains bearish in my view, but there's no denying the fuel's recent rally, or the short-term investment opportunities for those of a more bullish mindset.
If natural-gas prices stay strong, the newer
U.S. 12 Month Natural Gas Fund
(UNL) is a better bet than the
U.S. Natural Gas Fund
(UNG) - Get Report
. But if you want to hedge your bets, the
First Trust ISE-Revere Natural Gas Fund
(FCG) - Get Report
, which has tracked oil equipment and exploration ETFs more closely than the price of natural gas, would likely benefit if both oil and natural-gas prices increase.
In the past month, while the
U.S. Oil Fund
(USO) - Get Report
fell 11.6%, UNG gained 5.6%. The divergence was most dramatic today with crude prices briefly dipping below $70 per barrel, as natural-gas prices jumped 7%. UNG previously outperformed USO for brief periods this year, but the general trend has been one of consistent underperformance, as UNG fell to one new low another.
The recent rise in natural-gas prices is largely thanks to early winter weather in parts of the U.S., which caused inventory to dip for the first time in nine months. While some may see this as strong evidence of a resurgence for natural gas and UNG, the supply/demand imbalance continues to make me cautious. In any case, UNL has outperformed UNG throughout the rally and will likely continue to do so if the jump continues.
Where winter heating costs are concerned, oil prices may benefit as much as natural gas, a scenario that would make FCG the best play. I have often promoted FCG as an alternative to the damaged UNG, but rather than following the recent natural-gas rally, FCG appears to be mimicking the performance of oil and oil explorer funds, with UNG price movements nudging it up or down within that group. In this scenario, FCG will outperform the other instruments it has been trending with, including the
iShares Dow Jones U.S. Oil Equipment Fund
(IEZ) - Get Report
, due to its stronger exposure to natural gas.
> >Bull or Bear? Vote in Our Poll
Oil Discovery Makes Brazil ETF Look Attractive
Posted 12/09/2009 11:18 a.m. EST
A big oil discovery could lift the largest holding in
iShares MSCI Brazil
(EWZ) - Get Report
.
Petrobras
(PBR) - Get Report
has completed testing on the Lara oil field, and findings show that the massive field off Rio de Janeiro has the capability to produce between 3 billion and 4 billion barrels of oil. This discovery further strengthens the nation's chances of becoming a major oil exporter.
The Lara oil field is just one of the offshore reserves the Brazilian firm has been focusing on. In 2007, Lara's sister field Tupi was found to hold between 5 billion and 8 billion barrels of oil.
Petrobras is EWZ's top holding, making up more than 22% of the fund's total portfolio. Besides Petrobras, EWZ's performance is heavily reliant on the growth of its energy and materials industries, which together account for nearly 55% of the fund. Other top holdings include
Vale
(VALE) - Get Report
and
Gerdau
(GGB) - Get Report
.
While the outlook appears bright, I advise investors looking to include the EWZ in their portfolio to follow my lead and keep exposure small. Year to date for the period ended Dec. 8, EWZ has gained more than 117%. The fund's standout performance and strong momentum led me to include it in my
portfolio, and I remain bullish on the instrument heading into the end of the year, but with nearly a quarter of the fund dedicated to a single firm (along with other industry concentration), this fund will be susceptible to energy- and commodity-driven swings.
>>See our new stock quote page.
Strong Won to Boost Korea ETFs
Posted 12/11/2009 12:29 p.m. EST
A stronger yen and weaker won are a positive divergence for South Korea, giving its exporters a leg up against Japanese rivals, and helping them stay competitive with China. But a stronger won would be better news for investors in
iShares MSCI South Korea
(EWY) - Get Report
.
Over the past five years, the South Korean won has underperformed the euro, the yen, the Brazilian real, the Taiwan dollar and the Chinese yuan against the U.S. dollar. The won stayed undervalued thanks to South Korea's relative weakness during this decade's early boom. It then followed the plunge in emerging-market currencies amid the panic of 2008. Against the dollar, the won has depreciated by around 10% in the past five years, while the Taiwan dollar was flat, the euro gained 10%, the yen rose 15%, as did the yuan, and the real surged 35%.
A weaker currency has made South Korean exports more competitive, and this has helped the country's exporters capture market share in emerging economies.
Bloomberg
recently reported that exports to emerging markets have grown from 49% in 2000 to 71% of total exports today.
While positive for South Korean business, the weaker won hasn't helped foreign investors. In the past three years through Dec. 9, the won fell 20% against the dollar, and contributed to EWY's annualized 0% return. Meanwhile, the real gained nearly 20% against the dollar, and the
iShares MSCI Brazil
(EWZ) - Get Report
gained an annualized 22%.
Recently, the won has started to recover. Over the past three months, it has been the strongest of the aforementioned currencies against the greenback. Unless the South Korean government intervenes to weaken its currency, the won should continue to benefit from economic growth, and it has room to rise before it begins to hurt export competitiveness.
Investors can overweight South Korea by adding EWY to their portfolio, or choose a regional ETF, such as
iShares MSCI All Country Asia ex-Japan
(AAXJ) - Get Report
, which allots 18.3% of its portfolio to South Korea. China (17.6%), Taiwan (14.3%) and India (10.3%) also rank among its top holdings.
A special note from Don: There's no doubt in my mind that ETFs are the most exciting investment vehicles of the decade.
That's why I'm thrilled to announce
TheStreet ETF Action by Don Dion
, TheStreet's newest premium service.
You can build a profitable ETF portfolio right alongside me - click here to find out how.
At the time of publication, Dion was long iShares MSCI Brazil.
Don Dion is president and founder of
, a fee-based investment advisory firm to affluent individuals, families and nonprofit organizations, where he is responsible for setting investment policy, creating custom portfolios and overseeing the performance of client accounts. Founded in 1996 and based in Williamstown, Mass., Dion Money Management manages assets for clients in 49 states and 11 countries. Dion is a licensed attorney in Massachusetts and Maine and has more than 25 years' experience working in the financial markets, having founded and run two publicly traded companies before establishing Dion Money Management.
Dion also is publisher of the Fidelity Independent Adviser family of newsletters, which provides to a broad range of investors his commentary on the financial markets, with a specific emphasis on mutual funds and exchange-traded funds. With more than 100,000 subscribers in the U.S. and 29 other countries, Fidelity Independent Adviser publishes six monthly newsletters and three weekly newsletters. Its flagship publication, Fidelity Independent Adviser, has been published monthly for 11 years and reaches 40,000 subscribers.