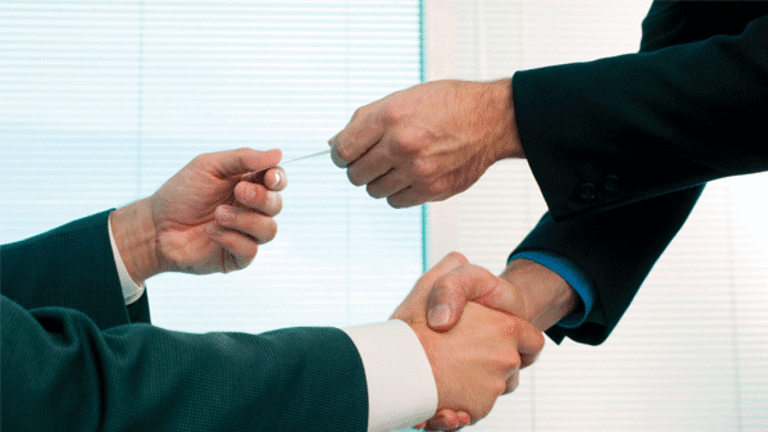 Publish date:
Don Dion's Weekly ETF Blog Wrap
Here's some of what Don Dion blogged about over the past week.
Here's some of what Don Dion blogged about over the past week.
Here is some of what Don Dion blogged about on RealMoney this past week.
Two Ways to Play a Rise in Pharma
Posted 12/03/2009 2:45 p.m. EST
Health care reform is withering in the Senate, and other matters have distracted the president. The pharmaceutical sector is poised to benefit.
With Obama focusing on the current economic situation and the war in Afghanistan, there is a good chance that the health care reform bill will stall. With lawmakers distracted, this is a prime time for investors looking for exposure to the health care sector to jump in. However, when deciding which fund to include in your portfolio, numerous options are available.
In the case of pharmaceuticals, two particularly strong options are the
iShares Dow Jones U.S. Pharmaceuticals Index Fund
(IHE) - Get iShares U.S. Pharmaceuticals ETF Report
and the
SPDR S&P Pharmaceuticals ETF
(XPH) - Get SPDR S&P Pharmaceuticals ETF Report
. Both instruments provide investors with direct access to some of the most dominant drug companies around. Their differences, however, have caused them to vary in performance.
Year to date for the period ending Dec. 2, IHE has gained nearly 30%, while XPH has jumped 24%.
Because a small number of big-name firms dominate the pharmaceutical arena, both funds hold many identical firms in their top holdings. Some names include
Merck
(MRK) - Get Merck & Co., Inc. (MRK) Report
,
Pfizer
(PFE) - Get Pfizer Inc. Report
,
Eli Lilly
(LLY) - Get Eli Lilly and Company (LLY) Report
and
Abbott Laboratories
(ABT) - Get Abbott Laboratories Report
. The top 10 holdings of XPH represent close to 50% of the fund's total portfolio. For IHE, the largest weighted firms make up over 60%.
While IHE appears more heavily weighted looking its top firms, in total, the fund has 31 total holdings; XPH has 22.
XPH gains a leg up, however, when it comes to fees. Investors holding IHE face a 0.48% expense ratio vs. XPH's 0.36%.
When it comes down to it, although XPH is cheaper and is less top-heavy than IHE, it's the performance that matters. While both funds will likely perform well as health care reform flounders, I would advise investors to stick to IHE for the best play on the pharmaceutical industry.
>>Bull or Bear? Vote in Our Poll
Weighing Two Emerging Europe ETFs
Posted 12/02/2009 11:43 a.m. EST
When the
iShares MSCI Emerging Market Europe ETF
(ESR)
launched at the end of September, I
that it will face strong competition from the
SPDR S&P Emerging Europe ETF
(GUR)
, which has been around since March 2007 and charges a low 0.59% expense ratio. Today, with ESR completing its second month of active trading, it appears that my suggestion to stick with GUR has held up.
Although the older fund's performance has lagged ESR for the most recent one-month period ending Dec. 1, ESR's higher 0.72% expense ratio appears to have deterred many investors from adding the new fund to their portfolios. GUR has an average trading volume of over 136,000, while ESR barely breaks 13,000.
GUR's attractiveness has led me to include it on my ETF Action watch list.
On the basis of the internal aspects of the two instruments, it is apparent that, while they seek to expose investors to the same region, important differences will cause their long-term performances to diverge.
Looking at the fund's top holdings, two things become apparent. First, ESR is more top-heavy than GUR. The iShares fund has nearly 50% of its assets allocated to its top five firms, while the SPDR tool allocates slightly over 40%. Second, both instruments are most heavily weighted in the same five companies. These firms include the Russian giants Lukoil, Gazprom, Rosneft and Sberbank, and JSC MMC Norilsk Nickel.
Russia is the biggest representative for both funds, making up nearly 75% of ESR and 64.5% of GUR. While both allocate most of their assets to Russia, GUR is slightly more geographically diverse than ESR. The fund taps into the markets of five nations, while the iShares instrument accesses only four. Aside from offering exposure to Russia, both funds offer exposure to the Czech Republic, Hungary and Poland. GUR also includes Turkish firms.
Since its launch, ESR has managed to accrue only $5.4 million. This puts the fund well behind GUR, which has grown to more than $181 million in assets under management since launching in March 2007.
I continue to advise investors looking for exposure to emerging Europe to follow my lead and go with GUR. With a less heavily weighted portfolio, better geographic diversification, cheaper expense ratio, and stronger volume, this fund remains a more stable instrument for a long-term play.
GUR underperformed ESR in the past two months because of the underperformance of Turkey, but this presents a buying opportunity for investors looking for exposure to this part of the world.
Yen Policy Makes Japan ETFs Even Riskier
Posted 11/30/2009 2:22 p.m. EST
Open discussion of quantitative easing in Japan signals that the government is serious about weakening the yen, and the collateral damage could be enormous.
I
of Japanese deflation and Japan ETFs earlier today, and the possibility of quantitative easing only reinforces the dire situation facing the nation.
After 20 years of on-again, off-again deflation and mild economic growth, Japan is reaching its debt limit. Failed inflationary policies and deficit spending have reduced the country's flexibility and narrowed its range of action.
"Demographic winter" has combined with those policies to deplete Japanese savings, to the point where there's risk of the savings rate going below zero. With currently low yields, Japan may need increased interest rates to attract foreign capital. Higher rates would likely push up the value of the yen and exacerbate the deflationary trend.
Japan equity ETFs have done poorly this year, with
iShares Japan
(EWJ) - Get iShares MSCI Japan ETF Report
down 1.7% year to date through Friday. Small gains for other ETFs, such as
iShares Japan Small Cap
(SCJ) - Get iShares MSCI Japan Small-Cap ETF Report
, are the result of a stronger yen.
CurrencyShares Japanese Yen
(FXY) - Get Invesco Currencyshares Japanese Yen Trust Report
has gained 3.9% this year, and
WisdomTree Dreyfus Japanese Yen
(JYF)
has gained 4.8%.
Even if the country is successful in combating deflation, it doesn't mean Japan is a buy. Japan's economic problems will keep equity prices from rallying too much, while the weakening yen erodes any gains.
On top of what are likely to be tepid gains at best comes the risk that extreme measures could trigger extreme moves in the market. Japanese credit default swaps increased in price this autumn and signaled that the market is growing more concerned about debt levels. Previous quantitative easing also made the yen the choice of carry-traders and helped fuel the bubble and then burst of global markets in 2008.
Investors may find it impossible to avoid the global effects of Japanese policy, but there's no need to increase exposure via Japan ETFs.
A special note from Don: Put simply, I want to help you profit from ETFs.
You don't have to be an expert trader -- there are potential profits for investors at every level. And I think there's no better way to jump into the world of ETFs than through my brand-new service,
TheStreet ETF Action by Don Dion
.
Membership is limited, so click here to get in on the action!
At the time of publication, Dion owned the iShares Dow Jones U.S. Pharmaceuticals Index Fund,
Don Dion is president and founder of
, a fee-based investment advisory firm to affluent individuals, families and nonprofit organizations, where he is responsible for setting investment policy, creating custom portfolios and overseeing the performance of client accounts. Founded in 1996 and based in Williamstown, Mass., Dion Money Management manages assets for clients in 49 states and 11 countries. Dion is a licensed attorney in Massachusetts and Maine and has more than 25 years' experience working in the financial markets, having founded and run two publicly traded companies before establishing Dion Money Management.
Dion also is publisher of the Fidelity Independent Adviser family of newsletters, which provides to a broad range of investors his commentary on the financial markets, with a specific emphasis on mutual funds and exchange-traded funds. With more than 100,000 subscribers in the U.S. and 29 other countries, Fidelity Independent Adviser publishes six monthly newsletters and three weekly newsletters. Its flagship publication, Fidelity Independent Adviser, has been published monthly for 11 years and reaches 40,000 subscribers.