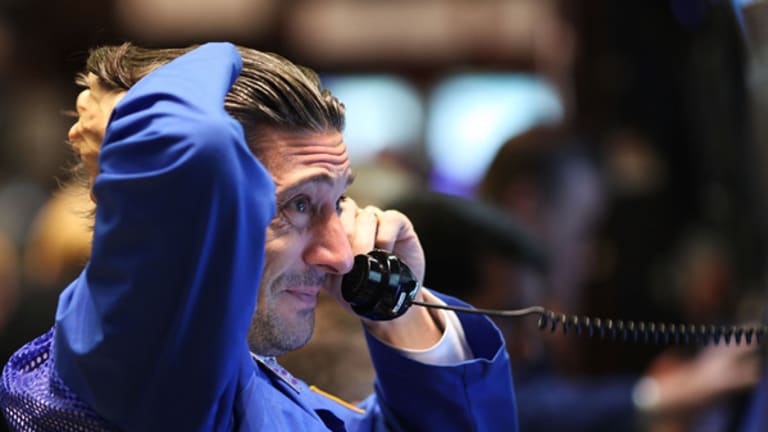 Don Dion's Weekly ETF Blog Wrap
Here's a sampling of what Don Dion blogged about this week on <I>RealMoney</I>.
NEW YORK (
) -- Don Dion posts his current insights on the stock, bond, commodity and currency markets in his
RealMoney
blog, anticipating which ETFs will be in play next. Among his blogs this week were the following, in which he wrote about developments in energy ETFs, Europe and Korea ETFs, and improving relations between Turkey and Armenia.
Breakout for Energy ETFs?
Posted 10/16/2009 2:56 p.m. EDT
Gasoline inventories declined by 5.2 million barrels last week, while analysts had expected an increase.
Crude oil inventories increased by 0.4 million barrels, but it was overshadowed by the big decline in gasoline and a smaller decline in distillates, which includes heating oil.
Refinery utilization is down for maintenance and that could mean a few more weeks of inventory declines. Nevertheless, gasoline inventory is 15.4 million barrels above 2008 levels at this time, distillates are 48.6 million barrels above last year's levels, and crude oil inventories are 29.6 million barrels higher.
Equity investors followed the pop in oil yesterday by pushing up the price of energy ETFs.
Energy Select SPDR
(XLE) - Get Free Report
gained 2% to close at its highest level since October 2008.
Shares of refiner
Tesoro
(TSO)
gained 8.6%, and
Valero
(VLO) - Get Free Report
advanced 7.1%.
iShares Dow Jones U.S. Oil & Gas Exploration & Production
(IEO) - Get Free Report
is the ETF with the largest exposure to TSO at 0.83%; it gained 1.9% yesterday. IEO also has the largest exposure to VLO, at 3.02%.
We've seen natural gas, crude oil and now gasoline jump and plunge based on large, unexpected swings in inventories. It is partially due to economic data that provides a mixed picture of the economy, along with huge amounts of liquidity created by the Federal Reserve.
A lack of transparency in the economy plus a lot of money to bet on the analysts' hunches leads to high volatility. Unless a trend develops that pushes oil out of the $60 to $75 dollar range, use the drops to buy and the surges to sell.
Boon for Europe, Korea ETFs
Posted 10/15/2009 12:43 p.m. EDT
The trade agreement struck this week between South Korea and the European Union is of major significance and could have positive implications for international exchange-traded funds that track the two economies.
This week's agreement, which still needs the approval of lawmakers, would be the second-largest in history. Only the 1994 North American Free Trade Agreement among the U.S., Canada and Mexico is bigger.
Funds to pay attention to include
iShares MSCI South Korea Index Fund
(EWY) - Get Free Report
,
iShares S&P Global Healthcare Sector Index
(IXJ) - Get Free Report
,
PowerShares FTSE RAFI Europe Portfolio
(PEF)
and
Vanguard European ETF
(VGK) - Get Free Report
.
The new deal between South Korea and the EU would get rid of tariffs and other protectionist barriers, making 99% of the trade between the two regions duty-free. According to
, European companies from the health care, consumer and financial sectors are expected to benefit most.
One group working to undermine the agreement is the European car manufacturers. The companies are wary of the competitive advantage South Korea would gain.
South Korea also expects to gain from the agreement. According to South Korean analysts cited by
Bloomberg
, the pact is expected to boost the nation's GDP by more than 3% and increase employment by more than 3.5%.
Turkey and Armenia Establish Relations
Posted 10/12/2009 3:46 p.m. EDT
One ETF I have followed closely in my blog is the
iShares MSCI Turkey Investable Market Index
(TUR) - Get Free Report
. This fund, designed to follow a basket of companies that represent the broad Turkish market, has performed fantastically in 2009. In three months, the TUR has popped 41%. Year-to-date for the period ending Oct. 9, the fund is up over 99%.
For nearly a century, the relationship between Turkey and Armenia has been hostile, stemming from the mass killings of Armenians under the Ottoman Empire in 1915. The dispute has since resulted in closed borders between the two nations, essentially cutting the Middle East off from the rest of Europe.
Recently, however, relations between Turkey and Armenia have appeared to thaw. In Zurich late last week, the leaders of the two nations met to sign a set of diplomatic protocols. In the end, they
agreed
to open their borders to one another.
On Oct. 14, the real effect of this agreement will be felt when Armenian president Serzh Sargsyan enters Turkey to
watch
a World Cup qualifier match, pitting his nation's team against Turkey's. It will mark the first time an Armenian leader has entered Turkey in a decade.
The TUR has already responded to the great news with a nearly 2% jump in early trading on Monday.
-- Written by Don Dion in Williamstown, Mass.
At the time of publication, Dion was long iShares MSCI Turkey Investable Market Index.
Don Dion is president and founder of
, a fee-based investment advisory firm to affluent individuals, families and nonprofit organizations, where he is responsible for setting investment policy, creating custom portfolios and overseeing the performance of client accounts. Founded in 1996 and based in Williamstown, Mass., Dion Money Management manages assets for clients in 49 states and 11 countries. Dion is a licensed attorney in Massachusetts and Maine and has more than 25 years' experience working in the financial markets, having founded and run two publicly traded companies before establishing Dion Money Management.
Dion also is publisher of the Fidelity Independent Adviser family of newsletters, which provides to a broad range of investors his commentary on the financial markets, with a specific emphasis on mutual funds and exchange-traded funds. With more than 100,000 subscribers in the U.S. and 29 other countries, Fidelity Independent Adviser publishes six monthly newsletters and three weekly newsletters. Its flagship publication, Fidelity Independent Adviser, has been published monthly for 11 years and reaches 40,000 subscribers.