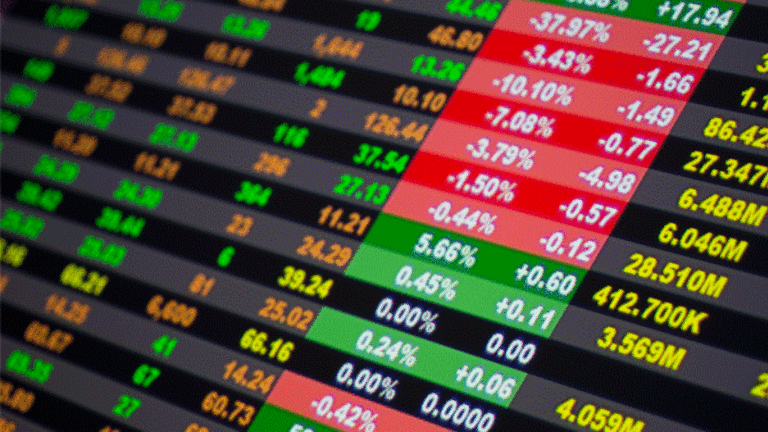 Don Dion's Weekly ETF Blog Wrap
Here is some of what Don Dion blogged about on <I>RealMoney</I> this past week.
Here is some of what Don Dion blogged about on <I>RealMoney</I> this past week.
This past week on RealMoney, Don Dion blogged about agriculture ETFs, news that could benefit two Market Vector funds, and an update on China ETFs.
A Weakening Sun Could Lift the Ag ETFs
Posted 9/25/2009 2:45 p.m. EDT
A topic I've covered and kept an eye on is
solar activity. News of sunspot activity crept into the news early on because those who doubt global warming is caused by mankind focus on the sun as the driver of climate. Now, Mother Nature may deliver confirmation in grand style.
The sun's 11-year sunspot cycle bottomed in 2006 and was expected to peak in 2011 to 2012. Peak solar activity disrupts satellites and radio signals with ejections of protons and electrons in the form of solar flares. In extreme cases, the flares can start fires in electrical equipment, and some telegraph offices in the 19th century had small fires caused by solar flares.
It doesn't look like this will be happening in 2012, however, if current trends persist. Scientists already knew sunspot activity was slow to pick up from the minimum, but they expected activity to pick up. Now they're finding evidence that suggests this may be the start of a something similar to the Maunder Minimum, which lasted from 1645 to 1715 -- better known as "The Little Ice Age."
During solar flares, the sun ejects massive amounts of protons and electrons, but it
always
emits particles, sometimes referred to as solar wind. The National Center for Atmospheric Research now reports that the solar stream is three times stronger in 2008 than in 1996, the previous solar minimum.
Their theory is that sunspots generate strong magnetic fields that keep many of the particles from escaping. The strong stream might mean that the sun is much weaker than scientists believed and the expected increase in sunspot activity is not coming.
A lot of technology relies on satellites, especially communications, and many people feared that 2011-2012 could damage much of the existing infrastructure in space. A weak sun, however, might be bad news for agriculture because it will shorten the growing season. Farmers will need to use more intense techniques to maintain crop yields, and that will mean higher prices.
That would be good news for
Market Vectors Agribusiness
(MOO) - Get Report
and
PowerShares DB Agriculture
(DBA) - Get Report
, along with the many iPath and Elements ETNs that cover agricultural commodities. Fossil fuels and nuclear power would see resurgence as well. Their stored energy would be needed to replace a drop in solar output that would cause longer winters that cover a greater geographic area. The sun is even responsible for wind, so there's a possibility that alterative energies will see a decline in their efficiency.
This isn't an investable idea yet because the sun could surprise us and snap back to life, but investors should keep an eye out for developments.
Two ETFs Could See Boost From Big News
Posted 9/24/2009 3:37 p.m. EDT
Bloomberg
reported yesterday that
PT Bumi Resources
, the largest coal miner in Indonesia, sold $1.9 billion worth of debt to China Investment Corporation, the sovereign wealth fund of China.
The six-year debt pays 12% interest, but Bumi will not begin repayment until four years from now, paying $600 million in both the first and second year of repayment, and the balance in the last year. The company will reportedly use the money to repay existing debt and increase investments.
Bumi is the No. 1 holding in
Market Vectors Coal
(KOL) - Get Report
, at 8.51% of assets, and the third-largest holding in
Market Vectors Indonesia
(IDX) - Get Report
, at 7.31% of assets.
The deal illustrates the overlap of several investment themes -- China, Indonesia and coal -- and both KOL and IDX offer their own risks and rewards.
KOL offers a direct play on the commodity, and it has a large exposure to emerging markets with fast growth. The risk is that as a commodity, coal prices could fluctuate, and companies face the risk of higher costs that may offset a rise in prices or revenues.
Indonesia is an indirect play on coal but a direct play on greater Chinese investment, which is coming as the country diversifies away from the dollar. While coal companies might suffer from industry-specific issues, growing revenue from increased Chinese demand will benefit the economy. The risk is that the Indonesia economy enters recession or that the currency devalues and takes a bite out of returns.
Bumi stock is up about 700% from its mid-January lows this year. KOL and IDX are both up about 140% since IDX's inception on Jan. 20.
China-Related ETFs Face Headwinds
Posted 9/23/2009 4:47 p.m. EDT
iPath Copper ETN
(JJC) - Get Report
may face a tough fight in the coming months as Chinese demand slows. The slide hasn't been dramatic, but the end of the import surge is clearly over.
iPath Sugar ETN
(SGG) - Get Report
may face headwinds as well, as Chinese imports in August were 50% of June levels and 33% of July levels.
Within China, steel traders are pressing producers to lower their price on steel because they exceed market prices.
Claymore/AlphaShares China Small Cap
(HAO) - Get Report
has been losing momentum, but remains ranked high vs. other international ETFs.
Claymore/AlphaShares China Real Estate
(TAO) - Get Report
is much weaker, however, and losing momentum at a faster pace.
Although it is just week-on-week data, numbers coming out of China indicate the property reflation in Tier 1 cities may be over. Sales fell 10% and 30% in Shanghai and Guangzhou, respectively, while supply increased 84% and 73% as developers anticipated the typically advantageous autumn period. More supply is coming as well, and given that China also has an inventory of speculative purchases, the amount of supply will overwhelm buyers.
Nearly all China mutual funds and ETFs hold stocks that are not listed in mainland China, though companies operate there. The greatest risk is to the mainland market, due to the credit expansion in the first half of the year. For the rest of us, the impact to commodities may be more important, because that will have farther reaching consequences than an equity decline.
The buildup in U.S. domestic oil inventory today shows how quickly the data can sneak up and surprise the market.
PowerShares DB Crude Oil Double Short
(DTO) - Get Report
had a 10% gain on the day.
JJC lost about 3.8% today, SGG fell about half a percent, HAO slid 1%, and TAO fell 2%.
Don Dion is president and founder of
, a fee-based investment advisory firm to affluent individuals, families and nonprofit organizations, where he is responsible for setting investment policy, creating custom portfolios and overseeing the performance of client accounts. Founded in 1996 and based in Williamstown, Mass., Dion Money Management manages assets for clients in 49 states and 11 countries. Dion is a licensed attorney in Massachusetts and Maine and has more than 25 years' experience working in the financial markets, having founded and run two publicly traded companies before establishing Dion Money Management.
Dion also is publisher of the Fidelity Independent Adviser family of newsletters, which provides to a broad range of investors his commentary on the financial markets, with a specific emphasis on mutual funds and exchange-traded funds. With more than 100,000 subscribers in the U.S. and 29 other countries, Fidelity Independent Adviser publishes six monthly newsletters and three weekly newsletters. Its flagship publication, Fidelity Independent Adviser, has been published monthly for 11 years and reaches 40,000 subscribers.