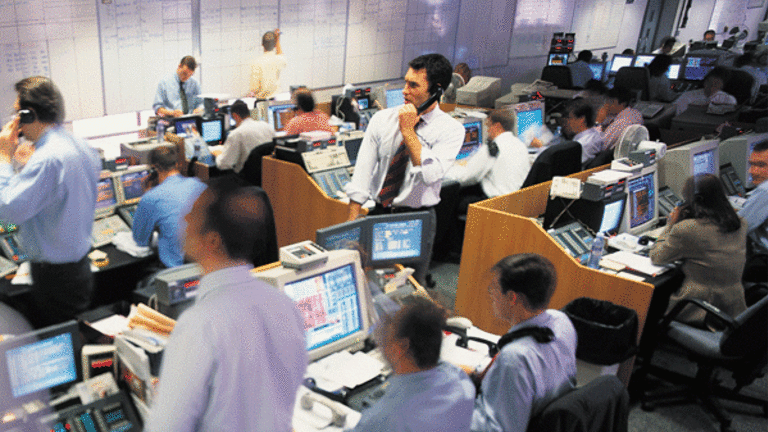 Don Dion's Weekly ETF Blog Wrap
Here's some of what Don Dion blogged about on <I>RealMoney</I> over the past week.
Here's some of what Don Dion blogged about on <I>RealMoney</I> over the past week.
Among the issues Don Dion blogged about this week on RealMoney.com were China's recovery, a Vietnam ETF and a South Africa ETF.
Chinese Recovery Could Push Nickel Higher
Posted 9/17/2009 9:50 a.m. EDT
China's fabled pig farmers are back in the news, courtesy of Sucden Financial. The farmers made a splash last month when word got out that they were stockpiling industrial metals.
Bloomberg
reports that the head of business development in Asia sent an email estimating that more than half of the inventory in Shanghai comes via speculation. He also estimated that speculators have 20,000 tons of nickel.
While some analysts worry that this metal could come back to the market and crush prices, others speculate that it is being hoarded for monetary value.
iPath UBS Copper ETN
(JJC) - Get Report
is near its 52-week high and up more than 10% since the end of July.
iPath UBS Nickel ETN
(JJN) - Get Report
is down 3% during that time and peaked on Aug. 5. From the peak, it is down 18%.
Speculators bought at the right time, when prices were severely depressed, but it will take economic recovery to push the metal higher, especially with the Chinese government encouraging the purchase of gold and silver as a store of value.
Those looking to play an economic recovery can consider the ETNs or the
PowerShares DB Base Metals
(DBB) - Get Report
ETF, which holds copper, aluminum and zinc. PowerShares also offers an ETN tracking the same index,
PowerShares DB Base Metals Long
(BDG)
, but the volume averages only 4,000 shares per day vs. almost 500,000 for DBB.
Vietnam ETF Is Attractive Emerging Market Option
Posted 9/16/2009 7:08 a.m. EDT
Traditionally, when the term "emerging market" is brought up in conversation a basket of Brazilian, Russian, Indian and Chinese companies comes to mind. However, there are a number of other nations around the world whose economic status may make them especially attractive to international exchange-traded fund investors looking for something new to add to their portfolios.
var config = new Array(); config<BRACKET>"videoId"</BRACKET> = 40380849001; config<BRACKET>"playerTag"</BRACKET> = "TSCM Embedded Video Player"; config<BRACKET>"autoStart"</BRACKET> = false; config<BRACKET>"preloadBackColor"</BRACKET> = "#FFFFFF"; config<BRACKET>"useOverlayMenu"</BRACKET> = "false"; config<BRACKET>"width"</BRACKET> = 265; config<BRACKET>"height"</BRACKET> = 255; config<BRACKET>"playerId"</BRACKET> = 1243645856; createExperience(config, 8);
While I document a number of ETF options in my
, "Sick of BRIC? ETF Alternatives," Vietnam, in particular, has sparked my interest for its low manufacturing costs and its enormous young work force. The ETF designed to track the nation's market,
Market Vectors Vietnam ETF
(VNM) - Get Report
, has been actively trading only for a short period. However, I feel it is a great option to consider when looking for alternatives to traditional international ETFs.
The companies that make up VNM's holdings hail from across a number of sectors. The fund is most heavily concentrated in financials, which account for more than 45% of the total assets. Other standout sectors include energy and industrial materials accounting for 25% and 20%, respectively.
Some analysts are saying that Vietnam's economy has the potential to become the next China. If that turns out to be true, ETF investors holding VNM may be in for a nice ride.
More Gains in Store for South Africa ETF
Posted 9/15/2009 9:50 a.m.
More gains could be in store for the
WisdomTree Dreyfus South African Rand
(SZR)
. South Africa Finance Minister Pravin Gordhan said the government will not intervene to halt the currency's advance.
Days earlier, both the head of South Africa's central bank and the IMF issued independent statements suggesting volatility for the rand, with the IMF saying it was 16% overvalued.
Over the past three months, SZR gained 10.5%, better than all currency funds except for the
WisdomTree Dreyfus New Zealand Dollar
(BNZ)
and
Swedish Krona
(FXS) - Get Report
. Gains for the rand are more recent, however; SZR gained 8.71% in the past month. The next-best-performing currency ETF was
CurrencyShares Japanese Yen
(FXY) - Get Report
, up 4.85%.
Year to date, the rand is up 41% vs. 27% for
WisdomTree Dreyfus Brazilian Real
(BZF)
.
The government's commitment to a floating rand means the currency will not meet resistance as it climbs. Unless there's a reversal in commodity prices or the U.S. dollar begins a rally, I expect current trends to continue. That said, the easy gains in SZR are gone, and traders should use caution.
At the time of publication, Dion had no positions in stocks mentioned.
Don Dion is president and founder of
, a fee-based investment advisory firm to affluent individuals, families and nonprofit organizations, where he is responsible for setting investment policy, creating custom portfolios and overseeing the performance of client accounts. Founded in 1996 and based in Williamstown, Mass., Dion Money Management manages assets for clients in 49 states and 11 countries. Dion is a licensed attorney in Massachusetts and Maine and has more than 25 years' experience working in the financial markets, having founded and run two publicly traded companies before establishing Dion Money Management.
Dion also is publisher of the Fidelity Independent Adviser family of newsletters, which provides to a broad range of investors his commentary on the financial markets, with a specific emphasis on mutual funds and exchange-traded funds. With more than 100,000 subscribers in the U.S. and 29 other countries, Fidelity Independent Adviser publishes six monthly newsletters and three weekly newsletters. Its flagship publication, Fidelity Independent Adviser, has been published monthly for 11 years and reaches 40,000 subscribers.