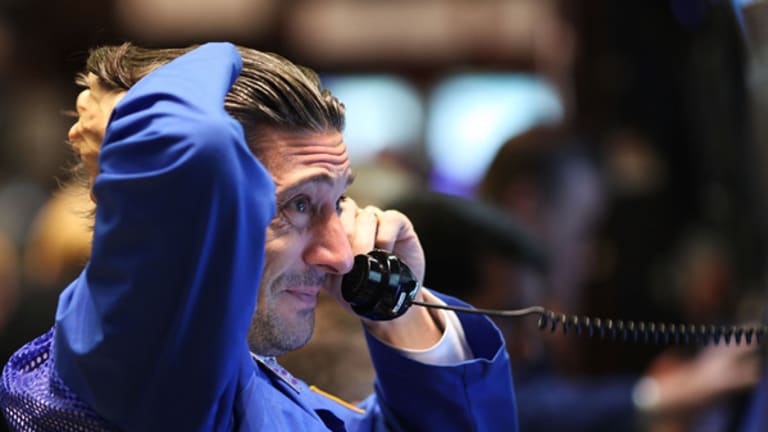 Don Dion's Weekly ETF Blog Wrap
Here's a sampling of what Don Dion blogged about this week on <I>RealMoney</I>.
Here's a sampling of what Don Dion blogged about this week on <I>RealMoney</I>.
Don Dion is a contributor to TheStreet.com. His ETF commentary is also available through his blog on RealMoney.com. These selected blogs -- on AIG, the U.S. Natural Gas fund and European economies -- were featured during the week of Aug. 17-21.
AIG Climbing on Pure Emotion
Posted 8/21/09 10:10 a.m. EDT
AIG's
(AIG) - Get Report
stock keeps marching to higher ground, and the company's new CEO's comments could keep it climbing.
After the stock popped 21% yesterday, bringing the total gain since Aug. 4 to 139%, new CEO Robert Benmosche said, "We believe we will be able to pay back the government, and we hope we will be able to do something for our shareholders as well."
AIG received $182 billion from the U.S. government, but it is on the hook for only $80 billion. Asset sales should reduce the total to $55 billion. Even if AIG can return to prebubble levels of profitability, that would probably require directing 100% of profits to the government for at least a decade, and that assumes there are no capital needs between now and then.
AIG isn't the only piece of junk shooting higher in recent weeks.
Freddie Mac
has gained 162% since Aug. 4, and
Fannie Mae
has climbed 93%. A combination of short-squeeze and short-term buying is pushing these shares higher because the broader financial ETFs have very tepid gains.
iShares Dow Jones U.S. Financials
(IYF) - Get Report
advanced 3.8% over this period,
SPDR Financial
(XLF) - Get Report
climbed 4.8%, and
SPDR KBW Bank
(KBE) - Get Report
added 7.4%.
Bullish and bearish investors should stick with the broader financial ETFs. While there's plenty of opportunity in the volatility of AIG, it is a stock completely unhinged from the fundamentals and running on pure psychological forces.
UNG Investors Are Giving Away Money
Posted 8/19/09 9:41 a.m. EDT
The
U.S. Natural Gas Fund
(UNG) - Get Report
has fallen 47.91% in 2009, and the suspension of share issuance and switch from futures to swaps does not speak well for UNG's future. Furthermore, without its closing premium of near 13%, its return would be much closer to the 53% drop seen in
iPath Natural Gas
(GAZ) - Get Report
-- should the premium eventually evaporate, returns should fall in line with this fund.
Stop Trading UNG
var config = new Array(); config<BRACKET>"videoId"</BRACKET> = 34550379001; config<BRACKET>"playerTag"</BRACKET> = "TSCM Embedded Video Player"; config<BRACKET>"autoStart"</BRACKET> = false; config<BRACKET>"preloadBackColor"</BRACKET> = "#FFFFFF"; config<BRACKET>"useOverlayMenu"</BRACKET> = "false"; config<BRACKET>"width"</BRACKET> = 265; config<BRACKET>"height"</BRACKET> = 255; config<BRACKET>"playerId"</BRACKET> = 1243645856; createExperience(config, 8);
UNG, the global behemoth of natural gas ETFs, decided to
suspend the offering of new shares, based on fears of investment inhibition. UNG representatives expressed concern that expansion will lead to federal regulation of investment in natural gas futures.
This decision is of particular concern to the fund's well-being, given the context of UNG's recent
SEC
allowance. The fund has been given the rights to expand (gaining approval for the sale of up to 1 billion new units -- a monumental capacity when considering UNG's current size of roughly 500,000 shares). Fear of regulation has also caused the fund to sell futures and purchase swaps, exposing investors to counterparty risk.
Enterprising traders will find a way to profit from the massive premium on UNG. Already, UNG investors lose money due to exacerbated contango in the futures market. Buyers at these levels have the added bonus of giving away an extra 13%. Don't join the herd.
France, Germany, Japan Emerge From Recession
Posted 8/18/2009 12:21 p.m. EDT
Germany, France and Japan succeeded in pulling themselves from the throes of recession in the second quarter of 2009.
While ETFs that track the whole of Europe (such as
S&P Europe 350 Index Fund
(IEV) - Get Report
and
PowerShares FTSE RAFI Europe
(PEF)
) may see some gains, funds that track the individual markets of Germany and France (such as
iShares MSCI Germany Index Fund
(EWG) - Get Report
and
iShares MSCI France Index Fund
(EWQ) - Get Report
) may soon be ideal niche holdings for investors looking to bank on developed Europe. EWG is up almost 5% year to date for a period ending Aug. 17. EWQ is up more than 9% for the same period.
Reuters
explained last week that the two nations succeeded in making positive growth at the end of the first half of 2009. Though far from stellar, the 0.3% growth from both France and Germany is a welcomed alternative to the previous negative quarters coming from the nations.
This news was a direct reversal of analysts' predictions that both nations would contract by 0.3% for the quarter.
Additionally, on Tuesday
Bloomberg
reported that GDP was not the only boost coming from Germany. Investor confidence, measured by the ZEW Center for European Economic Research, shot up to 56.1 from 39.5 in July. This is the highest level seen in the nation since April 2006.
Unfortunately, even with the first-rate news coming from the two largest forces in Europe, the rest of the EU failed to post positive gains in the second quarter. The total eurozone contracted 0.1% in the second quarter as economies of nations such as Italy, Austria and the Netherlands continued to shrink.
On Monday, Japan followed Germany and France to become the third G7 nation to pull out of the recession. The nation posted 0.9% growth in the second quarter, marking the first time the nation has posted growth in five quarters.
MSCI Japan Index Fund
(EWJ) - Get Report
should give investors a boost if the growth is sustainable. EWJ is currently up 3% year to date for a period ending Aug. 17.
Don Dion is president and founder of
, a fee-based investment advisory firm to affluent individuals, families and nonprofit organizations, where he is responsible for setting investment policy, creating custom portfolios and overseeing the performance of client accounts. Founded in 1996 and based in Williamstown, Mass., Dion Money Management manages assets for clients in 49 states and 11 countries. Dion is a licensed attorney in Massachusetts and Maine and has more than 25 years' experience working in the financial markets, having founded and run two publicly traded companies before establishing Dion Money Management.
Dion also is publisher of the Fidelity Independent Adviser family of newsletters, which provides to a broad range of investors his commentary on the financial markets, with a specific emphasis on mutual funds and exchange-traded funds. With more than 100,000 subscribers in the U.S. and 29 other countries, Fidelity Independent Adviser publishes six monthly newsletters and three weekly newsletters. Its flagship publication, Fidelity Independent Adviser, has been published monthly for 11 years and reaches 40,000 subscribers.