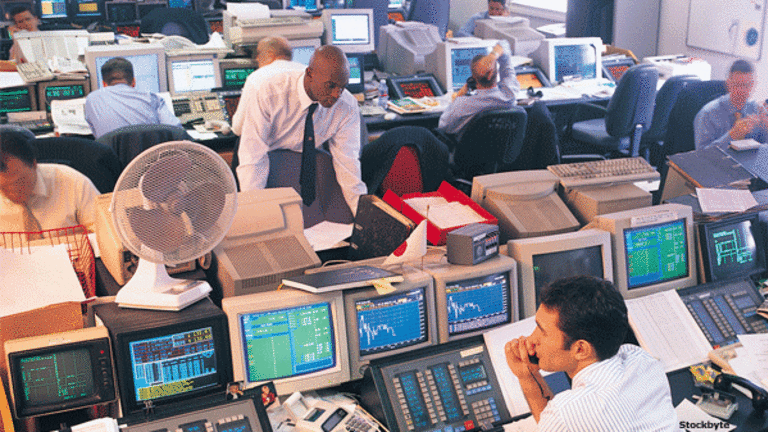 Don Dion's Weekly ETF Blog Wrap
Here's a sampling of what Don Dion blogged about this week on <I>RealMoney</I>.
Here's a sampling of what Don Dion blogged about this week on <I>RealMoney</I>.
NEW YORK (TheStreet) -- Don Dion posts his current insights on the stock, bond, commodity and currency markets in his RealMoney blog, anticipating which ETFs will be in play next. This week, among his blogs featured below, he wrote about real estate and housing ETFs, bundled products and the U.S. Natural Gas fund.
Real Estate and Housing ETFs Near the Top
Posted 8/10/2009, 1:35 p.m. EDT
Real estate and housing ETFs are in the most damaged sector of the American economy and running neck and neck with consumer sectors for the title of worst sector going forward, yet they nonetheless enjoyed a spectacular bounce. A broader short-selling rebound in some of the most beaten-down stocks (
AIG
(AIG) - Get Report
doubled last week) contributed to a frenzy in the sector.
iShares Cohen & Steers Realty Majors
(ICF) - Get Report
climbed 42% in the past month, the best of the broad REIT ETFs.
Vanguard REIT
(VNQ) - Get Report
advanced 40%, while
iShares Dow Jones U.S. Real Estate
(IYR) - Get Report
gained 38% and
SPDR DJ REIT
(RWR) - Get Report
added 39%.
iShares Dow Jones U.S. Home Construction
(ITB) - Get Report
and
SPDR S&P Homebuilders
(XHB) - Get Report
enjoyed returns north of 40%.
Improved credit conditions benefited REITs this spring and summer, but there are still clouds ahead with more than $150 billion in debt that needs to be rolled in the next four years. Any setback in the economy could trigger another wave of selling. Housing has shown signs of improvement recently and credit conditions are also favorable as long as rates stay low.
These ETFs all show improved long-term momentum, with the housing ETFs showing more strength than the REIT ETFs. Still, none have momentum that exceeds that of the broader market.
In the short run, real estate and housing ETFs are at or near the top. I've seen these outbursts of momentum come and go among the weaker sectors and rarely do funds stage a continuous rally from the bottom to the top -- even in bull markets.
My firm recently added IYR in two of our momentum-based portfolios due to technical strength, but this position may be reversed quickly.
New Bundled Products Could Be Trouble
Posted 8/13/2009, 9:47 a.m. EDT
Private banks in Europe are "wrapping ETFs into complex structured products," according to a report in the
Financial Times
. Low-cost ETFs are competition for the banks, but the creation of bundled ETFs leads to higher margins, as much as 1.5% to 1.8% on top of the fees charged by ETF issuers. Not all banks were offering the products, however.
UBS Wealth Management UK
said it would accept the lower margins associated with unbundled products to keep clients satisfied.
Last year's financial tumult marked the beginning of a long and difficult period for banks. No doubt a few of these products will be worthwhile, but wrapping ETFs with derivatives and leverage -- the strategies that led to the financial crisis in the first place -- makes little sense.
Although I have not read the prospectus for one of these new securities, I imagine that the product creates a note based on the credit of the issuer. One only need to look as far as
Lehman Brothers
to understand why this creates another layer of complexity and risk; many of their structured products no longer have a secondary market.
Financial crisis reveals that many bank profits are from derivatives and leverage; without it, these banks have little to offer their customers. This line of business will continue to come under pressure, and my hope is that they do not take the ETF industry down with them.
UNG Halts Share Creation to Shield Itself
Posted 8/13/2009, 1:32 p.m. EDT
The
U.S. Natural Gas ETF
(UNG) - Get Report
has decided to bite the hand that feeds it. In an unsurprising turn of events, UNG managers have
declined to issue additional shares of the fund
, despite requesting these very same shares last month.
In early July, UNG "ran out" of its pre-approved share allotment. Fund managers then requested the creation of an additional 1 billion shares to sate public demand.
The crux of the issue is what has transpired in the meantime. In the meantime, the Commodities Futures Trading Commission (CFTC) conducted a series of hearings to determine whether futures-based commodity ETFs like UNG and
U.S. Oil
(USO) - Get Report
were exacting undue influence on the commodities markets.
var config = new Array(); config<BRACKET>"videoId"</BRACKET> = 31066136001; config<BRACKET>"playerTag"</BRACKET> = "TSCM Embedded Video Player"; config<BRACKET>"autoStart"</BRACKET> = false; config<BRACKET>"preloadBackColor"</BRACKET> = "#FFFFFF"; config<BRACKET>"useOverlayMenu"</BRACKET> = "false"; config<BRACKET>"width"</BRACKET> = 265; config<BRACKET>"height"</BRACKET> = 255; config<BRACKET>"playerId"</BRACKET> = 1243645856; createExperience(config, 8);
Sudden scrutiny has made UNG change gear. After halting creation in early July, the fund began to unload futures contracts and buy over-the-counter swaps. UNG was right in anticipating regulation, and the swaps will not be subject to the same rules as futures contracts on the New York Mercantile Exchange.
Meanwhile, UNG has been functioning without the most basic of ETF needs: the creation/redemption process. The creation of ETF units keeps the market price of funds in line with their underlying values or NAVs. The jolt of the halt of creation has disconnected UNG from its underlying value, resulting in the fund trading at a premium for much of July.
Now UNG is voluntarily halting this process in an effort to watch its back. The fund is anticipating upcoming regulation and does not want to get caught in a position where it has to restructure on the fly due to position limits.
Each chapter in the UNG saga has added layers to an already-complex trading strategy. The fund will likely continue to separate from its value as the most basic promise of ETFs is broken.
Investors need to avoid this fund. UNG itself isn't sure how it will synthetically provide the exposure promised in its marketing, so investors can't be sure what it's getting.
The ETF industry is being attacked by a host of regulators who need to sit down and coordinate their efforts.
In the meantime, ETFs that halt creation should halt trading.
-- Written by Don Dion in Williamstown, Mass.
At the time of publication, Dion was long IYR.
Don Dion is president and founder of
, a fee-based investment advisory firm to affluent individuals, families and nonprofit organizations, where he is responsible for setting investment policy, creating custom portfolios and overseeing the performance of client accounts. Founded in 1996 and based in Williamstown, Mass., Dion Money Management manages assets for clients in 49 states and 11 countries. Dion is a licensed attorney in Massachusetts and Maine and has more than 25 years' experience working in the financial markets, having founded and run two publicly traded companies before establishing Dion Money Management.
Dion also is publisher of the Fidelity Independent Adviser family of newsletters, which provides to a broad range of investors his commentary on the financial markets, with a specific emphasis on mutual funds and exchange-traded funds. With more than 100,000 subscribers in the U.S. and 29 other countries, Fidelity Independent Adviser publishes six monthly newsletters and three weekly newsletters. Its flagship publication, Fidelity Independent Adviser, has been published monthly for 11 years and reaches 40,000 subscribers.