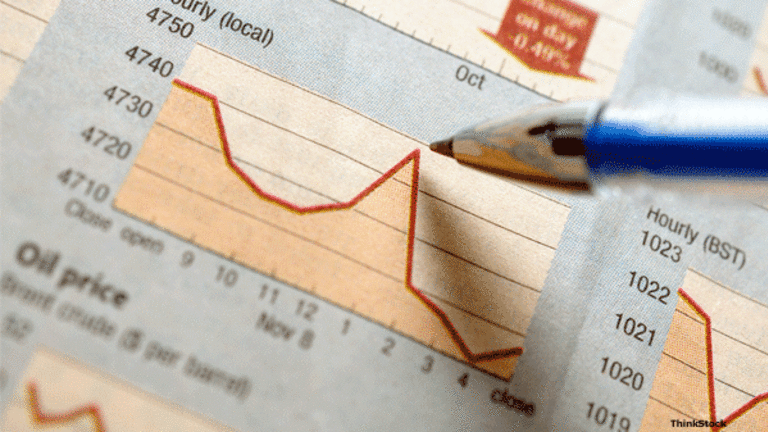 Publish date:
Don Dion's Weekly ETF Blog Wrap
Here's a sampling of what Don Dion blogged about this week on <I>RealMoney</I>.
Here's a sampling of what Don Dion blogged about this week on <I>RealMoney</I>.
Don Dion posts his current insights on the stock, bond, commodity and currency markets in his
RealMoney
blog , anticipating which ETFs will be in play next. This week, among his blogs featured below, he wrote about developments in UBS, Treasury bonds and Chinese banks.
Leveraged ETFs are in trouble, and the latest blow comes from UBS, which suspended purchases of leveraged and inverse ETFs for clients. UBS said "the short-term nature of these securities is generally inconsistent with the long-term view of investing that UBS advocates when building client portfolios."
UBS Suspends Buying of Leveraged ETFs
Posted 7/27/2009 at 4:19 p.m. EDT
Considering the stricter regulations on daytrading in the wake of the dot-com bubble, it makes sense that brokers would limit access to securities that are designed to be daytraded. Additionally, both the long- and short-leveraged products have lost money in some cases. This may be a case of brokers wanting to protect their less sophisticated investors from buying a product that they do not fully understand, but everyone will be affected by lower volume and liquidity due to these restrictions.
It seems many brokers haven't done their homework on these products, because they've offered them without examining what the ETFs are intended to do. A reasonable policy would be to allow sophisticated investors (such as those with options, margin or futures trading permission) access to leveraged and inverse ETFs. In some cases, it may be that ETFs are not the proper way to gain access to certain markets, although much older leveraged mutual funds have suffered from similar compounding problems.
These setbacks for the leveraged ETF sponsors come at a time of increased regulatory scrutiny across the financial markets. There's no villain in this story, though -- just the free-market developing faster than the ability of regulators to understand it. Financial institutions chastened by the mishaps of the past two years have stepped into the gap, but it's high time the regulators set down some ground rules for issuers, brokers and investors. And while they're looking over leveraged funds, they ought to consider whether some commodity ETFs are valid as well, since they raise similar questions of investor suitability.
Real Yields Lend Support to Bonds
Posted 7/27/2009 at 10:02 a.m. EDT
There's room to profit from the big Treasury auction this week, with 30-Year Treasury yields rising this morning. In early trading,
iShares Barclays 20+ Year Treasury
(TLT) - Get Report
is down about 1.4% compared to the 2.9% gain for
ProShares Ultra Short 20+ Year Treasury
(TBT) - Get Report
. Last week I wrote about why
TBT could be a good trade this week, and so far it is moving as I anticipated.
Nevertheless, inflation-adjusted yields are at their highest level in 15 years due to deflation, and this is an intermediate-term bullish case for high-quality bonds. Investors bought heavily in the second quarter due to attractive yields and increasing risk appetite. It is telling that
SPDR Barclays Capital High Yield Bond
(JNK) - Get Report
and
iShares iBoxx $ High Yield Corporate Bond
(HYG) - Get Report
bottomed in March, whereas the
iShares iBoxx $ Investment Grade Corporate Bond
(LQD) - Get Report
bottomed last fall.
In a deflationary environment, default risk is the top concern.
Fed
chief Ben Bernanke has said interest rates will remain low for some time, and it's clear that the Federal Reserve does not anticipate inflation in the near future (though its forecasting ability is questionable, to put it mildly). Therefore, expect opportunities to trade between ETFs such as TLT and TBT, as interest rates stay rangebound for the foreseeable future, but for long-term investors, Treasuries and the highest-quality corporate bonds are favorable to junk.
Fueling this morning's weakness in long-term Treasuries was continued strength in Asian markets. Japan's Nikkei index gained for the ninth straight day, although European markets are mixed and the
S&P 500
Index opened slightly lower. A weaker U.S. dollar also helped, though the losses to the greenback were also very mild.
Chinese Banks Spook Equities and Commodities
Posted 7/30/2009 at 6 a.m. EDT
Chinese mainland equities sank 5% Wednesday on fears of slowing loan growth after a flurry of news and rumors hit the market this week, but the losses didn't fully translate to Hong Kong shares.
iShares FTSE/Xinhua China 25
(FXI) - Get Report
and
Claymore/Alpha Shares China Small Cap
(HAO) - Get Report
both fell 3.7%.
China Agricultural Bank
, one of the big four state-owned banks, said loan growth in the first half of 2009 was 292% above the year-ago period. On Monday, bank regulators passed new rules designed to direct the flow of credit away from stocks and financial assets.
Reuters quoted a source at
China Construction Bank
saying demand for loans would taper off in the second half and that loans "are not expected to exceed 500 billion yuan in July." In June, banks made 1.5 trillion yuan worth of new loans.
Ample credit led to inflation fears, which are widely discussed in the Chinese press. Loan growth has been tied to
and stock speculation. Recently, real estate prices in some parts of the country have neared pre-crash highs, while the mainland stock market was up 89% before yesterday's decline.
China was also suspected of contributing to a commodities rally as imports into the country increased sharply this year. Specifically, copper was singled out as a target of major Chinese buying. Reasons ranged from industrial demand and diversification away from the dollar to anticipated demand related to the country's push for electric automobiles. Some believe the buying came from
hedge funds and other global buyers
, but the general belief is that Chinese growth drove demand.
iPath Copper ETN
(JJC) - Get Report
gained 17.6% between July 8 and July 28 and enjoyed an 80% percent increase year-to-date through July 28. Yesterday's 2.5% drop wasn't Shocking -- JJC dropped as much or more that that amount 18 times since the March lows in U.S. equity markets.
Nevertheless, the drop coincides with bearish news from China and a 3.5% drop in
PowerShares DB Oil
(DBO) - Get Report
among the many commodity funds that took a hit on the day. The "China story" is important for global growth and commodity bulls, but this scare is a preview of what could happen.
Still, the bulls are running. Chinese retail investors are still heading into the market. Bloomberg reports that "more than a million stock accounts were opened in the two weeks to July 24." According to the Shenzhen Stock Exchange, nearly 200,000 people have registered for the growth enterprise market (GEM), modeled after the
Nasdaq
and expected to begin trading this year. On July 26, the first day allowed, 108 companies filed applications for IPOs on the new exchange.
Signs of bubbly activity continue in Shanghai's IPO market as well.
Sichuan Expressway
tripled in its Shanghai debut on Monday and, even during yesterday's drop,
China State Construction
gained 56%.View As Web Page
Don Dion is the publisher of the Fidelity Independent Adviser family of newsletters, which provides to a broad range of investors his commentary on the financial markets, with a specific emphasis on mutual funds and exchange-traded funds. With more than 100,000 subscribers in the U.S. and 29 other countries, Fidelity Independent Adviser publishes six monthly newsletters and three weekly newsletters. Its flagship publication, Fidelity Independent Adviser, has been published monthly for 11 years and reaches 40,000 subscribers.
Dion is also president and founder of Dion Money Management, a fee-based investment advisory firm to affluent individuals, families and nonprofit organizations, where he is responsible for setting investment policy, creating custom portfolios and overseeing the performance of client accounts. Founded in 1996 and based in Williamstown, Mass., Dion Money Management manages assets for clients in 49 states and 11 countries. Dion is a licensed attorney in Massachusetts and Maine and has more than 25 years' experience working in the financial markets, having founded and run two publicly traded companies before establishing Dion Money Management.