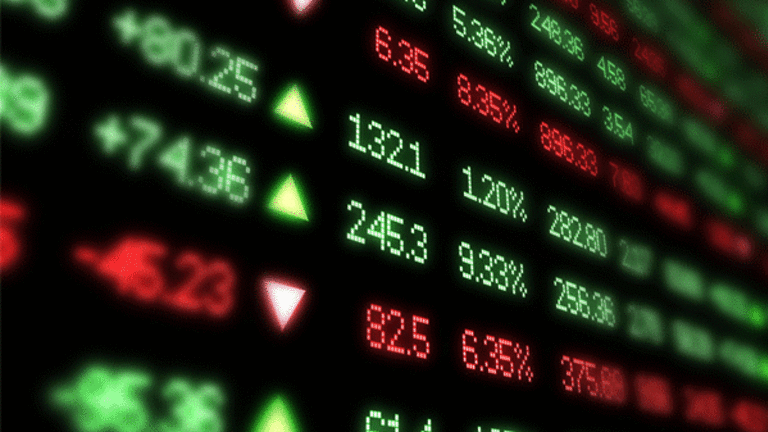 Don Dion's Weekly Blog Wrap
Here's some of what Don Dion blogged about on RealMoney this past week.
This past week on RealMoney.com, Don Dion blogged about IPO ETFs, Claymore's additional China sector ETFs and Power Shares private equity ETF.
Reduce Risk With IPO ETF
Posted 9/29/2009 3:45 p.m. EDT
With seven IPOs, last week marked one of Wall Street's busiest weeks for new entries in quite a while. Companies making appearances included
Artio Global Investors
(ART)
,
Colony Financial
(CLNY) - Get Report
,
Vitacost.com
(VITC)
and the highly-sought-after battery company
A123
(AONE)
.
While picking which newcomer firm will be successful can, at times, be like playing roulette, ETF investors have an instrument that reduces this risk.
First Trust U.S. IPO Index
(FPX) - Get Report
is designed to track the IPOX-100 U.S. Index. This index is made up of the top 100 U.S. IPOs ranked quarterly. Firms range from large, mature companies such as
Philip Morris
(PM) - Get Report
to fast-growing and undervalued IPOs.
Firms are tracked on this index for their first 1,000 days of trading. The index is adjusted quarterly.
Before jumping in, investors should be aware of the risks associated with this instrument. FPX suffers from extremely low volume. The fund's three-month average volume barely breaks 3,000. Additional risk comes with the fund's quarterly rebalancing. With new companies of various sizes and sectors issuing IPOs, the fund's makeup can vary drastically from one rebalancing to another.
Year to-date for the period ending Sept. 25, the fund is up 31%.
Claymore Adds More China Sector ETFs
10/1/2009 12:17 p.m. EDT
Recently, I wrote an article on the introduction of the first Chinese sector ETFs by
Global X
. Through Global X China Consumer, Global X China Energy, Global X China Financials, Global X China Industrials, Global X China Technology and Global X China Materials, U.S. ETF investors will be able to gain exposure to smaller, more-focused slices of the booming Chinese economy for the first time.
As a sign of the growing interest in these instruments, another fund provider announced its own new China sector ETFs. Claymore Securities is not new to China funds. The company already runs the
Claymore/AlphaShares China Small Cap Index ETF
(HAO) - Get Report
and the
Claymore/AlphaShares China Real Estate ETF
(TAO) - Get Report
. Now, looking for innovative ways to access the Chinese economy, Claymore is planning to launch three new funds aimed at covering the consumer, technology and infrastructure sectors of the emerging nation.
The funds will be listed as
Claymore/AlphaShares China Consumer ETF
,
Claymore/AlphaShares China Infrastructure ETF
and
Claymore/AlphaShares China Technology ETF
. These are welcome editions; as with their small-cap and real estate ETFs, Claymore is targeting the sectors most underserved by broader China ETFs.
It has quickly become evident that international sector funds are one of the next important evolutionary stages of the ETF universe. However, although these instruments will provide exciting new ways to invest overseas, they also come with increased risk not present in traditional international ETFs.
PowerShares Revamps a Private-Equity ETF
Posted 10/2/2009 8:04 a.m. EDT
On Sept. 30, PowerShares announced the drastic change to one of its ETF instruments. The PowerShares Listed Private Equity Portfolio, a fund originally designed to tracking the performance of a basket of U.S. private-equity firms, officially began trading as the
PowerShares Global Listed Private Equity Portfolio
(PSP) - Get Report
. This new fund provides investors with exposure to the private-equity sector from a global perspective.
The new fund's holdings come from nations such as Sweden, the U.S., the U.K. and Japan, with big names such as
Blackstone Group
(BX) - Get Report
, 3i Group PLC, and HAL Trust listed among its top 10 holdings.
Interestingly, PowerShares closed its international private-equity fund earlier this year due to a lack of interest, but that was before a multimonth rally left investors hungry for financial exposure. This new fund returns much of the exposure lost to investors by the closure of that fund.
Although PSP has been actively trading for only two days under its new form, there will already be a change to its holdings. Kohlberg Kravis Roberts & Co. recently completed its long-awaited deal to combine with KKR Private Equity Investors LP. This move allows KKR access to Euronext under the ticker KKR. It will begin trading on Friday.
After the announcement, shares of KKR Private Equity Investors LP jumped 1.1% in Amsterdam, where the company is listed.
KKR Private Equity Investors LP is currently listed as one of PSP's top holdings, accounting for 3% of the fund. The combining of the two firms and its new listing will likely boost the stock further and may lead to some alterations in PSP's weightings.
Don Dion is president and founder of
, a fee-based investment advisory firm to affluent individuals, families and nonprofit organizations, where he is responsible for setting investment policy, creating custom portfolios and overseeing the performance of client accounts. Founded in 1996 and based in Williamstown, Mass., Dion Money Management manages assets for clients in 49 states and 11 countries. Dion is a licensed attorney in Massachusetts and Maine and has more than 25 years' experience working in the financial markets, having founded and run two publicly traded companies before establishing Dion Money Management.
Dion also is publisher of the Fidelity Independent Adviser family of newsletters, which provides to a broad range of investors his commentary on the financial markets, with a specific emphasis on mutual funds and exchange-traded funds. With more than 100,000 subscribers in the U.S. and 29 other countries, Fidelity Independent Adviser publishes six monthly newsletters and three weekly newsletters. Its flagship publication, Fidelity Independent Adviser, has been published monthly for 11 years and reaches 40,000 subscribers.