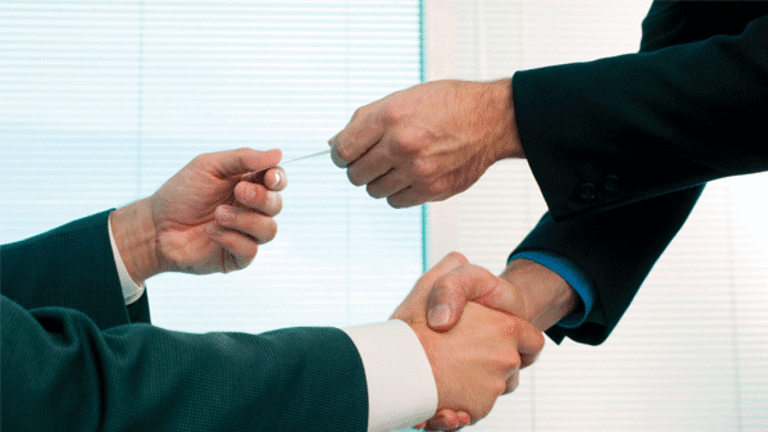 Don Dion's ETF 2010 Year in Review
The exchange-traded fund industry saw tremendous growth in 2010. Here are three of ETF expert Don Dion's most popular stories of the past year.
NEW YORK (
) -- The past 12 months have been wildly popular for the exchange-traded fund and exchange-traded note universe. During 2010, the industry has continued to grow and expand, breaking through the landmark $1 trillion asset mark. As investors become more familiar with the benefits of these products, I look forward to seeing what new and exciting developments come from the industry in the new year.
In my articles for
TheStreet
over the past year I have covered a wide range of topics relating to the industry. Here are some of the stories that generated the most interest from you, the reader.
Top Three ETFs for 2010
Originally published at 6:00 a.m. EST, Dec. 24, 2009
In 2009, investors in exchange-traded funds flocked to alternative assets, emerging markets and bonds.
The
SPDR Gold Shares ETF
(GLD) - Get SPDR Gold Shares Report
and
Vanguard MSCI Emerging Markets ETF
(VWO) - Get Vanguard FTSE Emerging Markets ETF Report
both had net asset inflows of more than $1 billion.
like iShares'
TIPS ETF
(TIP) - Get iShares TIPS Bond ETF Report
and
Investment Grade Corporate Bond ETF
(LQD) - Get iShares iBoxx $ Investment Grade Corporate Bond ETF Report
ranked among the largest funds in the ETF universe.
In the wake of the global economic crisis, some investors regained their appetite for risk, while others sought protection from it.
As 2010 begins, a different group of market forces, political pressures and investor frustrations will guide the flow of ETF assets and help to shape the future of the fund industry. ETFs, with their unique structure and low management costs, will continue to offer investors convenient ways to access individual sectors, market trends and portfolio strategies.
While many of the concerns that inspired investors in 2009 will still affect investing in the months ahead, ETF investors should consider the three following themes, and their corresponding funds, as they prepare their portfolios for 2010:
Dividends:
iShares Dow Jones Select Dividend Index ETF
(DVY) - Get iShares Select Dividend ETF Report
With rates pegged near zero for the foreseeable future, investors will have to venture out of bond and money market funds and into equities to find returns. High-yield dividend stocks are attractive holdings for investors looking to step off the sidelines and put their money to work.
ETFs like DVY are a
to gain exposure to high-yielding equities while minimizing security-specific risk.
DVY's strategy is to identify companies with the highest-paying dividends, and then eliminate the riskiest holdings with a series of "screens." In an effort to avoid exposure to extremely distressed firms, DVY's index omits REITs, as well as firms that have paid more than 60% of earnings in the form of dividends or cut their dividend in the past five years.
DVY is a large, liquid ETF with top holdings that currently include
Chevron
(CVX) - Get Chevron Corporation Report
,
Kimberly-Clark
(KMB) - Get Kimberly-Clark Corporation Report
and
McDonald's
(MCD) - Get McDonald's Corporation Report
. The top sector allocations in DVY's portfolio are utilities, consumer goods and industrials, with 26.56%, 18.55% and 14.97% allocations, respectively.
Inflation Protection:
iShares Barclays TIPS Bond
(TIP) - Get iShares TIPS Bond ETF Report
Low interest rates, a weak dollar and massive stimulus spending will continue to keep talk of both inflation and deflation in the headlines in 2010. While hard economic data has yet to demonstrate a real inflation threat, it makes sense to include inflation protection in your portfolio, and to do so before periods of high inflation.
Buying shares of an ETF like TIP, which tracks a portfolio of Treasury Inflation Protected Securities (TIPS), is an easy and inexpensive way to protect against inflation in a diversified portfolio. TIP has the advantage of being the first mover in the TIPS ETF space, and this ETF has a laddered structure to provide exposure to securities with different maturities.
According to recent data from the National Stock Exchange, TIP is the sixth largest fund in the ETF universe when measured by assets. TIP experienced an incredible expansion in 2009, and government initiatives, coupled with investor fears, should help to keep this fund at the top of the pack in 2010.
Green Energy:
PowerShares WilderHill Clean Energy
(PBW) - Get Invesco WilderHill Clean Energy ETF Report
Science has yet to come to a consensus on global warming, but two hard facts will keep "green energy" a hot topic in 2010. First, the rapid expansion of emerging markets and limited natural resources have helped to put a premium on the development of green energy technology. Secondly, both legislation and regulation are working to curb carbon emissions in both the U.S. and abroad. (See
.)
PBW is designed to deliver capital appreciation through exposure to companies that focus on greener and generally renewable sources of energy and technologies that facilitate cleaner energy. This large, liquid ETF tracks 52 firms, including
JA Solar Holdings
(JASO)
,
Fuel Systems Solutions
(FSYS)
and
Advanced Battery Technologies
(ABAT)
.
Cleaner energy and the reduction of carbon emissions will be top items on the political agenda in 2010. As companies work to comply with new standards, investors in PBW will already be ahead of the curve. (See
"ETF Plays for Copenhagen Talks"
.)
ETFs are an easy, inexpensive way to gain access to short-term market trends and diversify a long-term portfolio. As investors move assets into segments of the market like clean energy, inflation protected securities and high-yielding equities, the
ETF marketplace will evolve to meet their changing needs.
Inflation concerns fueled the recent launch of three additional TIPS ETFs by bond giant PIMCO, while the buzz over renewable energy has produced increasingly focused green ETFs.
Investors looking to participate in these areas of the market should aim for ETFs with high liquidity and low expense ratios. (See
.)
DVY, TIP and PBW are good funds to target in 2010.
Contrafund: A Fidelity All-Star
Originally published at 12:27 p.m. EDT, June 9, 2010
The recent market turmoil has not only taken its toll on individual investors, but also many of the largest and most prominent U.S. equity-based mutual funds around. One shining exception to the norm, however, has been the
Fidelity Contrafund
(FCNTX) - Get Fidelity Contrafund Report
. In 2010, FCNTX is listed as one of only two products among the 10 largest U.S. stock mutual funds which are beating their benchmarks this year.
Originally launched in 1967, Fidelity Contrafund has earned the maximum five stars from
Morningstar
(MORN) - Get Morningstar, Inc. Report
. The current brain behind this product's success, William Danoff, has been at the helm since the latter half of 1990.
Today, with $63 billion in assets, FCNTX holds the title of being Fidelity's largest stock mutual fund.
The Contrafund's claim to fame is its ability to pick out domestic companies with value that the fund manager feels is not fully recognized by the public. While in the past, the fund tracked a collection of companies hailing from across the stylebox spectrum, Danoff has since shifted the fund's approach to focus most heavily on large-cap, growth-oriented companies. Still, the fund manager sets aside a small portion of his assets for small and medium-cap firms.
As of the close of April 2010, the fund's sector distribution was heavily weighted toward the technology industry which accounts for over 30% of the fund. Other top sectors include consumer discretionary, healthcare and financials, which together make up another 40% of the fund's portfolio.
FCNTX is noticeably underweighted in utilities and telecommunications, which combined account for less than 0.5% of the fund's portfolio.
Boasting more than 400 individual holdings, the vast majority of the names underlying FCNTX represent only minor slices of the fund's portfolio. There are, however, some firms that do command large slices of Contrafund's portfolio. Making up more than 20% of the fund's total assets,
Apple
(AAPL) - Get Apple Inc. Report
,
Google
(GOOG) - Get Alphabet Inc. Class C Report
,
Berkshire Hathaway Class A Shares
(BRK.A) - Get Berkshire Hathaway Inc. Class A Report
,
Wells Fargo
(WFC) - Get Wells Fargo & Company Report
and
McDonald's
(MCD) - Get McDonald's Corporation Report
are listed as the fund's five largest positions.
Considering that this fund is actively managed, investors needn't worry about the fund's direction changing drastically, but the current turnover rate is 58%.
Investors are charged 1.01% to hold the fund. FCNTX carries no load.
Surviving and performing well in nearly any type of market has been one of the most endearing qualities of FCNTX. In times of market euphoria, however, it is not unusual for the fund to lag.
In a
CNN Money
article highlighting Contrafund, the reporter compares the fund's performance to that of large-cap growth stocks during the tech bubble of 1997-1999 and the post bubble period starting in 2000. During the times of exuberance, FCNTX underperformed large growth stocks by 10 percentage points a year. However, in the two years that followed the bubble's burst, the Fidelity fund dramatically outperformed the benchmark by 12 points a year.
The popularity of Contrafund has not gone unnoticed. In 2006, the fund had garnered so much attention and new money that it was forced to close its doors to new investors. However, in light of the market downfall, the fund reopened in late 2008. For now, investors can still gain access to this popular product.
Gold or Apple?
Originally published at 5:59 a.m. EDT, May 13, 2010
Gold is hitting new highs and many investors may be looking to add the metal to their portfolio. ETFs make gold easy to buy, but investors should take a different approach with gold than with stocks when considering where it fits in their portfolio.
In the past five years,
Apple
(AAPL) - Get Apple Inc. Report
is up more than 600%, well ahead of
SPDR Gold Shares
'
(GLD) - Get SPDR Gold Shares Report
nearly 200% run. The past five years have seen a string of successful new products from Apple, while inflation and financial crisis have lifted gold. Apple's success shows that at the end of the day, creative minds are a better bet than the yellow metal. For many blue-chip companies, however, the creativity and innovation hasn't been nearly enough.
Apple Builds Facebook Into iPhone (Forbes)
In the past five years, GLD has trounced major blue-chip companies such as
Wal-Mart
(WMT) - Get Walmart Inc. Report
,
Exxon Mobile
(XOM) - Get Exxon Mobil Corporation Report
and
Procter & Gamble
(PG) - Get Procter & Gamble Company Report
. Those companies have performed well relative to other stocks as measured by the S&P 500 Index, which was up an annualized 2.6% over the past five years. With reinvested dividends, investors holding these shares have done well and their returns over the past five years are solid, but many investors are looking for more.
If they turned to
Google
(GOOG) - Get Alphabet Inc. Class C Report
, which is up more than 100% in the past five years, they'd find that it too has trailed gold by a healthy margin. Google hasn't seen its share price advance nearly as much as Apple's gain, but is most certainly a creative, innovative and financially successful company. Still, it was unable to beat the allure of the "barbarous relic."
However, it really doesn't make sense to compare individual stocks to gold (unless they're mining it). A more appropriate measure is to compare all stocks to gold. Instead of deciding between Apple and gold, investors should decide between stocks and gold, with stock selection a separate decision.
In 2000, at the height of the technology bubble, the S&P 500 Index traded at a ratio of 5 to 1 versus one ounce of gold. At the other extreme, in 1980, the S&P 500 Index traded for one-sixth of the price of gold. The swings are the result of changes in investor sentiment. In 2000, investors believed in the "new economy," that the business cycle had been tamed and the Internet would unleash rising profit margins for years to come. In 1980, they held the opposite view, wondering if the U.S. would ever exit a stagflation that had plagued the country for years.
The difference between these two periods is stark. In one period, investors are very optimistic and they are focused on what businesses are doing. Investors might compare
Coca-Cola
(KO) - Get Coca-Cola Company Report
and
Pepsi
(PEP) - Get PepsiCo, Inc. Report
based on management, strategy, new products, valuation, etc. In the other period, the difference between Coca-Cola and Pepsi doesn't appear as great. Investors are more focused on geo-political concerns and want to know what the government will do, rather than what a company will do.
It's a case of the two types of risk taking prominence: market risk and firm-specific risk. When investors are willing to take market risk, firm-specific risk becomes much more important. But when investors are unwilling to take market risk, firm-specific risk fades into the background. Investors can reduce firm-specific stock risk by holding many stocks from different industries. To diversify the risk of stocks themselves, they need to hold something besides stocks. When risk gets high enough, that something has often been gold.
The chart on the next page shows the ratio between
SPDR S&P 500 Index
(SPY) - Get SPDR S&P 500 ETF Trust Report
and
SPDR Gold Shares
(GLD) - Get SPDR Gold Shares Report
over the past three years. The stock market rally looks less impressive on this chart, as stocks have failed to gain ground on gold since August 2009. Gold really started outperforming stocks in the past couple of weeks. The eyes of the world were focused on Greece and European governments, wondering how they'll solve an escalating debt crisis. In this situation, investors sold stocks almost indiscriminately and sought the safety of gold. Bonds and cash did well too, but not as well as gold, because investors wonder if the solution to debt problems will involve default or inflation.
The lesson for investors here is that gold is a hedge against risks that hurt stocks (and bonds too), rather than an alternative to stocks. Therefore, don't base a decision to invest in gold on whether or not it did better or worse than particular stocks. Instead, think of it in relation to your total stock risk. When risks stemming from political decisions, including inflation, are high, adding some gold to a portfolio will hedge this risk.
It doesn't make sense to abandon stocks, however. While the ratio between the S&P 500 and gold is a useful indicator, the S&P 500 Index quoted each day does not include reinvested dividends. The S&P 500 Index closed at 1155 on Tuesday, but the S&P 500 Total Return Index, which includes dividends, closed at 1917. The impact of dividends over time is a significant portion of returns, which is why investors should also be invested in solid dividend paying firms such as those found in ETFs like the
iShares Dow Jones Select Dividend Index
(DVY) - Get iShares Select Dividend ETF Report
.
More on Dividends
Top 10 Dow Dividend Stocks
Current market conditions are a reason to be prudent, not to panic. During last week's "flash crash," the price of gold and bonds went up, not down. Beyond just protecting your portfolio, diversification can also protect your emotions from harming your investment decisions.
At the time of publication, Dion owned DVY and TIP.
--Written by Don Dion in Williamstown, Mass.
>To contact the staff member responsible for this article, click here:
Ross Snel
.
>To follow the writer on Twitter, go to
.
>To submit a news tip, send an email to:
.
This commentary comes from an independent investor or market observer as part of TheStreet guest contributor program. The views expressed are those of the author and do not necessarily represent the views of TheStreet or its management.