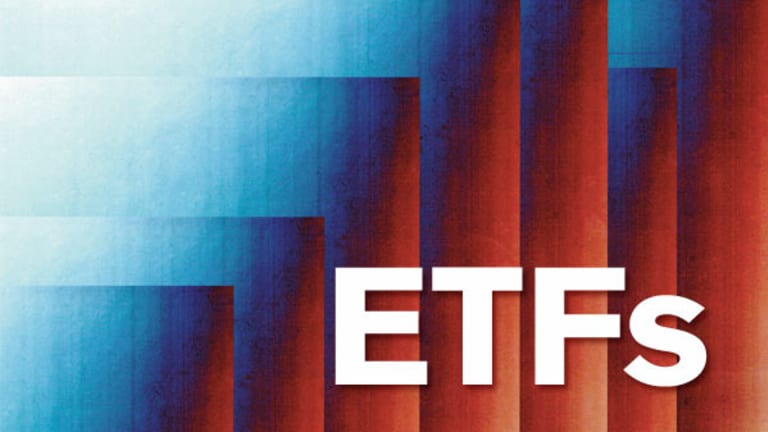 Domestic Risk-Taking Is Back in Vogue
With the eurozone's economy shrinking, investors are moving back to ETFs of U.S. stocks.
NEW YORK (ETF Expert) --The S&P 500 has not merely been resilient in its six consecutive weeks of gains, it has been unstoppable in its 8.3% unrealized run-up.
Granted, nearly everyone expects a period of mild selling activity (a.k.a. "a breather"). Indeed, history certainly suggests that unbridled enthusiasm usually gets a reality check or three. The most popular bugbears? Think in terms of the automatic spending cuts to defense, a free-falling yen and Spain's rocky road in 2013. In fact,
iShares MSCI Spain
(EWP) - Get iShares MSCI Spain ETF Report
is struggling at its 50-day support.
I've been asked many times whether I am bullish or bearish on "the markets." Often I find myself explaining that my strength as the
president of a Registered Investment Adviser with the SEC
rests with the recognition that predictions often distract investors from achieving financial goals.
I have emphasized that far too many folks are dismissing the eurozone's problems as manageable, while others fail to realize that China has turned its economy around. In fact, I remain committed to Asian investing via
iShares MSCI Asia excl Japan
(AAXJ) - Get iShares MSCI All Country Asia ex Japan ETF Report
and I avoid direct exposure to the euro or the countries in the monetary union that drag on Europe's economy. To the extent that makes me bullish on Asia and bearish on Europe, so be it.
There is a difference, however. I incorporate trendlines, stops and hedges to reduce the risk associated with being wrong. No doubt about it, there are times that I will be wrong.
Yet, I do not buy and hold. I am not married to my belief that opportunities for vibrant trade as well as domestic consumption in Asia are expanding. Instead, if AAXJ hits a stop-limit loss order or falls below a long-term 200-day moving average, I would reduce the risk by selling some or all shares for my clients.
So should you simply invest in domestic (U.S.) companies? Shares have been rising at a faster rate than international or emerging market counterparts over the last month.
In spite of the U.S. market exuberance, some of the reasons cited for the gains do not hold up to scrutiny. For example, the idea that 70% of U.S. corporations have been beating fourth-quarter revenue and fourth-quarter profit expectations is less than impressive when analysts are consistently downgrading those expectations; the hurdle becomes a mole hill.
What's more, these very same companies are lowering their own first-quarter 2013 estimates (as opposed to raising them) at a ratio of 4:1. Analysts have cut first-quarter earnings projections in half since the year began, from 3.4% to 1.7%.
None of this seems to matter to investors who have decided it's time to leave bonds and enter equities. Yet, it does significantly increase the likelihood that the market will get far ahead of itself on a price-to-earnings basis, especially when prices are rising and earnings are contracting.
There's more: While virtually all stock sectors have been gaining ground in 2013, lower volatility sector ETFs like
Vanguard Consumer Staples
(VDC) - Get Vanguard Consumer Staples ETF Report
(VDC),
Vanguard Telecom
(VOX) - Get Vanguard Communication Services ETF Report
and
iShares DJ Pharmaceuticals
(IHE) - Get iShares U.S. Pharmaceuticals ETF Report
have lower Relative Strength Percentage Rankings than they boasted three months earlier.
In contrast, higher beta sector ETFs like
SPDR Select Energy
(XLE) - Get Energy Select Sector SPDR Fund Report
,
SPDR Select Industrials
(XLI) - Get Industrial Select Sector SPDR Fund Report
as well as
First Trust Internet
(FDN) - Get First Trust Dow Jones Internet Index Fund Report
have higher relative strength percentage rankings than three months prior.
In sum, rational or irrational,
Federal Reserve
-fueled or economic renaissance,
risk-taking in the U.S. market
is back in vogue. Risk-taking in the international markets has been a bit more constrained, perhaps because the European Central Bank is not lowering its interest rates and it is not currently purchasing member country bonds at a pace of $85 billion per month.
With the eurozone's economy shrinking, an absence of new stimulus has investors rethinking whether European exposure is worth the risks after all.
This article was written by an independent contributor, separate from TheStreet's regular news coverage.
Disclosure Statement: ETF Expert is a website that makes the world of ETFs easier to understand. Gary Gordon, Pacific Park Financial and/or its clients may hold positions in ETFs, mutual funds and investment assets mentioned. The commentary does not constitute individualized investment advice. The opinions offered are not personalized recommendations to buy, sell or hold securities. At times, issuers of exchange-traded products compensate Pacific Park Financial or its subsidiaries for advertising at the ETF Expert website. ETF Expert content is created independently of any advertising relationships. You may review additional ETF Expert at the site.
Gary Gordon reads:
On Twitter, Gary Gordon follows: