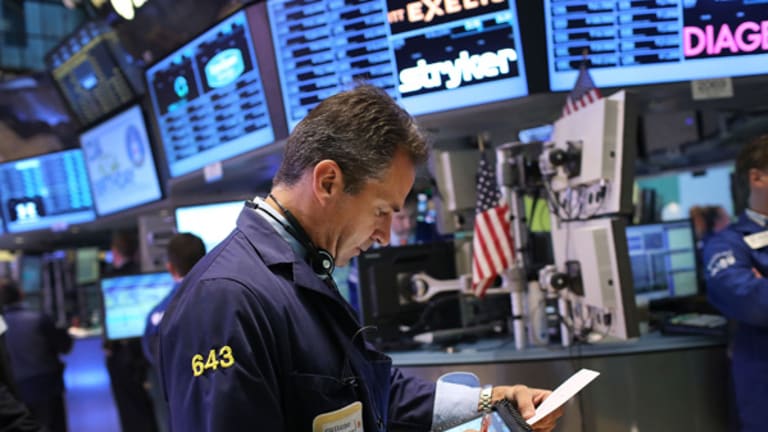 Do Growth Investors Have Anywhere To Hide?
The next six months are not going to look anything like the last six months.
The next six months are not going to look anything like the last six months.
NEW YORK (
Fabian Capital Management
) -- Last week we saw some of the biggest swings in both the stock and bond market for 2013 as comments from
Federal Reserve
Chairman Ben Bernanke stoked the fires of QE tapering and rising rates.
The sell-off in equities pushed the
SPDR S&P 500 ETF
(SPY) - Get Report
below its 50-day moving average, which I have been watching all year as a key technical level. This could be the start of a more profound correction in stocks which is why it's important to review your invested positions and assess where the opportunities are in the market.
I have been recommending for several weeks that growth investors consider paring back on their equity exposure in preparation for a volatile summer. The first step is to move a portion of your portfolio to cash where you have a clear and unobstructed view of the investment landscape. That way you can make new trading decisions with a clear head and open mind.
In the midst of a "normal" correction, I would be looking at several opportunities to hedge or balance out the remaining stock exposure that you want to keep in the portfolio with non-correlated positions. These can include Treasury bonds, precious metals, or even short positions. However, these are far from normal circumstances and each asset class should be reviewed with an eye towards both the risks and potential rewards.
1. Treasuries.
A quick look at the price action of the
iShares 20+ Year Treasury Bond ETF
(TLT) - Get Report
and
iShares 7-10 Year Bond ETF
(IEF) - Get Report
will show that both the intermediate and long end of the bond spectrum have been hit the hardest by rising interest rates. Traditionally, these ETFs have been a safe haven in times of stock turmoil as a "flight to quality" trade. However, the threat of rising interest rates has investors fleeing Treasury bonds right now. So far TLT has fallen more than 16% from its highs while IEF is off more than 6% as well.
I am not ready to declare the 30-year bond bull market dead quite yet, which is why these funds should still be on your watch list. If we see a return of stability in interest rates and a continued push lower in equities, I believe that investors will realize that there is greater value in bonds than in stocks right here. The key to remember is that these should be used as trading positions and not long-term investment themes. Ultimately we are going to see a return of much higher rates which is why you need to keep your stop losses tight.
2. Precious Metals.
The
SPDR Gold Shares
(GLD) - Get Report
has disappointed many gold bugs over the last eight months as the yellow metal has fallen 31% from its October 2012 high. Just this week it hit new 2013 lows and has not found a bottom quite yet. The
iShares Silver Trust
(SLV) - Get Report
is another area of the commodities sector that has experienced even greater losses this year.
The precious metals sector has traditionally been a hideout for growth investors during times of volatility, but it is not showing a convincing pattern of stability right now. I am closely watching both GLD and SLV for a sign of trend or momentum change, however, I am not holding them as a safe haven at this time.
3. Short Position.
Many of my followers know that I am not a huge fan of going net short the market. In my experience taking a one-sided stand against stocks has a much greater chance of failure than success unless you are a very short-term and disciplined trader. However, I can see the benefit in using a small short position to hedge off the risk of a correction in highly appreciated stocks that you don't want to sell.
This may include adding a broad based short ETF such as the
ProShares Short S&P 500
(SH) - Get Report
or the
ProShares Short QQQ
(PSQ) - Get Report
. Both of these ETFs will give you single-beta inverse exposure to large cap stock indexes. However, keep in mind that you should use a tight stop loss on these positions to manage the risk of a snap back rally.
I would caution those that are thinking about shorting interest rates right here using the
ProShares Short 20+ Year Treasury Bond
(TBF) - Get Report
. Bonds have already made a big downward move and I think that adding a rising interest rate fund at this point is very late to the game.
Areas of Safety and Strength
In rare times like these when we are seeing stocks, bonds and commodities fall in tandem, the best place to hideout may be cash. If you have already been proactive and raised cash in your portfolio, then you are ahead of the game and can start building your watch list for new opportunities that you want to purchase into this dip.
One area of the market for growth investors that are considering making sector allocation changes is regional banks. The
SPDR S&P Regional Bank ETF
(KRE) - Get Report
has been remarkably resilient in the face of this equity selloff and may continue to outperform the rest of the market going forward. I don't currently have exposure to this ETF, but it is on my watch list for my growth clients as a sector that I am closely monitoring.
No matter how you end up playing this summer of volatility, I think it's important to keep in mind that the next six months are not going to look anything like the last six months. Keep your expectations for returns in line with the current economic conditions and adjust your risk tolerance to weather this volatility so that you come out on the other side a winner.
At the time of publication the author had no position in any of the stocks mentioned.
This article was written by an independent contributor, separate from TheStreet's regular news coverage.
David Fabian is currently a Managing Partner at Fabian Capital Management, a fee-only registered investment advisory firm specializing in exchange-traded funds. He has years of experience constructing actively managed growth and income portfolios using ETFs. David regularly contributes his views on wealth management in his company blog, podcasts, and special reports. Visit
to learn more.