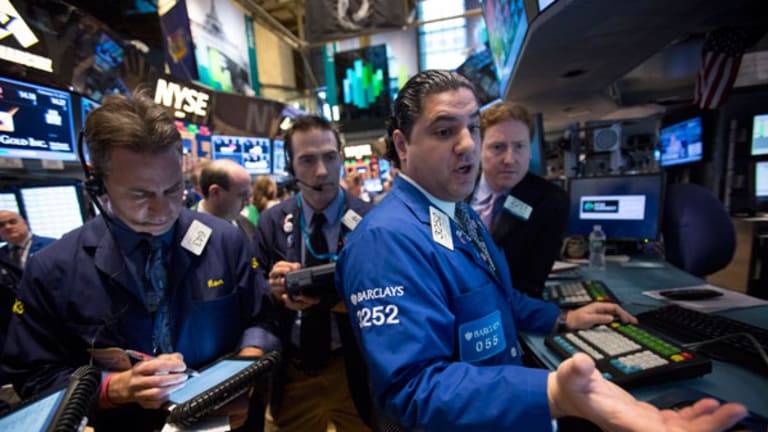 Dividend Investors: Focus on Growth, Not Current Yield
A new WisdomTree fund screens companies with specific attributes it believes will lead to dividend growth.
NEW YORK TheStreet -- The exchange-traded fund industry has given investors more dividend-centric funds than most people could possibly keep track.
But the new
WisdomTree US Dividend Growth Fund
(DGRW) - Get Report
hopes to offer something new. The big idea is that other dividend funds are backward-looking. DGRW will attempt to look forward by isolating "certain fundamental factors" it believes will lead to growing dividends.
Dividend growth is very important to investors seeking yield because, in addition to growing dividends equating to fundamental health of a company, they also allow investors' income to keep up with inflation or even outpace it.
The idea behind "certain fundamental factors" is a combination of forward-looking earnings and trailing three-year returns on equity and assets. WisdomTree believes stocks that score well through this screening will be candidates for future dividend increases.
With the heavy focus on growth it is not surprising that technology is the largest sector, at 20%. Sector weights are capped at 20%. Industrials, consumer discretionary and consumer staples are each allocated 19% in the fund. Health care, financials, materials and energy all have very small weightings. For now there is no telecom or utilities exposure.
The top 10 holdings are a who's who of mega-cap stocks including
Apple
(AAPL) - Get Report
,
Microsoft
(MSFT) - Get Report
,
Procter & Gamble
(PG) - Get Report
and
Wal-Mart
(WMT) - Get Report
.
Given the orientation of the holdings, it is very likely that over short periods of time DGRW will look very similar to the
SPDR S&P 500
(SPY) - Get Report
. Because of the almost 40% in tech and industrials, the fund would likely endure a larger decline when the next bear market hits. But if the fund's methodology does track dividend growers in the manner WisdomTree expects then any expectation for outperformance would be over longer periods of time.
>>Also see: Internet M&A is Different Than You Might Think >>
DGRW will own the 300 companies with the highest scoring in the screening process, which looks at a universe of over 1,300 stocks. It will charge a 0.28% expense ratio; the underlying index currently has a 2.25% yield which, after accounting for the expense ratio, the fund could yield 2%.
Income-oriented investors might not be thrilled with 2% but it is important to understand what the fund is trying to achieve. It is screening companies with specific attributes that WisdomTree believes will lead to dividend growth. The research cited shows that companies that grow their dividends tend to outperform the market which if correct will lead to a superior total return.
It is crucial that investors understand the objective of any exchange-traded product they buy. The
iPath S&P 500 VIX Short Term Futures ETN
(VXX) - Get Report
is a very popular fund but it is clearly for short-term use only. Anyone holding VXX for the long term had endured a dreadful result; it is down 95% since its inception. That does not mean the fund can't be useful, it is very likely to go up the next time the market has a downtrend.
>>Also see: Will You Be Satisfied With A 529 Plan? >>
So it is with DGRW being for the long term. Its result for the next three months will be irrelevant in terms of validating the methodology. Success, or lack thereof, can only be assessed after a period of years.
At the time of publication the author had no position in any of the stocks mentioned.
This article was written by an independent contributor, separate from TheStreet's regular news coverage.
This contributor reads:
On Twitter, this contributor follows: