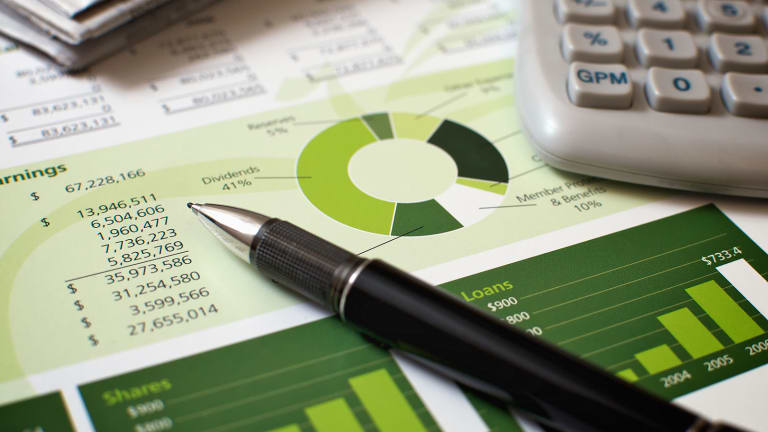 Dividend Funds Need to Be in Your Life
Steady, dependable returns in a diversified package -- that's what dividend funds offer. What's not to like?
Investors on the prowl for a dependable return in a diversified package may want to take a long look at dividend funds, including standard mutual funds and low-cost dividend exchange traded funds.
In a word, dividend funds allow investors to steer money into dividend stocks without the anguish of having to manage individual dividend stocks. Dividend funds mainly invest in companies that pay dividends to shareholders, which investors can take in the form of direct payments or returns that can be plowed back into the fund.
The primary benefit of dividend funds is the prospect of a steady stream of income, but with lower expense ratios and smaller fees than stocks, especially if you opt for sector ETFs. Dividend ETFs aren't exactly barn burners performance-wise - the benchmark Schwab U.S. Dividend ETF (SCHD) - Get Schwab US Dividend Equity ETF Report has only returned 6.8% this year, but the $5.7 billion fund does offer a nice yield of 2.84% and a net expense ratio of just 0.07%.
Another major dividend ETF, the iShares Core Dividend Growth (DGRO) - Get iShares Core Dividend Growth ETF Report fund, has $6.3 billion in assets under management and offers better performance -- it's up 11.2% so far in 2017. But it also has a lower yield of 2.12% and a slightly higher expense ratio of 0.09% than SCHD.
Dividend funds are similar in that they focus on companies that pay regular dividends to their shareholders, on a quarterly payment basis, says Aaron Milledge, founding partner and chief compliance officer at Targeted Wealth Solutions LLC, in Erie, Colo.
More of What's Trending on TheStreet:
But investors should get up to speed on other impactors that are linked to dividend funds, he says.
"For example, a focus on companies that pay dividends may overweight a portfolio with an exposure to a particular sector -- which may be significantly different than a widely followed market benchmark," says Milledge.
For example, he says, the SPDR S&P Dividend ETF (SDY) - Get SPDR S&P Dividend ETF Report has an 11.2% exposure to utilities versus the broad S&P 500 index's 3.3% exposure.
Taxation may be a significant drawback to a strategy that focuses on the regular payment of dividends, as well. "Even though qualified dividends get taxed at long-term capital gains rates -- which are lower than ordinary income rates -- you still get a tax bill for collecting dividends," Milledge notes. "Non-qualified dividends are actually taxed at your ordinary income tax rate."
Additionally, exposure to dividend-paying stocks by way of investing in dividend-focused funds may lead investors to believe that they are somewhat insulated from market gyrations, Milledge adds. "After all, dividend strategies have largely benefited from their exposure to the low-volatility equity factor," he says. "This creates a tempting proposition for investors to swap their bonds for dividend funds, especially in a low-interest rate environment. It's important to remember, however, that trading those bonds for equities - even dividend-focused funds - removes the historic "shock absorbing" benefit of fixed income when it comes to managing portfolio risk."
Milledge says there's also no guarantee that a company will continue its dividend policy. "That's a serious consideration for an investor who's relying on a steady stream of income in retirement and has budgeted for those dividends," he says.
While there are risks associated with dividend funds, the track record of sustained dividend payouts by major companies is undeniable.
"For example, according to Dividend.com, Coca-Cola (KO) - Get Coca-Cola Company Report has increased its dividend for 55 consecutive years," notes William Ryon, a managing partner at Compass Investment Advisors, in Dover, Del.
The company increased its dividend at a ten-year compound annual growth rate (CAGR) of 9%, as well, according to SimplySafeDividends.com.
Dividend funds also provide inherent financial benefits for people living on a fixed income, like retirees.
"As companies increase their dividends the funds that invest in them may follow suit passing these pay increases along to shareholders of the fund," Ryon explains. "This provides retirees with a way to potentially receive a raise in pay even though they no longer work."
That raise can help them fight inflation and the increases in prices of everyday items. "In that way, dividend funds can provide investors with increasing income throughout their retirement, a truly important benefit given the increases in life expectancy," says Ryon.
It's difficult to say which funds are "best," Ryon states. Yet there are a few dividend funds that rank high when benchmarked against an index for performance and meet fiduciary standards as set forth by Fi360, indicating the fund managers have been good stewards of the assets.
"On that list is the T. Rowe Price Dividend Growth Fund (PRDGX) - Get T. Rowe Price Dividend Growth Report , which sports five stars from Morningstar and a current fiduciary score from Fi360 of 20 (the lower the better, with 0 the best and 100 worst)," he says. "One of the standout features of PRDGX is that manager Tom Huber has been running the fund for 17.5 years."
Columbia Dividend Income Y (CDDYX) - Get Columbia Dividend Income Inst3 Report also has five stars from Morningstar and has a slightly weaker fiduciary score of 36 from Fi360. "This is a newer fund with only a three-year track record but solid performance," Ryon adds. "Invesco Diversified Dividend Y (LCEYX) - Get Invesco Diversified Div Y Report is also a solid fund with four stars from Morningstar and a fiduciary score of 46 from Fi360, even though its performance is trailing this year versus its peers."
Although these funds have a focus on dividend investing, they all have different characteristics that any investor should know about, Ryon says.
"These funds have varying degrees of risk, different fees, and different investment processes," he says.
It will be up to investors to research the best dividend funds for them, but the rewards in doing so could be highly beneficial - especially if you're all about earning a steady stream of income from your fund investments.