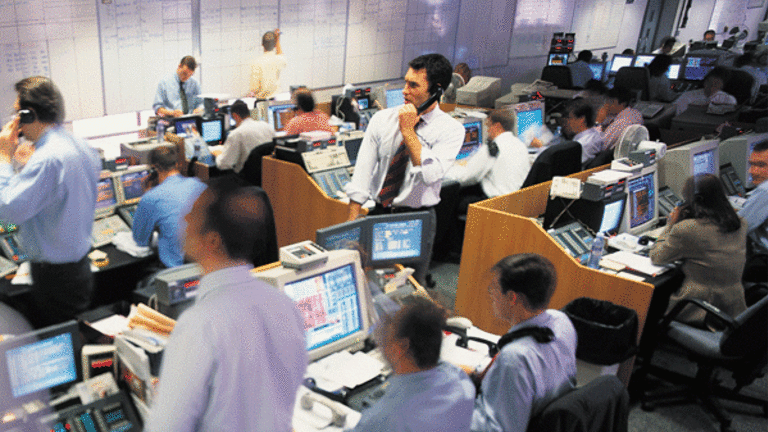 Diversify to Fight Inflation
Even if inflation fears are unfounded, gold TIPS and index funds make great long-term holdings.
Even if inflation fears are unfounded, gold TIPS and index funds make great long-term holdings.
The argument over inflation has reached fever pitch as investors turn to gold, TIPS and index funds to diversify their portfolios and beat the specter of declining purchasing power. However, if inflation fears are not realized, these three investments still serve as good ways to diversify your portfolio in a difficult economic climate.
Gold has historically been one of the investments of choice for people seeking to hedge against the loss of the purchasing power of paper currency. Shares of
iShares COMEX Gold Trust
(IAU) - Get Report
and
SPDR Gold Shares
(GLD) - Get Report
represent a direct investment in the price of physical gold bullion, stored in protected locations. These funds do not invest in equity securities or complicated derivatives -- just the real deal. An investment in IAU or GLD also allows investors to take a stake in physical gold without state of the art security and a giant vault.
Gold prices can be very difficult to predict and many wise traders have chased the gold trade only to buy at the top and sell at the bottom. Investors should choose GLD or IAU as a long-term inflation hedge, not a short-term gamble. If you believe that inflation concerns are unfounded, gold is a good way to diversify your portfolio with an investment that has traditionally performed well when other sectors of the market have done poorly.
Treasury inflation-protected securities are another popular way to steel a portfolio against inflation and
iShares Barclays TIPS Bond Fund
(TIP) - Get Report
provides a consumer-friendly method for investors to buy TIPS. While the consumer price index is not perfect, it serves as a guide for consumers and the principal investments in this fund.
The
Federal Reserve
has sustained an unprecedented effort to increase the money supply while keeping short-term rates next to zero, and some funds like TIP have skipped dividend payments to investors because of low rates. TIP is a good way to protect a small portion of your portfolio against the risk of rising rates in the future.
TIP should be an investment for the long haul, however, and investors looking to capture the upside will have to endure the current doldrums stalling the fund. TIP owns solely inflation-protected securities backed by the U.S. government, which also may provide some comfort to investors looking to minimize credit risk in at least a portion of their portfolios. TIP is a good low cost way to add inflation protected securities to the mix.
Index ETFs such as
iShares Russell Midcap Index
(IWR) - Get Report
,
S&P Depository Receipts
(SPY) - Get Report
,
PowerShares QQQ
(QQQQ)
and the
DIAMONDS Trust
(DIA) - Get Report
offer investors a low-cost vehicle to diversify their portfolios and stem the effect of inflation.
IWR is a low cost mid-cap fund that invests in a large number of securities to provide investors with diversification. SPY is a plain vanilla approach to large-cap investing, and this fund has had a high correlation to broader market movement. SPY is also one of the cheapest ETFs available.
Investing in ETF index funds helps to cut costs and take some of the guesswork out of diversified investing. While U.S. equity index funds are not "inflation proof," many have outperformed over time and provided more stable returns for conservative investors.
While investors have already begun guarding their portfolios against inflation, current data has yet to exhibit clear signs of this particular economic worry. The market for inflation-protection investments has run up hard and fast despite little hard data.
Fears caused by inflation or even deflation, however, remind us of why it is increasingly important to have a well diversified portfolio. Chasing inflation fears or any trend is likely to result in losses. A well-diversified, long-term investing approach is the best way to battle economic uncertainty.
While actual inflation is low, it may be the best time to invest a small portion of your portfolio to guard against it for the next few years.
At the time of publication, Dion was long IAU, TIP, QQQQ, DIA and SPY.
Don Dion is the publisher of the Fidelity Independent Adviser family of newsletters, which provides to a broad range of investors his commentary on the financial markets, with a specific emphasis on mutual funds and exchange-traded funds. With more than 100,000 subscribers in the U.S. and 29 other countries, Fidelity Independent Adviser publishes six monthly newsletters and three weekly newsletters. Its flagship publication, Fidelity Independent Adviser, has been published monthly for 11 years and reaches 40,000 subscribers.
Dion is also president and founder of Dion Money Management, a fee-based investment advisory firm to affluent individuals, families and nonprofit organizations, where he is responsible for setting investment policy, creating custom portfolios and overseeing the performance of client accounts. Founded in 1996 and based in Williamstown, Mass., Dion Money Management manages assets for clients in 49 states and 11 countries. Dion is a licensed attorney in Massachusetts and Maine and has more than 25 years' experience working in the financial markets, having founded and run two publicly traded companies before establishing Dion Money Management.