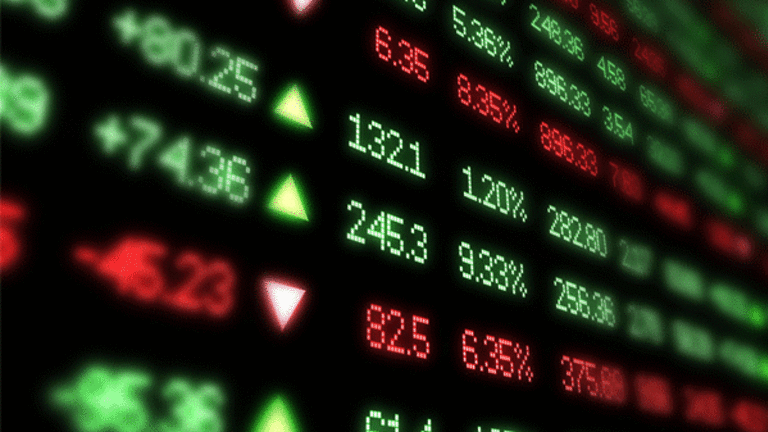 Direxion Diversifies With 130/30 ETF
While the 130/30 strategy has worked in other incarnations, the ETF model presents new challenges.
While the 130/30 strategy has worked in other incarnations, the ETF model presents new challenges.
Direxion, the creator of Daily Financial Bull 3X (FAS) - Get Report, recently filed to launch a 130/30 strategy ETF to add to their leveraged product line. It's a good time for Direxion to diversify: UBS (UBS) - Get Report, Edward Jones and Ameriprise (AMP) - Get Report have halted the sales of leveraged funds, while Morgan Stanley (MS) - Get Report and Wells Fargo (WFC) - Get Report currently have the funds under review.)
Leveraged funds lave been Direxion's bread and butter, sky rocketing the ETF issuer into the public and regulatory spotlight. Rather than betting on 3 times long and 3 times short pairs like
Emerging Markets Bull 3X
(EDC) - Get Report
and
Emerging Markets Bear
(EDZ) - Get Report
, a 130/30 fund would combine both long and short strategies in one fund.
The 130/30 strategy has historically been used by hedge funds to outperform market returns. These funds try to outperform a benchmark by holding 130% long exposure to individual securities the manager believes will outperform the market and 30% short exposure to securities expected to fall behind the market. The result is leverage in both directions.
While Direxion was already beaten to the punch, this issuer's recent press will certainly help to gain public knowledge of the new fund.
ProShares
, another popular leveraged fund provider, has already launched the
ProShares Credit Suisse 130/30 ETF
(CSM) - Get Report
. While the new fund has yet to gain trading traction, average volume is not anemic.
First Trust
, creator of
First Trust Natural Gas
(FCG) - Get Report
, also launched its own 130/30 ETN, the
First Trust Enhanced 130/30 Large Cap Index
(JFT)
, more than a year ago. Investors should continue to be aware that ETNs reflect the credit-worthiness of their exposure, adding an extra layer of risk.
Issuers like Direxion and ProShares have taken great pains to stay ahead of the regulatory juggernaut with descriptive warning labels. Both issuers warn that leveraged funds are designed for daily exposure, not long-term positions. The new 130/30 ETF would take aim at a longer time period -- these hedge fund strategies
.
Two important questions remain: Will potential investors fully understand new strategies before investing, and do new "hedge fund ETFs" fit with what customers are demanding from the fund universe?
In the post-Madoff trading world, the issue of suitability is particularly important. Yes, 130/30 strategies have outperformed their benchmarks relatively well, but any product that uses swaps or futures to enhance returns adds another layer of risk. Are strategies that are difficult to understand suitable for long-term accounts? While the first generation of these products is tested in daily trading, investors should probably sit tight.
The question of volatility and liquidity is also an important one. The true test of these products will be the volume that they are able to attract and the aberration between the fund's share price and NAV. Any publicity is good publicity and Direxion is certainly on the radar.
Investors should give these funds time to prove their worth before investing. While the 130/30 strategy has worked in other incarnations, the ETF model presents new challenges.
How far will potential regulation extend? Funds that triple one direction? Funds that use leverage in any capacity? Investors should wait for the answers to these important questions before wagering capital on these early-to-market funds.
At the time of publication, Dion had no positions in the stocks mentioned.
Don Dion is the publisher of the Fidelity Independent Adviser family of newsletters, which provides to a broad range of investors his commentary on the financial markets, with a specific emphasis on mutual funds and exchange-traded funds. With more than 100,000 subscribers in the U.S. and 29 other countries, Fidelity Independent Adviser publishes six monthly newsletters and three weekly newsletters. Its flagship publication, Fidelity Independent Adviser, has been published monthly for 11 years and reaches 40,000 subscribers.
Dion is also president and founder of Dion Money Management, a fee-based investment advisory firm to affluent individuals, families and nonprofit organizations, where he is responsible for setting investment policy, creating custom portfolios and overseeing the performance of client accounts. Founded in 1996 and based in Williamstown, Mass., Dion Money Management manages assets for clients in 49 states and 11 countries. Dion is a licensed attorney in Massachusetts and Maine and has more than 25 years' experience working in the financial markets, having founded and run two publicly traded companies before establishing Dion Money Management.