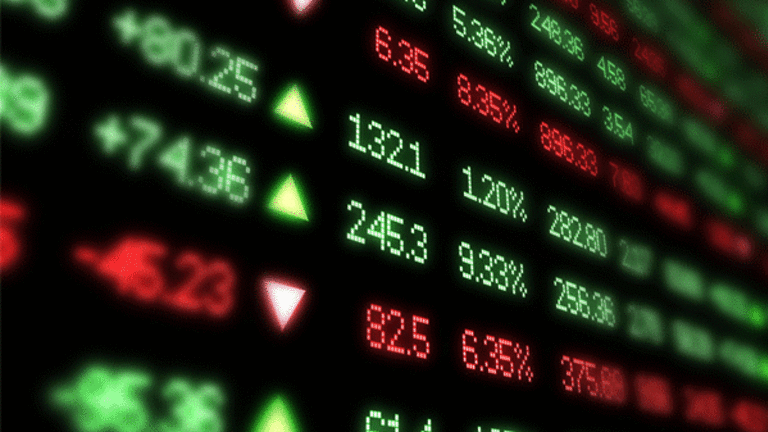 Dion's Weekly ETF Winners and Losers
After months of tumbling lower, the VIX-based ETNs at last scored some positive gains.
Winners
Barring its tepid performance in light of Friday's selloff, nothing stood in the way of the natural gas ETN this week as the fund recovered all of last week's losses and more. Currently the fund sits at levels last seen in the second half of August.
Despite its staggering run up, GAZ is not a fund I would be playing with right now. In recent weeks, the popularity of natural gas has led droves of investors into the market seeking exposure. The increase in demand has caused GAZ to become detached from its underlying assets, running up a 26% premium. This has dramatically skewed the fund's performance.
One needs only look at GAZ's performance against fellow natural gas futures ETF, the
United States Natural Gas Fund
(UNG) - Get United States Natural Gas Fund Report
to see the problem here. UNG, which does not currently boast a substantial premium, ended the week on a down note, slipping 2.8%.
When GAZ's premium is eventually wiped out, investors will be in for some rocky performance as it reverts back to its underlying assets. Don't get caught in the crossfire with this fund.
After months of tumbling lower, the VIX-based ETNs at last scored some positive gains. Much of this week's gains can be traced back to Friday. Concerns about China set off a global selloff, sending investors fleeing for the exits.
Despite its run-up, I would advise long-term investors to avoid getting caught up with VXX.
Coming off the volatile summer season, long-term U.S. Treasuries were riding high and drawing large crowds of cautious investors. However, throughout the autumn season, investors have regained some confidence and taken steps back into the marketplace. This has caused funds like
iShares Barclays 20+ Year Treasury Bond Fund
(TLT) - Get iShares 20+ Year Treasury Bond ETF Report
to reverse lower, revisiting levels seen in June. TBT, meanwhile has been on a consistent road higher since October.
The
Federal Reserve's
plans for QE2 are further pressuring long-term Treasuries.
Although market jitters remain, investors may want to look at defensive plays beyond U.S. treasuries. Two of my particularly favorite regions of the market include dividend paying equities and precious metals.
Heading into Friday, XOP was in the midst of a fantastic week of trading, thanks to news of
Chevron
's
(CVX) - Get Chevron Corporation Report
decision to purchase
Atlas
(ATLS)
. XOP boasts some of the heaviest exposure to these two particular firms. In fact, ATLS is the fund's largest position, representing nearly 4% of the fund. Friday caused the fund to give back a considerable portion of its gains. Although it got knocked, the fund still managed to place among the week's best performers.
Energy plays look promising as we head into the close of 2010. Emerging-market growth coupled with cooling temperatures paint a strong picture for oil and gas producers. It may be a good time to pick up funds aimed at tracking this industry.
Losers
The biggest tumbler of the week was sugar. Thanks to an ultimatum aimed at sugar hoarders in Pakistan and to reports that India was forecasting strong supply, the sweetener took a nosedive at the end of the week, locking in its worst single-day loss in 30 years on Thursday.
SGG has had a roller coaster of a year. In early months, the fund crumbled to new all-time lows. More recently, it has taken off, carving out new all-time highs.
Though they can be gut-wrenching, it is not uncommon to see wild swings in single-commodity exchange traded products. Conservative investors would be better off looking to diversified funds such as the
PowerShares DB Agriculture Fund
(DBA) - Get Invesco DB Agriculture Fund Report
for their crop futures fix.
The solar energy ETF, which has benefited in recent weeks from the positive earnings data coming from major holdings, hit a roadblock this week, tumbling for four consecutive days.
Like other alternative energy industries, solar energy is heavily dependent on government subsidies to stay lucrative. Investors holding TAN need to maintain a close watch over not only the industry but also the macroeconomic situations facing nations including the U.S., Europe, and China. Both could send companies like
First Solar
(FSLR) - Get First Solar Inc. Report
, and
Suntech Power Holdings
(STP)
for a loop.
Emerging and developed markets alike ran into weakness this week. BRF was leading the way lower with funds including
WisdomTree India Earnings ETF
(EPI) - Get WisdomTree India Earnings Fund Report
,
iShares MSCI Spain Index Fund
(EWP) - Get iShares MSCI Spain ETF Report
and
iShares MSCI Austria Investable Market Index Fund
(EWO) - Get iShares MSCI Austria ETF Report
following suit.
Although emerging markets appear promising looking ahead, the outlook for the EU is not quite as clear. As witnessed this week, debt issues continue to threaten this region of the globe. Investors should hold off until clearer skies prevail.
At the time of publication, Dion Money Management owned DBA.
Don Dion is president and founder of
, a fee-based investment advisory firm to affluent individuals, families and nonprofit organizations, where he is responsible for setting investment policy, creating custom portfolios and overseeing the performance of client accounts. Founded in 1996 and based in Williamstown, Mass., Dion Money Management manages assets for clients in 49 states and 11 countries. Dion is a licensed attorney in Massachusetts and Maine and has more than 25 years' experience working in the financial markets, having founded and run two publicly traded companies before establishing Dion Money Management.
Dion also is publisher of the Fidelity Independent Adviser family of newsletters, which provides to a broad range of investors his commentary on the financial markets, with a specific emphasis on mutual funds and exchange-traded funds. With more than 100,000 subscribers in the U.S. and 29 other countries, Fidelity Independent Adviser publishes six monthly newsletters and three weekly newsletters. Its flagship publication, Fidelity Independent Adviser, has been published monthly for 11 years and reaches 40,000 subscribers.