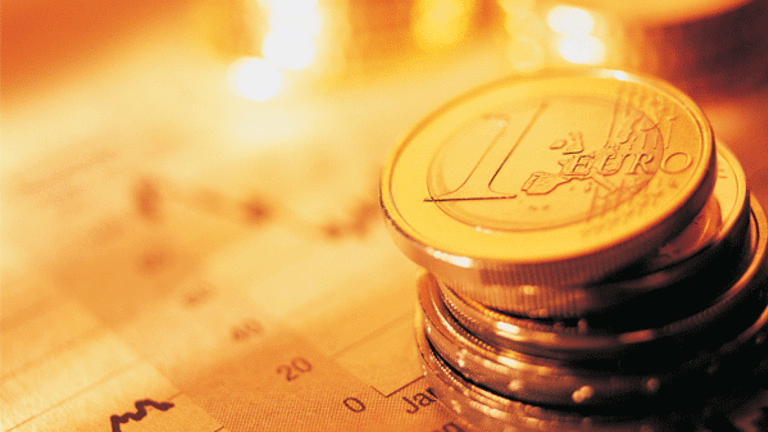 Dion's Weekly ETF Winners and Losers
Investors moved back into risk trades this week, and that meant outperformance from emerging markets, housing and oil.
Investors moved back into risk trades this week, and that meant outperformance from emerging markets, housing and oil.
Positive economic data lifted equities Tuesday through Friday, culminating with positive comments from Federal Reserve Chairman Ben Bernanke. Investors forgot about the Monday plunge in stocks triggered by a selloff in mainland Chinese equities as manufacturing and housing data were helpful, but it was Bernanke saying the U.S. economy was on the cusp of a recovery that juiced stocks on Friday.
Winners
Investors moved back into risk trades this week, and that meant outperformance from emerging markets, housing and oil. There was an eclectic mix, however, as both currency and country funds vied for the top spot.
iShares Turkey
(TUR) - Get Report
+7.2%
WisdomTree Dreyfus South African Rand
(SZR)
+3.7%
TUR is one of the strongest funds we track in terms of long- and short-term momentum. Similarly situated ETFs were down over the previous week or had small gains, while TUR raced ahead. I don't know whether that can last, but the fund seems impervious to the nervousness that suppressed the prices of Russia, China, India, Indonesia and Brazil ETFs.
SZR is one of the strongest currency funds since May. It corrected in the previous week, but this week's return of the bull helped lift the currency. The rand is a high-risk currency that will be volatile in either direction.
iShares Dow Jones U.S. Home Construction
(ITB) - Get Report
+3.5%
SPDR S&P Homebuilders
(XHB) - Get Report
+3.2%
Housing data showed sales of existing homes increased more than 7% from June to July, and this sent the housing stocks higher. It was the largest month-to-month increase on record, though data only goes back to 1999. Again, homebuilding stocks saw the largest gains, so the homebuilder-heavy ITB bested the more retail-influenced XHB.
iPath Crude Oil ETN
(OIL) - Get Report
+6.2%
PowerShares DB Oil
(DBO) - Get Report
+3.2%
PowerShares Dynamic Oil & Gas Services
(PXJ) - Get Report
+5.6%
OIL beat DBO this week, but DBO still leads over the past three months. A drawdown in U.S. inventories, in addition to general economic optimism, lifted oil prices this week.
Losers
The losers this week were a strange mix. Solar panel stocks, which typically rise with energy prices, tanked in a week when oil was a top performer.
U.S. Natural Gas
(UNG) - Get Report
holders must feel like a ride on the River Styx would be more fun as their shares bleed value. Lastly, financial preferreds, previously a strong rebounder in the rally, sank by a considerable amount.
Market Vectors Solar
(KWT)
-5.9%
Chinese panel maker
Solarfun
(SOLF)
lost money in the second quarter and projected falling prices going forward, even with a pickup in demand. Overcapacity will become an issue for this sector eventually, sooner if demand fails to materialize. Overall, the dip in solar is bearish since it doesn't confirm the rise in oil prices and at the least confirms that investors are becoming choosier about which "risk trades" they're buying.
U.S. Natural Gas
(UNG) - Get Report
- 9.1%
iPath Natural Gas ETN
(GAZ) - Get Report
- 1.9%
These funds stopped issuing new shares and now trade at considerable premiums -- 6.7% for GAZ and a whopping 14.2% for UNG. There are arbitrage strategies here as ETF investors give away free money to those savvy enough to profit from these discrepancies, and retail investors ought to avoid these shares entirely. These funds not only track the price of natural gas, but investor demand for funds that track natural gas. The premium could move independently of gas prices, or it could exacerbate swings as price rises attract investors and price drops induce selling.
PowerShares Financial Preferred
(PGF) - Get Report
-7.8%
iShares S&P U.S. Preferred Stock Index
(PFF) - Get Report
-2.2%
Preferred shares fell sharply on Thursday, but it was part of a bad week for these stocks. These funds are back to October levels, but they still have farther to go. A stall here would be bearish for the financial sector because they are considered a safer alternative to common stock.
At the time of publication, Dion was long TUR.
Don Dion is president and founder of
, a fee-based investment advisory firm to affluent individuals, families and nonprofit organizations, where he is responsible for setting investment policy, creating custom portfolios and overseeing the performance of client accounts. Founded in 1996 and based in Williamstown, Mass., Dion Money Management manages assets for clients in 49 states and 11 countries. Dion is a licensed attorney in Massachusetts and Maine and has more than 25 years' experience working in the financial markets, having founded and run two publicly traded companies before establishing Dion Money Management.
Dion also is publisher of the Fidelity Independent Adviser family of newsletters, which provides to a broad range of investors his commentary on the financial markets, with a specific emphasis on mutual funds and exchange-traded funds. With more than 100,000 subscribers in the U.S. and 29 other countries, Fidelity Independent Adviser publishes six monthly newsletters and three weekly newsletters. Its flagship publication, Fidelity Independent Adviser, has been published monthly for 11 years and reaches 40,000 subscribers.