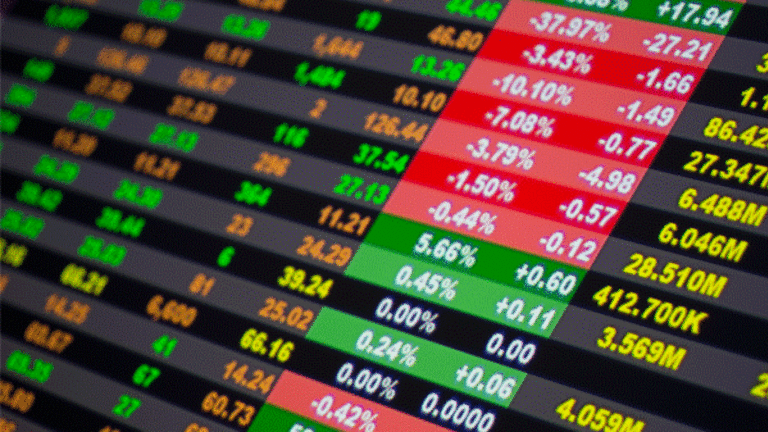 Dion's Weekly ETF Blog Wrap
Find out what Don Dion was blogging about this past week on <I>RealMoney.</I>
NEW YORK (
) -- Don Dion posts his current insights on the stock, bond, commodity and currency markets in his
RealMoney
blog, anticipating which ETFs will be in play next.
Here are three of his blog posts from the past week:
Setting Sights on Sweden
Published 7/1/2011 10:57 a.m. EDT
With QE2 behind us, a predictably slow afternoon ahead of us and a long weekend after that, I'm going to take some time today to look at pockets of strength both at home and abroad, like the
iShares MSCI Sweden ETF
(EWD) - Get iShares MSCI Sweden ETF Report
. While EWD trading has been volatile this morning, a play by major Swedish company
Ericsson
(ERIC) - Get Telefonaktiebolaget LM Ericsson Sponsored ADR Class B Report
is helping to put the country's equities back in the spotlight.
> > Bull or Bear? Vote in Our Poll
After a tough start to 2011, the telecommunications company has seen a nice rebound through May and June. Today Ericsson announced that it is part of a consortium -- which includes
Apple
(AAPL) - Get Apple Inc. (AAPL) Report
,
EMC Corp.
(EMC)
,
Microsoft
(MSFT) - Get Microsoft Corporation (MSFT) Report
,
Research In Motion
(RIMM)
and
Sony
(SNE) - Get SONY GROUP CORPORATION SPONSORED ADR Report
-- that recently won the bidding process for patents auctioned off by bankrupt Canadian telecommunications-gear maker
Nortel
. Access to these patents should help to further add value for Ericsson investors. Ericsson is the top holding in EWD's underlying portfolio, making up 11% of its assets.
While today's headlines should help give a short-term boost to EWD, the long-term picture also looks solid. In the last week, EWD has gained 7% and year to date, and the fund has outpaced the
iShares MSCI EAFE
(EFA) - Get iShares MSCI EAFE ETF Report
benchmark, gaining 5.3%. Sweden's strong, reliable currency helps to differentiate it from the debt-ridden eurozone nations, and tech innovation is a strong suit.
Keep an eye on EWD today and consider it for a longer-term international position.
At the time of publication, Dion Money Management was long EWD.
Auto ETFs Gain Traction
Published 6/29/2011 2:34 p.m. EDT
In recent months, Japanese and American consumers have shared something in common: More and more of them wanted new cars. Data released today show that Japanese factory output in May made its biggest jump in almost 60 years, with automakers among the leaders. In the U.S., auto sales will likely show that they've turned higher in June after dipping in May, according to estimates made by market researchers Edmunds.com and TrueCar.com.
One of my favorite plays on increased car production is exposure to the physically backed
ETFS Physical Platinum Shares
(PPLT) - Get Aberdeen Standard Physical Platinum Shares ETF Report
and
ETFS Physical Palladium Shares
(PALL) - Get Aberdeen Standard Physical Palladium Shares ETF Report
. Not your typical precious metals, platinum and palladium are used in the production of catalytic converters. A large percentage of platinum and palladium mined globally goes towards this purpose.
A more direct play is the recently launched
First Trust NASDAQ Global Auto ETF
(CARZ) - Get First Trust NASDAQ Global Auto Index Fund Report
. While CARZ offers good exposure at a reasonable price, investors have failed to embrace the fund so far. Daily trading volume is extremely low, and liquidity concerns make this fund a logistical problem.
It's looking like automakers may finally be getting a boost as we move into the summer months. Use PALL or PPLT to gain exposure to the increase in car production and keep an eye on CARZ to see if it ever becomes a viable fund.
At the time of publication, Dion Money Management had no holdings in the securities mentioned.
Sowing Profits in Agriculture and Agribusiness
Published 6/29/2011 10:15 a.m. EDT
Declining commodities prices and worsening agricultural conditions provide a perfect opportunity for investors in exchange-traded funds to gain exposure to agricultural commodities and agribusiness. The
PowerShares DB Agriculture ETF
(DBA) - Get Invesco DB Agriculture Fund Report
and the
Market Vectors Agribusiness ETF
(MOO) - Get VanEck Vectors Agribusiness ETF Report
are both good picks to benefit from this rare market opportunity.
I've been saying for some time that things
haven't been going well for
agricultural commodities. Bad weather conditions have delayed corn plantings and supply levels are low. Natural disasters and inclement weather have caused problems for a host of crops this year, including wheat and cotton. High corn prices have also affected
the market for cattle.
At the same time, agricultural commodities have experienced a short-term selloff along with the broader commodities market. While the commodities-backed DBA gained more than 34% in the year-long period ending June 28, the fund has dropped more than 4% in the last few weeks. Agricultural commodities still face challenges in the months ahead, however, and this short-term selloff is the best time to gain exposure via DBA.
When it comes to agribusiness,
Monsanto's
(MON)
results echo the broader agricultural challenges. As farmers try to gain an edge and increase yield during a difficult time for the industry, agribusiness firms like MON and
John Deere
(DE) - Get Deere & Company Report
see increased demand. Monsanto's earnings blew past Wall Street expectations today and the company raised projections for the remainder of the year.
DBA and MOO are two very different ways to gain expose to an opportunity in the agricultural industry, one part of the market that you shouldn't ignore. As questions of supply come into play, DBA could see another rally, and the quest to revive farmland should continue to be good for MOO.
At the time of publication, Dion Money Management had no positions in the securities metioned.