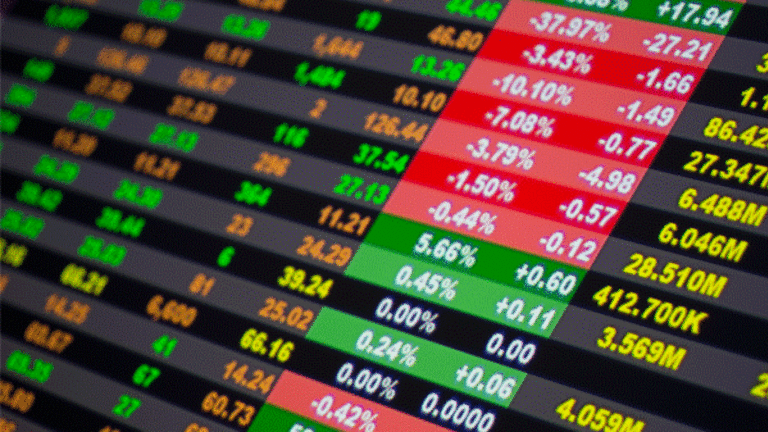 Dion's Weekly ETF Blog Wrap
Find out what Don Dion was blogging about this past week on <I>RealMoney.</I>
NEW YORK (
) -- Don Dion posts his current insights on the stock, bond, commodity and currency markets in his
RealMoney
blog, anticipating which ETFs will be in play next.
Here are three of his blog posts from the past week:
Looking for Gold to Bounce
Published 6/16/2011 10:44 a.m. EDT
If I had to pick three words to sum up the state of the U.S. economy right now, they would be "better than expected." Today's housing data and employment data showed more strength and stability than many investors had anticipated in premarket trading. If the last five weeks of trading have been about fear, than hopefully the next five weeks will be about relief.
While gold prices have slid lower this morning, I wouldn't be surprised to see a bounce later in the day as ongoing concerns about Greece cause investors to seek safe-haven assets. Even if gold stays in negative territory today, I would still consider it a good opportunity for longer-term investors to pick up exposure via the physically-backed ETFs like the
SPDR Gold Shares ETF
(GLD) - Get SPDR Gold Shares Report
and the
iShares Comex Gold
(IAU) - Get iShares Gold Trust Report
.
> >> Bull or Bear? Vote in Our Poll
I will be keeping an eye on the relative strength of the dollar today, checking in on the
PowerShares DB U.S. Dollar Index Bullish ETF
(UUP) - Get Invesco DB US Dollar Index Bullish Fund Report
and the
PowerShares DB U.S. Dollar Index Bearish ETF
(UDN) - Get Invesco DB US Dollar Index Bearish Fund Report
. If you are looking to make a short-term bet on euro weakness, check out the
ProShares UltraShort Euro ETF
(EUO) - Get ProShares UltraShort Euro Report
.
At the time of publication, Dion Money Management was long iShares Comex Gold.
Swiss Stay Strong
Published 6/16/2011 12:50 p.m. EDT
A strong currency and strong labor market are helping to make Swiss picks like the
CurrencyShares Swiss Franc Trust
(FXF) - Get Invesco CurrencyShares Swiss Franc Trust Report
and the
iShares Switzerland ETF
(EWL) - Get iShares MSCI Switzerland ETF Report
appealing in a volatile global marketplace. While EWL is moving slightly lower during today's session, FXF is having another strong showing.
I've been bullish on the Swiss franc and FXF for
, since commodities are volatile and there are plenty of questions about the U.S. debt ceiling being raised. Today, after an early advance, the dollar is backing off, and I believe that investors will keep seeking out historically strong currencies like the Swiss franc in order to diversify and stabilize their portfolios.
There has been some good news recently for Swiss equities as well. According to a recent UBS Investment Research report, the KOF think tank recently released the KOF Consensus Forecast, which revealed that Swiss business economists have raised their 2011 export outlook to +4.4% from a previous estimate of +3.3%. This is good news for the global companies like Nestle,
Novartis
(NVS) - Get Novartis AG Report
and
Syngenta
(SYT)
.
At the time of publication, Dion Money Management had no positions in securities mentioned.
Pandora's Greater-Good Benefit
Published 6/15/2011 12:46 p.m. EDT
Just as the mythical Pandora could not comprehend what she was about to unleash when she opened her box, investors dove head-long after shares of
Pandora
(P)
after its debut this morning. With millions of shares crossing the tape, Pandora's first trading day unraveled in waves, falling steeply off a spike this morning.
Rather than arguing about what Pandora's actually worth, I'd just like to point out the incredible enthusiasm over this latest Internet IPO. Investors are clamoring for a chance to gain exposure to a new wave of Internet companies born from the inescapable social media craze.
If anything, this enthusiasm and willingness to take a chance tells us something important about the current state of American investors. While still rattled by the 2008 financial crisis, and certainly wary of current economic trends, investors are still flocking to IPOs and looking to participate in new trends and technology.
Perhaps U.S. investors are more resilient than most analysts would take them for. In any case, I continue to believe the new wave of Internet IPOs will garner enthusiasm for strong Internet companies that survived. The
First Trust Internet ETF
(FDN) - Get First Trust Dow Jones Internet Index Fund Report
is a great way to gain exposure to established Internet companies rather than chasing after volatile IPOs.
At the time of publication, Dion held First Trust Internet ETF.
-- Written by Don Dion in Williamstown, Mass.
RELATED ARTICLES:
>>5 Things to Know About Greece's Crisis