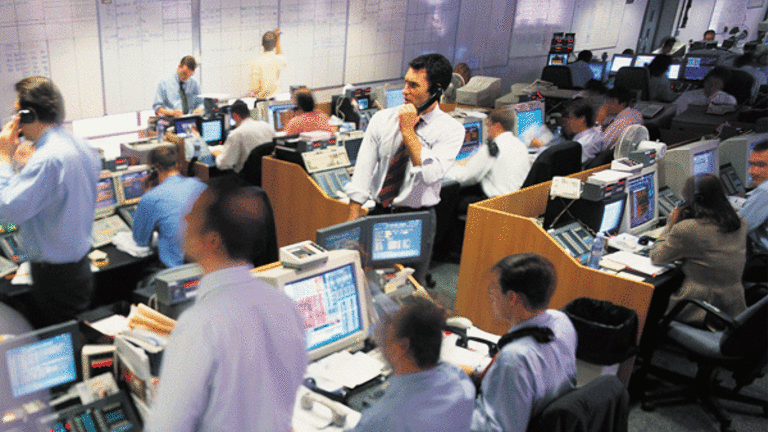 Dion's Weekly ETF Blog Wrap
Find out what Don Dion was blogging about this past week on <I>RealMoney.</I>
NEW YORK (
) -- Don Dion posts his current insights on the stock, bond, commodity and currency markets in his
RealMoney
blog, anticipating which ETFs will be in play next.
Here are three of his blog posts from the past week:
This Media ETF Needs to Evolve
Published 5/20/2011 12:51 p.m. EDT
Let's start with a full disclosure: I've always been an unabashed fan of the PowerShares Dynamic ETF line. With a methodology that departed from the traditional cap-weighted approach long before it was fashionable (which in the ETF industry translates to "relatively recently," as in 2005) and an unwillingness to boast itself as "actively managed," the Dynamic funds have tried -- and sometimes failed -- to give investors a unique spin on a sector.
But everything needs to evolve. When I say this, I'm thinking of the
PowerShares Dynamic Media ETF
(PBS) - Get Free Report
, a personal favorite, even at a time when media companies are running for cover. This is a great chance for a fund to be truly "dynamic," and I'm sure the "fundamental" aspect of the fund's methodology would allow for updating.
> > Bull or Bear? Vote in Our Poll
How can we look at media in a new, "dynamic" way? Consider the announcement yesterday that
Amazon
(AMZN) - Get Free Report
is selling more e-books, via its Kindle device, than print books. This shift has seemed obvious, except to managers of the PowerShares Media ETF. While
Google
(GOOG) - Get Free Report
and
Ancestry.com
(ACOM)
have elbowed their way into the line-up, Amazon is outrageously absent. In the same vein, I'm sad to say that
Apple
(AAPL) - Get Free Report
has also somehow missed the roster.
I will not dismiss PBS' usefulness on the upswing in media advertising or its unique view of a section of the economy that's ignored by other ETF firms. It's time to haul this fund into the modern age, however, and present an accurate picture of today's "dynamic media."
At the time of publication, Dion Money Management had no positions in stocks mentioned.
Getting Defensive
Published 5/16/2011 3:36 p.m. EDT
Today's disappointing manufacturing data has sent many U.S. stocks into a slide as investors question the strength that seemed so apparent in recent earnings. The road to economic recovery is a rocky one, and well-balanced portfolios have to be ready to cushion the impact of intermittent pullbacks. Using exchange-traded funds can help to reduce security-specific portfolio risk.
If, in light of today's pullback, you're looking to add defensive plays to your portfolio, here are a few funds to consider:
1.
iShares Dow Jones Select Dividend ETF
(DVY) - Get Free Report
-- While dividends might not be the first thing you think of when it comes to portfolio protection, a well-balanced fund like DVY can help to add income and stability during volatile periods in the market. While the do-it-yourself approach would require analyzing dividend payouts over time and risk factors, DVY's methodology accounts for these risks and selects companies that pay steady dividends over time.
2.
iShares Barclays TIPS Bond ETF
(TIP) - Get Free Report
-- Inflation is on the minds of investors the world over, and the most recent U.S. debt headlines have stoked the flames of fear. Including inflation-protected securities in your portfolio can help to ease the impact of inflationary pressures.
3.
SPDR Gold Shares ETF
(GLD) - Get Free Report
-- This and other physically-backed metal ETFs like the
iShares Comex Gold ETF
(IAU) - Get Free Report
have been struggling in recent months as a pullback in gold spot prices impacts these stockpile-like funds. In the long-term, however, ownership of physical metal (or in this case, ownership of a fund that is pinned to the price of physical metal) can help to diversify and protect your portfolio.
Looking to get defensive? It's easy to see why today's market action is making some investors nervous. If you're looking to get defensive, just make sure that you're making well-reasoned moves.
At the time of publication, Dion Money Management was long DVY, TIP and IAU, although positions may change at any time.
Currency Concerns
Published 5/16/2011 10:20 a.m. EDT
Currency concerns are on the minds of global investors today as European debt sovereign debt problems step into the spotlight and the U.S. "debt ceiling" is breached. While stories about debt-ridden countries like Greece often take center stage -- along with coverage of the ever-evolving U.S. debt crisis -- ETF investors often forget to take a step back and seek out stronger currencies elsewhere.
Currency diversification is one way to hedge your risk, and not all currencies are under pressure. Consider the Swiss franc and the
CurrencyShares Swiss Franc ETF
(FXF) - Get Free Report
, a fund
I've discussed in this blog before. The Swiss currency has traditionally been a safe haven during times of international turmoil. During the three-month period ended May 13, FXF gained more than 8%.
If you're looking to protect your assets against falling currencies, shares of the
SPDR Gold Shares ETF
(GLD) - Get Free Report
may not be enough. While investors have frequently sought out gold for currency protection, complex relationships and rules within the commodities marketplace can have their own impact on the price of commodities in the short term.
FXF is headed higher in today's session while funds like the
PowerShares U.S. Dollar Bullish
(UUP) - Get Free Report
head lower. If you're the type of investor who's willing to monitor your portfolio on a daily basis and stay in touch with global currency news, a fund like FXF could prove to be profitable amid currency market turmoil in the weeks ahead.
--Written by Don Dion in Williamstown, Mass.
RELATED ARTICLES:
>>Samsung's Got Plans to Take Out Apple
>>Why LinkedIn's Stock May Keep Rising
At the time of publication, Dion Money Management was long DVY, TIP, IAU.