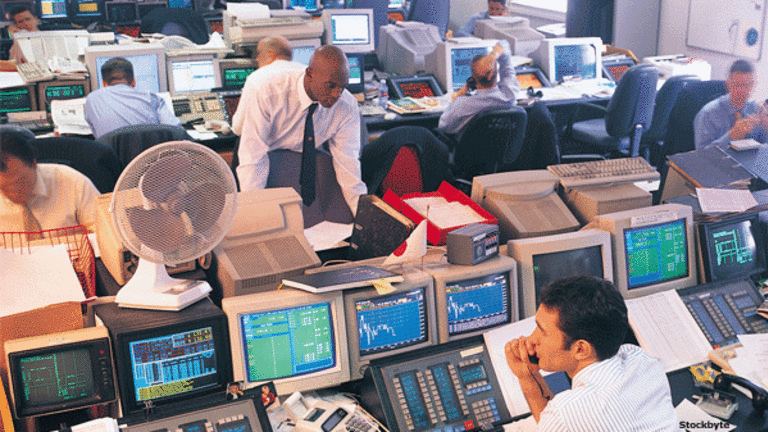 Dion's Weekly ETF Blog Wrap
Find out what Don Dion was blogging about this past week on <I>RealMoney.</I>
NEW YORK (
) -- Don Dion posts his current insights on the stock, bond, commodity and currency markets in his
RealMoney
blog, anticipating which ETFs will be in play next.
Here are three of his blog posts from the past week:
Tech's Revolutionary Turn
Published 5/11/2011 4:01 p.m. EDT
When companies like
Google
(GOOG) - Get Alphabet Inc. Class C Report
and
Skype
turn from youth-driven sites into billion-dollar corporations -- and then, into verbs -- it's hard to deny that there's a revolution afoot. The fact that Americans toss around phrases like "Google it" or "just Skype me" tells you how much of an impact Internet firms are having.
After
Microsoft's
(MSFT) - Get Microsoft Corporation (MSFT) Report
Skype announcement yesterday, there's been a bit of eye-rolling about recent tech valuations. Before you write off the Skype hype, however, consider how ingrained these companies are becoming in American culture. Smartphones and iPads will help to skyrocket top Internet firms in the months ahead: A large number of Americans, and tech-savvy citizens around the globe, will be able to access sites like Skype and Google from devices that they carry virtually everywhere.
> > Bull or Bear? Vote in Our Poll
I imagine that when Skype and
Facebook
do eventually begin trading on national exchanges, they will become incorporated into the powerful lineup at the core of the
First Trust Internet ETF
(FDN) - Get First Trust Dow Jones Internet Index Fund Report
. That's why I still think that this Internet ETF is such a valuable tool on days like today when you can use a market pullback to gain exposure to strong segments of the market.
FDN offers unique tech exposure whose potential is only magnified by popular personal tech devices. Skype's and Facebook's potentially huge IPOs are no joke. Make sure that you have exposure to Internet firms. FDN is one easy way to get from here to there.
At the time of publication, Dion Money Management was long FDN.
Don't Forget the Dividends
Published 5/11/2011 2:11 p.m. EDT
Oil's downswing is providing a good opportunity for longer-term investors looking to balance their holdings. In the wake of
Macy's
quarterly report this morning and
Intel
's
(INTC) - Get Intel Corporation (INTC) Report
recent press release, one theme we should think about is dividends. With so much volatility in the commodities marketplace, equities will experience plenty of flux in the months ahead. A strong portfolio of dividend-paying companies can help to add stability and reliable income to your portfolio -- if you use the right dividend investment.
Intel's announcement today has certainly seemed to pique investor attention: As the
Nasdaq
heads 37 points lower, Intel is still trading more than 1% higher. Macy's also announced a dividend hike in its earnings report this morning, which is a positive sign for the retailer's expectations.
I like the well-balanced
iShares Dow Jones Select Dividend ETF
(DVY) - Get iShares Select Dividend ETF Report
as an alternative to trying to guess which company will hike its dividend next. DVY's methodology screens for companies that have consistently raised their dividends and have proven to be reliable about dividend payouts over time. Top DVY holdings include
Lorillard
(LO)
,
Chevron
(CVX) - Get Chevron Corporation Report
and
Entergy
(ETR) - Get Entergy Corporation Report
.
At the time of publication, Dion Money Management held DVY.
Looking for New Blood
Published 5/11/2011 12:17 p.m. EDT
As sinking commodities prices sideline the equity recovery today, it's a good time to look at some of the more promising new exchange-traded funds in the marketplace. While I've tried to cover
recent launches without overdoing every new offering, there are a couple of new funds worth a second look in this environment.
The
First Trust NASDAQ Global Auto ETF
(CARZ) - Get First Trust NASDAQ Global Auto Index Fund Report
, which launched Tuesday, fills an ETF industry gap in an interesting way. I first took an interest in the debut of an auto fund in
October 2010. While there have always been mutual fund alternatives, automakers like
Ford
(F) - Get Ford Motor Company Report
,
General Motors
(GM) - Get General Motors Company (GM) Report
and
Toyota
(TM) - Get Toyota Motor Corp. Sponsored ADR Report
have been overlooked in the ETF space. CARZ brings all of these firms together into one trading vehicle.
It's going to take a while, however, for investor interest in CARZ to rev up. The auto industry has been surprisingly strong in recent months, and hopefully renewed interest in these companies will help CARZ to become a viable, liquid ETF offering. For now, I'm cheering from the sidelines.
There's been a lot of talk about food prices in recent months as key commodities like corn and sugar make headlines. Americans are particularly concerned about food and gasoline prices, and funds like the
PowerShares DB Agriculture ETF
(DBA) - Get Invesco DB Agriculture Fund Report
and
Market Vectors Agribusiness ETF
(MOO) - Get VanEck Vectors Agribusiness ETF Report
have helped to provide interesting angles on agricultural commodities. The
Global X Fishing Industry ETF
(FISN)
offers a different perspective on food supply in its coverage of global fishing firms. Analysts are predicting that food prices will keep rising across the board and across the globe. FISN offers investors a way to track one portion of food providers.
Like CARZ, FISN is still getting started and struggling to attract investors. Keep an eye on these two funds as they begin to establish a track record.
At the time of publication, Dion Money Management had no positions in the stocks mentioned.