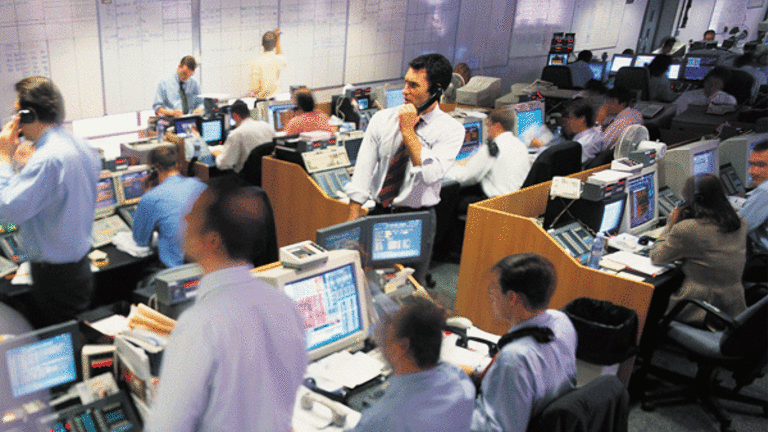 Dion's Weekly ETF Blog Wrap
Find out what Don Dion was blogging about this past week on <I>RealMoney.</I>
NEW YORK (
) -- Don Dion posts his current insights on the stock, bond, commodity and currency markets in his
RealMoney
blog, anticipating which ETFs will be in play next.
Here are three of his blog posts from the past week:
Don't Count Coal Out
Published 4/1/2011 12:54 p.m. EDT
A nuclear crisis abroad, infrastructure spending and a crucial link to steel are just three factors that helped the
Market Vectors Coal ETF
(KOL) - Get Report
jump more than 6% last month. If you haven't considered adding top global coal firms such as
Peabody Energy
(BTU) - Get Report
,
Consol Energy
(CNX) - Get Report
and
Joy Global
(JOYG)
to your portfolio yet, there is still time to catch the upswing with KOL.
Yesterday, I chose several ETFs for
Obama's energy initiatives, but I left coal on the sidelines. While it is not always viewed as the most "green" energy alternative, in today's global climate, you can't count coal out. At the present time, alternative energy technology and even natural gas (after a period of time) will still fail to meet the current rate of demand growth. With Japan's recent disaster casting a shadow on nuclear power, clean coal technology will continue to be an area of growth. In trying to reduce our dependence on oil and increase use of other energy alternatives, investors should still consider coal.
> > Bull or Bear? Vote in Our Poll
KOL is a well balanced, liquid ETF that tracks 41 companies. In addition to the firms listed in the first paragraph of this post, top KOL components also include
Bucyrus International
(BUCY)
,
Walter Energy
(WLT)
,
Alpha Natural Resources
(ANR)
,
Bumi Resources
and
Massey Energy
(MEE)
. The connection between coal and steel is another key factor that may help to boost many top coal firms in the months ahead. Coking coal, used in the production of steel, should become an even hotter commodity as efforts to rebuild Japan commence.
Win With Biotech
Published 3/30/2011 1:19 p.m. EDT
Though biotech firms can be extremely profitable, volatility can be killer. The chances of inventing the next big drug in the biotech industry are about as great as directing the Oscar-winning Best Picture in the film industry. Today, biotech firm
Cephalon
(CEPH)
(CEPH) won a prize of sorts when Canada's
Valeant Pharmaceuticals
(VRX)
announced an unsolicited $5.7 billion ($73 per share) offer for the firm. Shares of Cephalon jumped instantly on the news.
Blockbuster deals occur frequently in the biotech business, and it's certainly worth having exposure to top names -- even if it's difficult to predict the next big deal. Many of the cap-weighted biotech ETFs, including the
iShares Biotech ETF
(IBB) - Get Report
, are so heavily weighted toward the largest firms that investors don't get exposure to potent deals in the small- and mid-cap biotech names. IBB, for example, allocates less than 1% of its assets to Cephalon.
Since the smaller firms can make it big in biotech, it is recommended that investors gravitate toward the better-balanced
First Trust NYSE Arca Biotechnology Index Fund
(FBT) - Get Report
. This fund utilizes an equal-weight methodology to provide investors with exposure to 20 different biotech companies. This cross-section of the industry includes names such as
Celera
(CRA)
,
InterMune
(ITMN)
,
Alexion Pharmaceuticals
(ALXN) - Get Report
,
Qiagen
(QGEN) - Get Report
,
Dendreon
(DNDN)
and
Illumina
(ILMN) - Get Report
. Cephalon, which is helping to propel FBT today, comprises 4.7% of the fund's underlying portfolio.
At the time of publication, Dion Money Management held no positions mentioned.
Keep Your Tech Holdings in Balance
Published 3/29/2011 1:12 p.m. EDT
Remember when an escape to a remote vacation destination meant absent, or extremely unreliable, wireless service and a true excuse to slip "off the grid"? Even if an exotic vacation wasn't in the cards, it isn't hard to remember when airlines, tunnels or poor weather conditions frequently provided brief, if occasionally unwelcome, email "holidays."
To understand the stakes of
AT&T's
(T) - Get Report
purchase of T-Mobile or
Amazon's
(AMZN) - Get Report
plans to tread on
Apple's
(AAPL) - Get Report
turf, one must first come to grips with how enmeshed the physical world has become with the virtual. To see the importance, we must first accept certain inevitabilities. As it becomes impossible to escape from the Internet marketplace, it becomes just as important to build exposure to the digital world into real-world portfolios.
After the last Internet bubble, the problematic nature of tech stock picking is practically cliché. Names like Apple and
Microsoft
(MSFT) - Get Report
certainly have staying power, but the average online firm explodes brightly onto the scene before burning out fast. If you have a longer-term investment horizon, how do you avoid getting stuck with a dud?
To frame it in investment terms, "security-specific risk" is one significant barrier that keeps investors out of tech. ETFs are one easy solution for mitigating the risk of boom-and-bust tech investment. Before you reach into the grab-bag of ETF names, however, and pick out a representative from the tech category, it's important to know what you're buying.
Hardware, software and Internet ETFs are all available at the click of a mouse, but composition is key. The popular
PowerShares QQQ ETF
(QQQ) - Get Report
, for example, allocates 21% of underlying holdings to Apple. If you don't have exposure to Apple elsewhere, this may be a desirable weighting. For many investors, however, the purchase of QQQ may create an unintended overconcentration.
Which tech funds have balance? I've frequently talked about the timely and well-balanced
First Trust Internet ETF
(FDN) - Get Report
on this blog, which employs a methodology that serves as a guard against tech blow-ups. A couple other well-balanced notable mentions include the
iShares PHLX SOX Semiconductor Sector ETF
(SOXX) - Get Report
and the
First Trust Nasdaq-100-Technology Sector ETF
(QTEC) - Get Report
.
It may be impossible to escape technology, but ETFs help make it easy to tap into tech with precision. Even if you have to drop "off the grid" now and then to stay sane, it's not a good idea to deny your portfolio the benefits of well-balanced, long-term tech exposure.
At the time of publication, Dion Money Management was long FDN and QQQ.