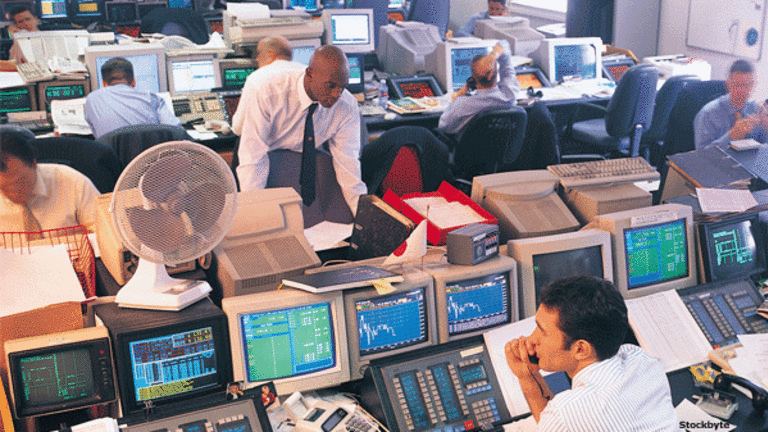 Dion's Weekly ETF Blog Wrap
Find out what Don Dion was blogging about this past week on <I>RealMoney.</I>
NEW YORK (
) -- Don Dion posts his current insights on the stock, bond, commodity and currency markets in his
RealMoney
blog, anticipating which ETFs will be in play next.
Here are three of his blog posts from the past week:
Consider Investing in the Great White North
Published 2/25/2011 11:50 a.m. EST
Many international ETFs have taken a hit this year, particularly "BRIC" (Brazil, Russia, India and China) themed ETFs that track popular emerging markets. Investors looking to diversify beyond U.S. markets, however, need to look no further than our neighbor to the North and the
iShares MSCI Canada
(EWC) - Get iShares MSCI Canada ETF Report
. EWC has advanced more than 11% in the last three months, and a raft of earnings next week could help lift the fund even higher.
Three leading Canadian banks -- which are each included in EWC's underlying portfolio -- are slated to release their quarterly earnings numbers next week. Together,
Royal Bank of Canada
(RBC) - Get Regal Beloit Corp Report
,
Toronto-Dominion Bank
(TD) - Get Toronto-Dominion Bank Report
and the
Bank of Montreal
(BMO) - Get Bank of Montreal Report
account for close to 15% of the fund's total portfolio. Fellow top holding
Canadian Natural Resources
(CNQ) - Get Canadian Natural Resources Limited Report
is listed on this week's earnings calendar as well. CNQ represents makes up 3.7% of the fund's total index.
> > Bull or Bear? Vote in Our Poll
Canada's big financial firms have held up well in 2011, and the country's abundant natural resources continue to be attractive to outside investors. Energy companies are strongly represented in the EWC portfolio, and rising commodity prices should also help to push the fund higher.
EWC is a large, liquid ETF with an average daily trading volume of more than 2.5 million shares. In addition to RBC, TD, BMO, and CNQ, other top EWC components include
Suncor Energy
(SU) - Get Suncor Energy Inc. Report
,
Potash
(POT)
,
Barrick Gold
(ABX)
and
Goldcorp
(G) - Get Genpact Limited Report
.
Energy Alternatives in the ETF Space
Published 2/23/2011 12:48 p.m. EST
While investors and commentators alike will likely stay focused on oil for the next few sessions, the issues of alternatives will eventually arise. A run-up in oil prices often brings renewed interest in green-energy and alternative-energy ETFs. Before the serious alternative-energy talk even gets started, though, investors should familiarize themselves with options in the ETF marketplace.
President Obama has been pushing for increased alternative energy funding, and the current unrest in the Middle East is just one more reason why "energy independence" will be pushed to the front of the agenda. If serious, long-term concerns about the global oil supply continue to take root, investors and politicians might both be quicker to jump behind alternatives such as solar, wind and nuclear.
Investors looking to target specific slices of the energy sector have plenty of options. The
First Trust Global Wind Energy ETF
(FAN) - Get First Trust Global Wind Energy ETF Report
is the most liquid wind ETF, and the
Guggenheim Solar ETF
(TAN) - Get Invesco Solar ETF Report
is the most liquid solar ETF. The
Market Vectors Nuclear ETF
(NLR) - Get VanEck Uranium + Nuclear Energy ETF Report
is a large, liquid option for exposure to nuclear energy firms across the globe. Longer-term investors looking for a broad ETF that covers a wide range of alternative energy firms should check out the
PowerShares WilderHill Clean Energy ETF
(PBW) - Get Invesco WilderHill Clean Energy ETF Report
.
While U.S. dependence on oil will certainly not end overnight, conflicts abroad should help to eventually draw attention to energy alternatives. Increased interest in green energy options could help to fuel funds like FAN, TAN, NLR and PBW in the short term.
At the time of publication, Dion Money Management had no positions in stocks mentioned.
Don't Get Burned by Hot ETFs
Published 2/22/2011 5:15 p.m. EST
The unrest in Egypt helped to turn the virtually unknown
Market Vectors Egypt ETF
(EGPT) - Get VanEck Egypt Index ETF Report
into one of the most
sought-after funds in the market overnight. Now, growing unrest in the Middle East could shine a spotlight on other funds as well. Rather than running straight at funds that track politically volatile markets, however, U.S. investors should keep their distance.
EGPT became one of the biggest stars in the ETF industry overnight when Egyptian markets shut down. Looking for exposure to the shut-down Egyptian marketplace, investors were willing to settle for the next-best-thing: synthetic exposure via shares of EGPT. Volume kept climbing in the fund (even after share creation got cut off), leaving investors and market-makers alike wondering what the real value of the ETF's underlying holdings would be if the Egyptian stock market were to open. The Egyptian stock market still isn't open, and volume in EGPT remains high. How desperate are investors? As of today's open, EGPT was trading at an 18% premium to net asset value (NAV).
As other Middle East countries are thrown into turmoil, investors could see other funds thrust into the spotlight. The
Market Vectors Gulf States Index ETF
(MES)
, for example, is a little known fund that could pick up big volume in the sessions ahead. As of today's close, the average daily trading volume for MES is 25,000. MES offers exposure to companies in Kuwait, Qatar, the United Arab Emirates, Oman, Bahrain and Yemen. The U.S.-listed fund already saw a jump in volume today.
Other ETFs that could pick up hefty premiums include the
WisdomTree Middle East Dividend ETF
(GULF) - Get WisdomTree Middle East Dividend Fund Report
and the
PowerShares MENA Frontier ETF
(PMNA)
. GULF offers exposure to Kuwait, the United Arab Emirates, Morocco, Egypt, Oman and Jordan. PMNA offers exposure to Qatar, the United Arab Emirates, Egypt, Morocco, Jordan, Oman and Lebanon.
If growing unrest cuts off access to these markets through other investments (i.e., stock markets get shut down or limitations are enforced), funds like MES, PMNA and GULF could see the kind of overnight transformations that EGPT saw in recent weeks. If politicians and protesters close a door, the ETF industry will open a window.
Jumping through these windows, however, can be hazardous. Market shutdowns, time-zone differences, creation halts and limitations on foreign investments can all make international funds tricky to price. Gambling on the appearance of a premium -- no matter how likely that price disconnect might seem -- is a dangerous game. You never know when the bubble might pop.
At the time of publication, Dion Money Management held no positions in the stocks mentioned.
This commentary comes from an independent investor or market observer as part of TheStreet guest contributor program. The views expressed are those of the author and do not necessarily represent the views of TheStreet or its management.