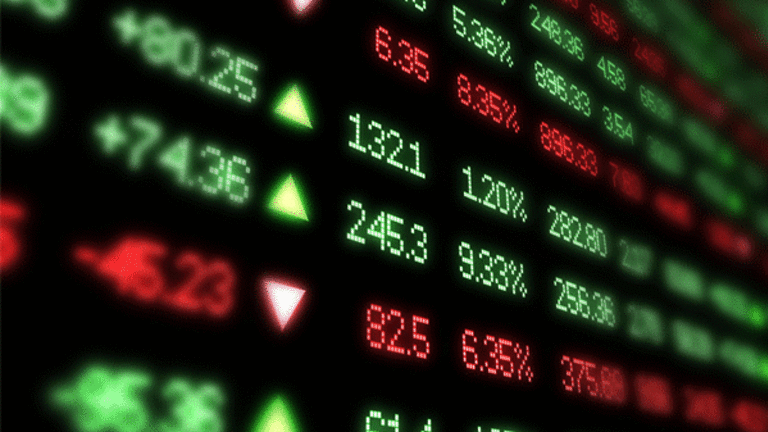 Dion's Weekly ETF Blog Wrap
Find out what Don Dion was blogging about this past week on <I>RealMoney</I>.
NEW YORK (
) -- Don Dion posts his current insights on the stock, bond, commodity and currency markets in his
RealMoney
blog, anticipating which ETFs will be in play next.
Here are three of his blog posts from the past week:
Five ETFs for the Obama Agenda
Published1/26/2011 11:40 AM EST
President Obama's careful balance of Democratic objectives and Republican objections (such as resistance to an expanding budget) has helped to push the
Dow
past the important psychological level of 12,000 this morning as investors consider new ways to tap into an ambitious agenda for economic recovery.
Obama touched on several large themes in his State of the Union speech last night, with the key word being "investment" instead of "spending." The president recommitted "investment" in areas such as information technology, research and "especially" clean energy. Here are five ETFs that should benefit from Obama's new agenda:
1.
PowerShares WilderHill Clean Energy ETF
(PBW) - Get Invesco WilderHill Clean Energy ETF Report
Clean and renewable energy was clearly one of Obama's primary focus points during last night's State of the Union address. Americans should expect to see an increase in funding across many sub-sectors in of the clean energy industry. Investors looking to target this increase on a broader scale should consider PBW.
Rather than tapping into a smaller sub-sectors of the clean energy industry (as the next few funds will do), PBW's underlying portfolio is designed to deliver capital appreciation through the selection of companies that focus on "greener and generally renewable sources of energy and technologies that facilitate cleaner energy." PBW's underlying holdings include everything from
Trina Solar
(TSL)
to
Advanced Battery Technologies
(ABAT)
to
Broadwind Energy
(BWEN) - Get Broadwind Energy, Inc. Report
and
Ocean Power Technologies
(OPTT) - Get Ocean Power Technologies, Inc. Report
.
2.
Global X Lithium ETF
(LIT) - Get Global X Lithium & Battery Tech ETF Report
One aspect the clean energy movement that should see continued investment both in the U.S. and abroad is the development of new batteries as power sources for cars and other traditionally energy-needy technologies. Many of the new batteries that are being tested for use in cars, aircraft and other areas of transportation and tech include lithium. The focus on this type of fuel cell has helped to draw remarkable investor interest to the relatively new LIT, which tracks global firms such as Advanced Battery, Galaxy Resources, Canada Lithium and Lithium Americas.
3.
Market Vectors Nuclear ETF
(NLR) - Get VanEck Vectors Uranium+Nuclear Energy ETF Report
Mentioned as yesterday's "
ETF Play of the Day," NLR focuses on nuclear energy development, which Obama has already pledged funds to. In the past, President Obama has pledged billions of dollars to the development of nuclear energy sites in the U.S. and a renewed focus on clean energy. Given the tone of last night's speech, the components of NLR's portfolio could see another boost. Top NLR holdings include
Constellation
(CEG)
,
Exelon
(EXC) - Get Exelon Corporation Report
,
Cameco
(CCJ) - Get Cameco Corporation Report
and
U.S. Ecology
(ECOL) - Get US Ecology, Inc. Report
.
4.
iShares Dow Jones Transportation ETF
(IYT) - Get iShares Transportation Average ETF Report
Last night, President Obama recommitted to the type of infrastructure spending that will not only improve the nation's roadways and public works, but also provide jobs. Improvements in the nation's infrastructure and an infusion of spending should help the transportation firms that are needed to deliver building supplies. These same transportation firms should also benefit from the results of the infrastructure improvements: better roads, runways and rails. Top components in IYT include railroad firms like
CSX
(CSX) - Get CSX Corporation Report
and
Union Pacific
(UNP) - Get Union Pacific Corporation Report
, delivery companies like
FedEx
(FDX) - Get FedEx Corporation Report
and
UPS
(UPS) - Get United Parcel Service, Inc. Class B Report
, and airlines like
Delta
(DAL) - Get Delta Air Lines, Inc. Report
and
JetBlue
(JBLU) - Get JetBlue Airways Corporation Report
.
IYT will benefit from Obama's new agenda because many of its components will be needed to increase trade. Another topic highlighted in Obama's speech last night was increased cooperation and trade between the U.S. and other nations -- a move that should certainly help to strengthen the transport firms needed to deliver goods.
5.
iShares S&P North American Technology-Multimedia Networking ETF
(IGN) - Get iShares North American Tech-Multimedia Networking ETF Report
.
While trying to avoid repeating much of the information about today's "ETF Play of the Day," it's important to touch upon the President's commitment to tech spending. Increased "investment" in information technology was another theme in last night's address, and IGN contains many of the firms that would benefit from such an infusion. IGN's portfolio targets firms that do much of the IT networking our nation has come to depend on, and as these services are expanded to more remote regions of the country, these companies should benefit. Top IGN components include
Cisco
(CSCO) - Get Cisco Systems, Inc. Report
,
Qualcomm
(QCOM) - Get QUALCOMM Incorporated Report
,
Polycom
(PLCM)
and
Juniper
(JNPR) - Get Juniper Networks, Inc. (JNPR) Report
.
At the time of publication, Dion Money Management held no positions in the stocks mentioned.
The Best Offense Is a Good Defense ETF
Published 1/27/2011 4:55 PM EST
Despite looming budget cuts, defense firms such as
Lockheed Martin
(LMT) - Get Lockheed Martin Corporation (LMT) Report
,
Raytheon
(RTN) - Get Raytheon Company Report
and
L-3 Communications
(LLL) - Get L3 Technologies Inc Report
are soaring above estimates and shrugging off the shroud of negativity that's been hanging on the sector.
In their respective releases, Lockheed Martin predicted better-than-expected profits, Raytheon said it expects higher full-year earnings and L-3 Communications increased its 2011 outlook. All three of these major defense players are included in the
iShares Dow Jones U.S. Aerospace & Defense ETF
(ITA) - Get iShares U.S. Aerospace & Defense ETF Report
(ITA). Lockheed Martin makes up 6.05% of the fund, Raytheon accounts for 5.58% and L-3 Communications clocks in at 3.95%.
Though the U.S. government is certainly cutting back on spending in some areas -- the U.S. Defense Department earlier this month promised to cut $78 billion in spending over the next five years -- large defense firms are making their own cut-backs to boost the bottom line. As investors have seen in other sectors, including financials and manufacturing, these cut-backs often lead to glowing earnings reports.
Trading in ITA can be shallow at times, but it is a well-balanced fund that shuns the top-heavy portfolio construction seen elsewhere in the ETF universe. If investors remember to break up large orders and trade efficiently, ITA will be a good tool for targeting a profitable sector in the weeks ahead.
At the time of publication, Dion Money Management held no positions in the stocks mentioned.
A Growing Timber Fund
Published 1/28/2011 11:58 AM EST
We learned this week that sales of new, single-family homes jumped 18% in December, a positive note that caps off a terrible year for homebuilders. However, the growing momentum in home construction, and the ongoing economic recovery, should positively influence one group of firms reporting earnings next week: timber companies.
Several key components of the popular
Guggenheim Timber ETF
(CUT) - Get Invesco MSCI Global Timber ETF Report
will be reporting results next week, including
Weyerhaeuser
(WY) - Get Weyerhaeuser Company Report
,
Plum Creek Timber
(PCL)
,
Nippon Paper Group
,
UPM-Kymmene
and
International Paper
(PPR) - Get Voya Prime Rate Trust Report
. CUT jumped nearly 14% in the last three months -- and more than 34% in the year-long period ending January 27 -- as demand for goods staged a comeback.
Though CUT's global portfolio does offer a diverse array of holdings -- from timber firms to paper companies -- the performance of the fund is still highly correlated with builders and the real estate market. Earnings releases should help to propel CUT further upward during trading sessions next week. That said, it's likely that tough times still lay ahead for the broader real estate market in the U.S.
CUT is a good short-term play on current momentum and next week's results. With top components weighing in on the impact of economic recovery, CUT should still have some upside in the short term.
At the time of publication, Dion Money Management was long CUT.
This commentary comes from an independent investor or market observer as part of TheStreet guest contributor program. The views expressed are those of the author and do not necessarily represent the views of TheStreet or its management.