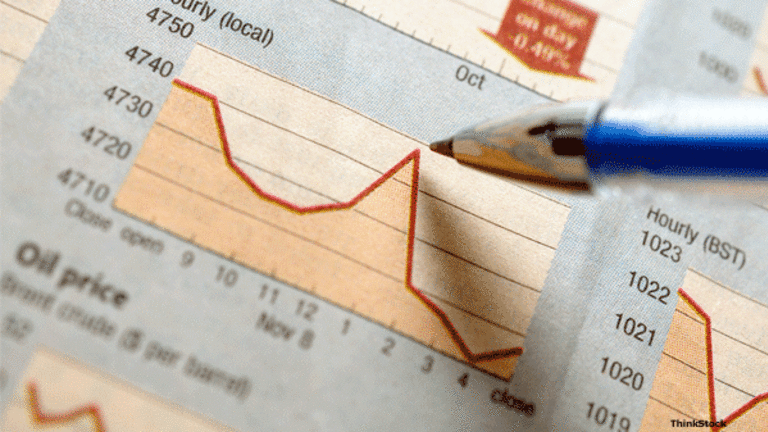 Dion's Weekly ETF Blog Wrap
Find out what Don Dion was blogging about this past week on <I>RealMoney</I>.
NEW YORK (
) -- Don Dion posts his current insights on the stock, bond, commodity and currency markets in his
RealMoney
blog, anticipating which ETFs will be in play next.
Here are three of his blog posts from the past week:
Put This ETF on Speed Dial
Published 1/21/2011 10:49 a.m. EST
Korea-based mobile phone designer
HTC
released better-than-expected results this morning, noting that demand for Android phones has helped to push profits higher. Successful new products and the increasing demand for smartphones help to put HTC in a good position to profit during the year ahead.
HTC is the third largest component in the popular
iShares MSCI Taiwan ETF
(EWT) - Get iShares MSCI Taiwan ETF Report
, an international fund that has jumped nearly 20% in the last three months. This highly liquid fund looks like a good short-term play on some of the earnings results that we have seen so far.
> > Bull or Bear? Vote in Our Poll
In addition to HTC, EWT's top component,
Taiwan Semiconductor
(TSM) - Get Taiwan Semiconductor Manufacturing Co., Ltd. Sponsored ADR Report
, should benefit from
Intel's
(INTC) - Get Intel Corporation (INTC) Report
better-than-expected results. Intel reported record earnings earlier this week, citing increasing global demand. This is a good sign for all of the top firms in the semiconductor index. TSM accounts for a hefty 13% of EWT's underlying portfolio.
More than 56% of EWT's underlying holdings are members of the IT sector, and consumers across the globe count on Taiwan for many of the components found in popular products including screens, chips and other digital equipment. As results from many of these tech firms across the globe begin to trickle in, EWT likely will see a short-term push.
At the time of publication, Dion did not hold positions in any equities mentioned.
Bank Bailouts Push Spain ETF Higher
Published 1/20/2011 10:39 a.m. EST
While concerns over tightening in China and a variety of earnings results are keeping U.S. investors occupied, over in Spain, a new set of bank bailouts is helping to push the
iShares MSCI Spain ETF
(EWP) - Get iShares MSCI Spain ETF Report
higher. Today,
The Wall Street Journal
cites "people familiar with the matter" who say that Spain is preparing to issue $4 billion in debt in the days ahead, eventually hoping to raise as much as $40 billion.
Like Ireland and Greece (just two notable examples among many), Spain's economy has been plagued by rumors about debt crises and currency concerns. During 2010, the financials-heavy EWP fell more than 19% as waves of doubt sent underlying holdings lower.
New confidence in global financial institutions, however, has helped to send EWP higher in recent weeks: EWP has gained more than 8% year-to-date. As I noted in a recent post, EWP may be top-heavy, but
it is one of the most liquid vehicles out there for making quick moves for Spain's equities. Top holding
Banco Santander
(STD)
accounts for more than 20% of this fund's underlying holdings, so investors have to be particularly sensitive to the influence of this single component.
Today's announcement appears to confirm that short-term measures to shore up Spain's financial institutions will be part of a continued effort in the months ahead. Investors looking to target these institutions -- and who are willing to keep an eye on STD -- should consider EWP as a way to tap into the strengthening of Spain's financial sector.
At time of publication, Dion did not hold positions in any equities mentioned.
Apple News Could Rattle the 'Qs'
Published 1/18/2011 10:24 a.m. EST
Steve Jobs' announcement concerning his health has the potential to not only mute the release of
Apple's
(AAPL) - Get Apple Inc. (AAPL) Report
earnings later today but also to dominate headlines throughout the week. As investors consider the deep bench of executives at Apple, as well as the upcoming deal with
Verizon
(VZ) - Get Verizon Communications Inc. Report
and iPad sales, Apple's performance certainly has the potential to be volatile over the next few sessions. No single ETF will be more affected by this volatility than the popular
PowerShares QQQ
(QQQQ)
.
By now, most ETF investors know that QQQQ's cap-weighted methodology has resulted in the fund's nearly 21% stake in Apple. This incredibly top-heavy ETF has been popular nonetheless, since it offers exposure to the cap-weighted Nasdaq-100 index, which includes the 100 largest nonfinancial stocks in the Nasdaq Composite. Included among these names are leading biotech and consumer discretionary firms that are traded on the Nasdaq.
While the names included in the Nasdaq-100 make for a good mix, QQQQ lacks the balance that would make this type of portfolio appealing to some longer-term investors. Owning a fund like QQQQ, which is so reactive to movements in Apple, can be stressful for longer-term investors who keep an eye on short-term volatility.
Apple's earnings are expected to be good, and I believe that Jobs' impact will lessen over time as investors familiarize themselves with other managers at the company and refocus on the impact that Apple products continue to have. I believe that it is worth having exposure to Apple ahead of earnings -- as well as to a well-balanced bunch of tech names -- but QQQQ isn't the route to take.
Instead, investors should consider the
First Trust NASDAQ-100-Technology Sector ETF
(QTEC) - Get First Trust NASDAQ-100 Technology Sector Index Fund Report
, an ETF that offers an "equal-weight" approach to the Nasdaq-100. Instead of relying on a portfolio that is top heavy, QTEC offers exposure to the group without leaning on any single component. QTEC's top three holdings,
Nvidia
(NVDA) - Get NVIDIA Corporation Report
,
Micron Technology
(MU) - Get Micron Technology, Inc. (MU) Report
and
Adobe
(ADBE) - Get Adobe Inc. Report
account for 3.86%, 2.78% and 2.76%, respectively, of the underlying portfolio. Apple is, of course, included, and makes up 2.55% of QTEC's underlying holdings.
QQQQ isn't the only way to tap into tech, and ahead of earnings season, ETF investors should consider the alternatives. QTEC is one way to gain exposure to these top tech firms without having to worry about the security-specific risk of top holdings like Apple in the short term.
At the time of publication, Dion Money Management had no positions in stocks mentioned.
This commentary comes from an independent investor or market observer as part of TheStreet guest contributor program. The views expressed are those of the author and do not necessarily represent the views of TheStreet or its management.