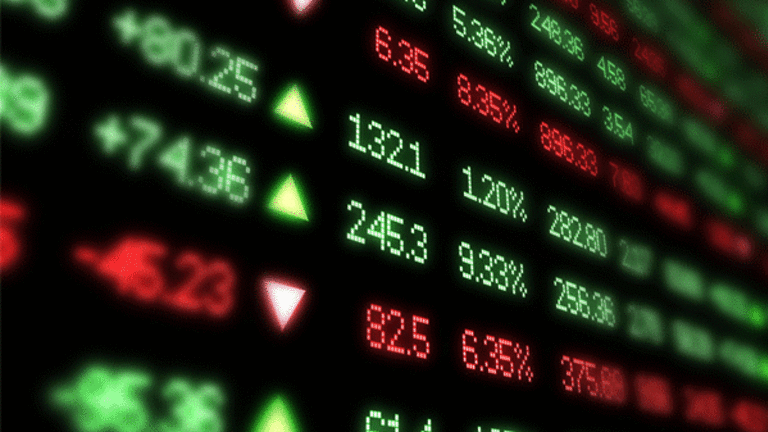 Dion's Weekly ETF Blog Wrap
Find out what Don Dion was blogging about this past week on <I>RealMoney</I>.
NEW YORK (
) -- Don Dion posts his current insights on the stock, bond, commodity and currency markets in his
RealMoney
blog, anticipating which ETFs will be in play next.
Here are three of his blog posts from the past week:
Following the Gurus' Gold Plays
Published 11/16/2010 11:31 a.m. EST
Though the dollar has been topping gold in the headlines, financial gurus such as
and
are still using ETFs to gain exposure to the precious metal. In separate SEC filings yesterday, Paulson & Co. and Soros both indicated that they owned the
SPDR Gold Shares ETF
(GLD) - Get SPDR Gold Shares ETF Report
, a physically backed fund that tracks the price of the yellow metal.
Paulson added GLD during the last quarter while simultaneously trimming holdings in
AngloGold Ashanti
(AU) - Get AngloGold Ashanti Limited Report
, Africa's largest gold miner and a top holding in the
Market Vectors Gold Miners ETF
(GDX) - Get VanEck Gold Miners ETF Report
. Soros, who has exposure to gold through both GLD and the
iShares Comex Gold ETF
(IAU) - Get iShares Gold Trust Report
, actually decreased holdings.
> > Bull or Bear? Vote in Our Poll
A couple interesting things here. It's important to note the staying power of GLD in both Soros' and Paulson's portfolios despite a recent pullback in the metal and the spike in U.S. equities. As I have suggested to readers in the past, physically-backed funds such as GLD and IAU are preferable for long-term exposure. Since these two funds -- along with
ETFs Physical Gold Shares
(SGOL) - Get abrdn Physical Gold Shares ETF Report
-- track the price of actual gold (held in the name of the funds), they are good alternatives to bullion. The popularity of GLD and IAU are helping to make gold an asset class unto itself, and I expect that many big names in finance will use these, and similar funds, for precious metals exposure on a long-term basis.
It's interesting to note that Soros' exposure comes from both IAU and GLD holdings. IAU has made a big publicity push in recent months, lowering fees and cutting share price. I
discussed both of these changes when they occurred this summer here on this blog, and wondered aloud if the publicity from IAU's structural changes would help the fund to cut into GLD's market share. While GLD is still the dominant fund from a size perspective, it's interesting that IAU has not gone unnoticed amongst big buyers like Soros. As more and more investors keep adding gold, it will be interesting to see if iShares' lower expense ratio will make IAU worth the switch for some.
Physical gold exposure continues to be a must-have for long-term investors, and physically-backed ETFs such as GLD, IAU and SGOL are amongst the easiest ways to gain it. I'll continue to cover the similarities and differences between these funds in this blog.
At the time of publication, Dion Money Management was long IAU and GDX.
A Tech ETF for a Spending Rebound
Published 11/19/2010 7:02 a.m. EST
Dell's
(DELL) - Get Dell Technologies Inc. Class C Report
results after the bell Thursday have left even bullish tech sector investors surprised. While Dell's shares certainly will surge higher on the results, what's more important are what the tech giant's earnings say about the industry as a whole.
In its earnings report, Dell noted that profits nearly doubled and that much of the credit for the advance came from companies that finally felt comfortable spending money to revamp aging technology, a broader sign of economic health that shouldn't be missed.
So rather than just focusing on tech today, investors should consider a fund that contains top firms that also could benefit significantly from talk of rebuilding tech departments. While I mentioned the
First Trust Nasdaq-100-Technology ETF
(QTEC) - Get First Trust NASDAQ-100 Technology Sector Index Fd Report
Thursday as a
solid, well-balanced long-term play on the tech sector
, I also think this fund has a lot of potential as a short-term play in the wake of the Dell numbers.
In addition to Dell, which makes up some 3% of the underlying portfolio, the fund's roster also includes firms like
Oracle
(ORCL) - Get Oracle Corporation Report
,
Microsoft
(MSFT) - Get Microsoft Corporation Report
and
Symantec
(SYMC) - Get Symantec Corporation Report
. These are just the type of companies that should cash in from the market recovery that Dell's executives described. Watchers of the tech sector have been waiting for this point when businesses, both large and small, finally feel confident enough in recovery to start replacing old technology.
If you're looking to extend this trend into a longer-term trade, I continue to think that QTEC is just the pick. If companies are feeling confident now that recovery is underway, and that it's time to replace technology, imagine how they'll feel once there's more clarity on tax issues and the
Federal Reserve's
stimulus measures.
Clarity equals sanity, which equals willingness to push money back into a firm.
Japan, Two Ways
Published 11/15/2010 2:38 p.m. EST
It's hard to argue with cold, hard data, and when it comes to Japan, the numbers are indicating significant economic improvement. As many U.S. investors now know, Japan's real gross domestic product expanded at an annualized rate of 3.9% during the third quarter, racking up the fourth consecutive quarter of growth.
It may be equally difficult to argue, however, that Japan doesn't face challenges in the months ahead. A resilient yen and unstable exports could both take their toll on Japan's economy. As a global investor, it's important to find a way to profit from the near-term growth in Japan's economy while minimizing exposure to the longer-term challenges.
Investors looking to profit from a strong yen and a rally in Japanese equities in the short term should consider the
iShares MSCI Japan Index ETF
(EWJ) - Get iShares MSCI Japan ETF Report
, a large, liquid equity fund that
doesn't hedge against currency exposure.
If the yen begins to weaken, however, Japanese equities may be in for an even bigger rally. To take advantage of a strong equity market in Japan along with a weakening yen, investors should check out the
WisdomTree Japan Hedged Equity ETF
(DXJ) - Get WisdomTree Japan Hedged Equity Fund Report
, a fund that hedges against the effects of currency, so that gains aren't sunk by the relationship between the yen and the dollar.
ETFs are a solid play on a strengthening Japanese economy, but U.S. investors need to consider the currency effect when choosing their funds.
At the time of publication, Dion owned shares of EWJ.
Don Dion is president and founder of
, a fee-based investment advisory firm to affluent individuals, families and nonprofit organizations, where he is responsible for setting investment policy, creating custom portfolios and overseeing the performance of client accounts. Founded in 1996 and based in Williamstown, Mass., Dion Money Management manages assets for clients in 49 states and 11 countries. Dion is a licensed attorney in Massachusetts and Maine and has more than 25 years' experience working in the financial markets, having founded and run two publicly traded companies before establishing Dion Money Management.
Dion also is publisher of the Fidelity Independent Adviser family of newsletters, which provides to a broad range of investors his commentary on the financial markets, with a specific emphasis on mutual funds and exchange-traded funds. With more than 100,000 subscribers in the U.S. and 29 other countries, Fidelity Independent Adviser publishes six monthly newsletters and three weekly newsletters. Its flagship publication, Fidelity Independent Adviser, has been published monthly for 11 years and reaches 40,000 subscribers.