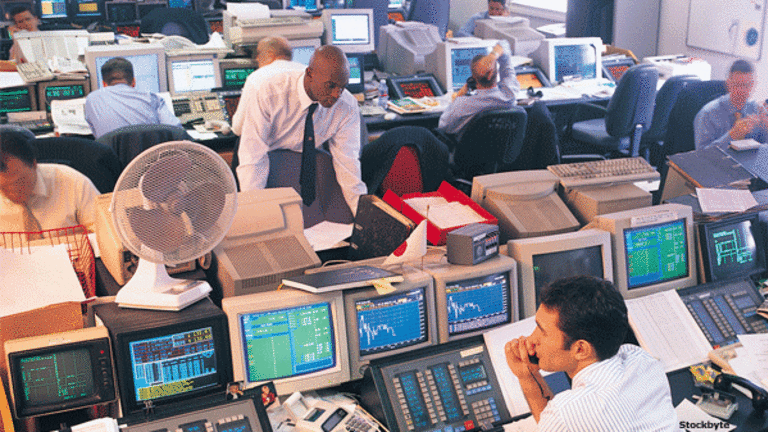 Dion's Weekly ETF Blog Wrap
Find out what Don Dion was blogging about this past week on <I>RealMoney</I>.
NEW YORK (
) -- Don Dion posts his current insights on the stock, bond, commodity and currency markets in his
RealMoney
blog, anticipating which ETFs will be in play next.
Here are three of his blog posts from the past week:
A Defense ETF Gets a Lift
Published 10/20/2010 10:14 a.m. EDT
Both
Boeing
(BA) - Get The Boeing Company Report
and
United Technologies
(UTX) - Get n.a. Report
, bellwethers of the aerospace and defense industry, reported strong results this morning, indicating that defense could be on the rise.
Boeing's Chief Executive Jim McNerney noted the "continued strong performance of our commercial production and services programs and the ability of our defense businesses to produce solid results in a challenging environment." United Technologies Chairman and Chief Executive Louis Chenevert noted that "commercial aerospace aftermarket orders have rebounded nicely."
Boeing and United Technologies share something else in common: They are the top two components in the
iShares Dow Jones US Aerospace & Defense ETF
(ITA) - Get iShares U.S. Aerospace & Defense ETF Report
, together comprising more than 16% of the underlying portfolio. Strong earnings from the pair should help lift other ITA holdings, such as
General Dynamics
(GD) - Get General Dynamics Corporation Report
and
Lockheed Martin
(LMT) - Get Lockheed Martin Corporation Report
higher during trading today, making ITA a good short-term play for investors looking to capture the momentum from this morning's earnings.
> > Bull or Bear? Vote in Our Poll
For longer-term investors, ITA appears to have promise. Earnings reports from top components reflect strengthening in the sector and a brighter outlook ahead. ITA has already been strong in recent months, rising more than 9% in the three-month period ending Oct. 19. Given its momentum and positive outlook, ITA could be a strong investment for the months ahead.
At the time of publication, Dion Money Management had no positions in stocks mentioned.
A Tech ETF Absent Apple
Published 10/19/2010 7:12 a.m. EDT
Looking for exposure to the better-than-expected
Google
(GOOG) - Get Alphabet Inc. Report
earnings while avoiding the pull of the worse-than-expected
Apple
(AAPL) - Get Apple Inc. Report
earnings? Exchange-traded fund investors should turn to the
First Trust Internet ETF
(FDN) - Get First Trust Dow Jones Internet Index Fund Report
in the days ahead.
Rather than focusing on computer titans like Apple and
IBM
(IBM) - Get International Business Machines Corporation Report
, FDN tracks a portfolio of firms that draw at least 50% of their revenue from online businesses. Top FDN holdings include Google,
Amazon
(AMZN) - Get Amazon.com Inc. Report
,
eBay
and
Salesforce.com
(CRM) - Get Salesforce Inc. Report
. Many of FDN's underlying components are Web sites that allow consumers to compare prices and find the best deals, so I continue to feel confident that FDN will be a good play for the holiday season.
While Apple may not have beat expectations in the third quarter, two factors could easily turn the tide. With the holiday season in sight, sales of the iPad should pick up. Another positive factor is that Apple will be offering the iPad for
Verizon
(VZ) - Get Verizon Communications Inc. Report
users in the months ahead, opening up the iPad to a whole new audience.
Even though FDN doesn't contain Apple, top components could still benefit from increased sales of the iPad in the months ahead. One of the primary functions of the iPad is to connect users to the Internet. Once there, a new flood of consumers will be surfing the sites in FDN's portfolio.
FDN is a solid, longer-term tech play that shouldn't feel the sting from Apple's failings during Tuesday's session. There's still plenty of time to buy shares ahead of the holidays and hold FDN as a long-term play in a well-balanced portfolio.
At the time of publication, Dion Money Management owned FDN.
Single-Commodity ETFs Looking Risky
Published 10/18/2010 12:50 p.m. EDT
As demand for commodities has soared in recent sessions, bubbles and disconnections are beginning to form in funds that track futures contracts rather than equities. Last week, I
the case of the
iPath Dow Jones UBS Natural Gas Total Return Subindex ETN
(GAZ) - Get iPath Series B Bloomberg Natural Gas Subindex Total Return ETN Report
, and it isn't the only fund in bubble mode.
Take the case of the popular
PowerShares DB Crude Oil Double Short ETN
(DTO) - Get DB Crude Oil Double Short Exchange Traded Notes Report
, which has been trading at a small yet significant premium to net asset value during the last month. During the one-month period ending Oct. 15, DTO's market price fell 12.3% while DTO's market value fell just 11.5%.
When Barclays, manager of the
iPath DJ-UBS Platinum Trust Sub-Index ETN
(PGM) - Get iPath Series B Bloomberg Platinum Subindex Total Return ETN Report
also caused a disconnect when the firm decided to halt the creation of new shares as investors awaited more news regarding position limits from the Commodities Futures Trading Commission. Year to date, PGM's market value has risen just 3.81% while PGM's underlying value rose more than 13%.
As I've mentioned in previous blogs, pricing discrepancies, bubbles and disconnections between market value and NAV undermine the whole system that the ETF universe is built upon. When an investor buys a fund, they expect it to track the returns of an underlying index. By not tracking their underlying index or NAV, funds like GAZ, DTO and PGM break the implicit promise that fund managers make to investors.
As the CFTC rules become more and more clear as the Dodd-Frank Act is hashed out and implemented, perhaps many of these funds will fall back in line. In the meantime, you're going to want to stay away from single commodity funds where you can't be sure what you're going to get.
That doesn't mean that ETF commodity investors don't have choices. The futures-backed
PowerShares Agriculture ETF
(DBA) - Get Invesco DB Agriculture Fund Report
has stayed on track better than many fellow commodity funds. Since DBA tracks a basket of underlying commodity futures contracts, the fund itself is less susceptible to position limits placed on a single commodity.
If you'd really like to avoid futures-backed commodities funds altogether, there's always the highly liquid
Market Vectors Agribusiness ETF
(MOO) - Get VanEck Agribusiness ETF Report
, which contains the top global firms in the agribusiness sector. Top holdings include
Deere
(DE) - Get Deere & Company Report
,
Mosaic
(MOS) - Get Mosaic Company (The) Report
, Wilmar International and
Monsanto
(MON)
.
At the time of publication, Dion Money Management was long DBA.
A special note from Don: Put simply, I want to help you profit from ETFs.
You don't have to be an expert trader -- there are potential profits for investors at every level. And I think there's no better way to jump into the world of ETFs than through my brand-new service,
TheStreet ETF Action by Don Dion
.
Membership is limited, so click here to get in on the action!
Don Dion is president and founder of
, a fee-based investment advisory firm to affluent individuals, families and nonprofit organizations, where he is responsible for setting investment policy, creating custom portfolios and overseeing the performance of client accounts. Founded in 1996 and based in Williamstown, Mass., Dion Money Management manages assets for clients in 49 states and 11 countries. Dion is a licensed attorney in Massachusetts and Maine and has more than 25 years' experience working in the financial markets, having founded and run two publicly traded companies before establishing Dion Money Management.
Dion also is publisher of the Fidelity Independent Adviser family of newsletters, which provides to a broad range of investors his commentary on the financial markets, with a specific emphasis on mutual funds and exchange-traded funds. With more than 100,000 subscribers in the U.S. and 29 other countries, Fidelity Independent Adviser publishes six monthly newsletters and three weekly newsletters. Its flagship publication, Fidelity Independent Adviser, has been published monthly for 11 years and reaches 40,000 subscribers.