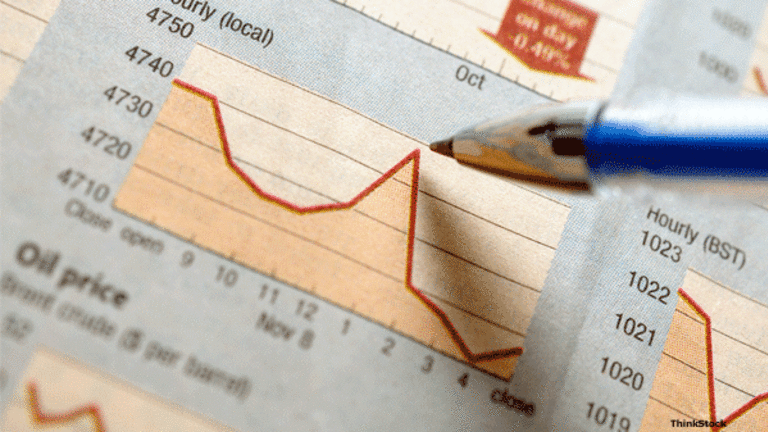 Dion's Weekly ETF Blog Wrap
Find out what Don Dion was blogging about this past week on <I>RealMoney</I>.
Find out what Don Dion was blogging about this past week on <I>RealMoney</I>.
NEW YORK (
) -- Don Dion posts his current insights on the stock, bond, commodity and currency markets in his
RealMoney
blog, anticipating which ETFs will be in play next.
Here are three of his blog posts from the past week:
Another Corny ETF
Published 10/12/2010 11:10 AM EDT
Last Friday agriculture ETFs such as
PowerShares DB Agriculture
(DBA) - Get Report
and
Teucrium Corn Fund ETV
(CORN) - Get Report
traded at premiums after the
USDA cut corn and soybean production expectations and the price of these commodities jumped.
The impact of reduced corn production, however, will extend beyond just commodity traders and corn-focused ETFs. Cattle prices have also been surging as farmers remain reluctant to buy more cows when the price of corn keeps rising. According to
, "Meat prices are poised to extend a 14% rally this year that drove U.S. retail costs to the highest levels since the 1980s as surging corn futures prevent livestock producers from expanding their herds."
> > Bull or Bear? Vote in Our Poll
Fortunately, ETF investors have a number of ways to gain exposure to the increasing price of cattle in the short term. DBA offers exposure to both live cattle and feeder cattle contracts, but investors looking for a purer play on cattle prices can check out the
iPath Dow Jones-UBS Livestock TR Sub-Index ETN
(COW) - Get Report
. While COW is still a relatively small fund -- it has $70 million in assets under management and an average daily trading volume of 42,000 shares -- contentious, sophisticated investors should consider the unique exposure it provides. Careful trading, knowledge of ETN risks and active monitoring would all be required to trade COW successfully.
If investors do feel like they have the time and knowledge to monitor COW, the payoff could be substantial in the months ahead. While corn prices are surging right now, cattle prices won't be far behind. For investors who want to avoid the risks of an ETN and skirt the inherent volatility of single-commodity funds, DBA is still a solid longer-term bet.
At the time of publication, Dion Money Management was long DBA.
Natural Gas ETF Heats Up
Published 10/12/2010 7:03 AM EDT
Exchange-traded fund investors should look to the promise of the equity-backed
First Trust Natural Gas ETF
(FCG) - Get Report
as weather in the U.S. cools and a series of deals and acquisitions heats up the sector.
FCG recently rebalanced its underlying portfolio to restore and enforce the fund's equal-weighting strategy. After
Exxon Mobil
(XOM) - Get Report
acquired
XTO Energy
, FCG's portfolio seemed out of whack as balance in the underlying holdings initially reflected the impact of XOM's acquisition making the portfolio, temporarily at least, overweight in XOM. Now that FCG has been rebalanced, top components like
Stone Energy
(SGY)
and
Comstock Resources
(CRK) - Get Report
are playing a larger, more balanced role in the underlying portfolio.
Another notable top holding in FCG's portfolio is
Chesapeake
(CHK) - Get Report
, a U.S. firm that Chinese state-run energy giant
Cnooc
(CEO) - Get Report
has taken a stake. Between Exxon and Cnooc, the purchase of shale properties is a hard-to-miss trend. Obviously, these energy giants believe that shale investments will pay off in the long run and the now-cheap fuel will be the future of energy.
Rather than taking a back seat and watching energy from afar, use FCG to make an early investment in the future of natural gas.
While investors have been complaining about low natural gas prices, the equity-backed FCG actually has gained more than 8% in the last 30 days, so upward momentum already has begun.
A Short-Term Golden Opportunity
Published10/11/2010 11:05 AM EDT
Gold is drifting lower on this quiet Monday morning, leaving some investors scratching their heads. Isn't gold supposed to be unstoppable? In the last few months, this has seemed to be true. In the three-month period ending Oct. 8, the physically-backed
SPDR Gold Shares ETF
(GLD) - Get Report
and
iShares Comex Gold ETF
(IAU) - Get Report
and the equity-backed
Market Vectors Gold Miners ETF
(GDX) - Get Report
, have jumped 12.33%, 12.27% and 16.04%, respectively.
U.S. stimulus, inflation fears, concerns about Europe's debt and broader concerns about economic recovery have all helped to egg on gold prices, and all of these issues will likely continue to spur gold in the month ahead.
With so many investors viewing gold as a "sure bet", it can be difficult for owners of funds like GLD, IAU and GDX to tolerate days when the precious commodity tumbles. On some days, like today, the movement is difficult to explain. It's important to remember, however, that all short-term commodity trading is difficult to predict and that gold investments are notoriously difficult to time.
If you're a longer-term investor watching your gold position, I'd encourage you to keep holding at this point in time and avoid giving in to that itchy trigger finger. As the November elections draw near and uncertainty continues to permeate markets, gold should continue to move upward. Shorter-term investors bullish on gold might even use the slight weakness today to gain exposure to the equity-backed GDX.
At the time of publication, Dion Money Management was long IAU.
Don Dion is president and founder of
, a fee-based investment advisory firm to affluent individuals, families and nonprofit organizations, where he is responsible for setting investment policy, creating custom portfolios and overseeing the performance of client accounts. Founded in 1996 and based in Williamstown, Mass., Dion Money Management manages assets for clients in 49 states and 11 countries. Dion is a licensed attorney in Massachusetts and Maine and has more than 25 years' experience working in the financial markets, having founded and run two publicly traded companies before establishing Dion Money Management.
Dion also is publisher of the Fidelity Independent Adviser family of newsletters, which provides to a broad range of investors his commentary on the financial markets, with a specific emphasis on mutual funds and exchange-traded funds. With more than 100,000 subscribers in the U.S. and 29 other countries, Fidelity Independent Adviser publishes six monthly newsletters and three weekly newsletters. Its flagship publication, Fidelity Independent Adviser, has been published monthly for 11 years and reaches 40,000 subscribers.