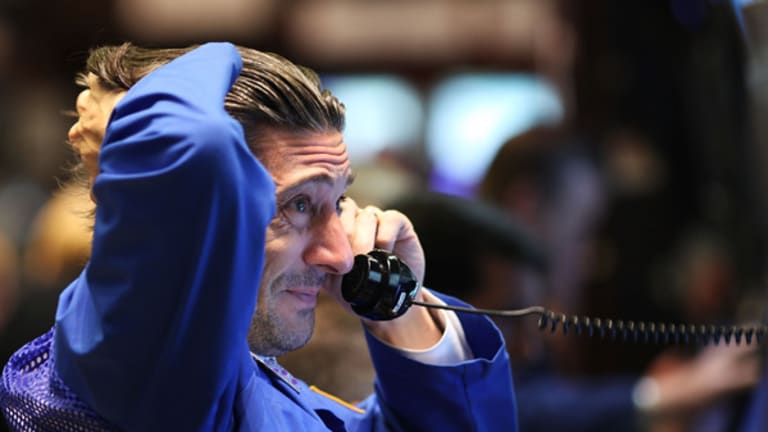 NEW YORK (TheStreet) -- Here are today's ETF Winners and Losers.
Winners
Because U.S. markets were mostly closed at the end of last week in observance of Good Friday, investors are now reacting to the disappointing nonfarm payrolls report. As indices prepare to close out the trading session with noteworthy losses, fear-tracking exchange traded products are enjoying a lift. A five-day string of gains has helped push VXX to April highs.
With major U.S. stock market indices sitting in negative territory, investors are clamoring for safe havens. With long-term treasuries in vogue, TLT has managed to surge, powering back through its 50-day moving average for the first time since late-February. The fund has hit a multi-week rough spell so it will be interesting to see if it can maintain these levels.
The Japanese yen is also gaining ground. Shares of the CurrencyShares Japanese Yen Trust (FXY) are up around 1% heading into the close.
Gold prices have struggled for weeks as investors hope for new rounds of easing has waned. As markets head lower, however, the shiny metal has managed to push higher, helping IAU and the SPDR Gold Shares (GLD) secure gains.
Gold miners are seeing mixed action. A three-day spell of weakness caused the GDX to close out the shortened first week of April at its lowest level since July 2010. The fund is managing to find some footing here, however, and is securing approximately 1% gains. The Market Vectors Junior Gold Miners ETF (GDXJ), meanwhile, is hovering in unchanged territory.
Losers
The futures-tracking United States Natural Gas Fund (UNG) is seeing some inklings of strength as it struggles to bounce off all-time lows. Meanwhile, the premium-laden GAZ is taking a sharp shot across the bow.
In recent weeks, we have seen the fund's substantial premium come down slightly. However, at the start of the week, it was again flirting with 90%. Avoid this broken fund.
Biotechnology ETFs are floundering as the end of the trading day approaches. Due to the inherently volatile nature of biotech stocks, it is common to see a single holding direct much of the day to day action from funds like XBI and the First Trust NYSE Arca Biotechnology Index Fund (FBT). On Monday, however, notable losses can be seen from a number of top holdings.
Market Vectors Solar ETF (KWT) -2.6%
KWT has endured a nine-session losing streak as rekindled macroeconomic fears in Europe and China have stoked growth doubts. This persistent selloff has pushed the inherently volatile fund to all-time lows.
The Guggenheim Solar ETF (TAN) is following KWT lower. Like its Van Eck-branded cousin, TAN is locking in all-time lows.
All prices as of 2:10 PM DST
At the time of publication, Dion Money Management owned IAU.