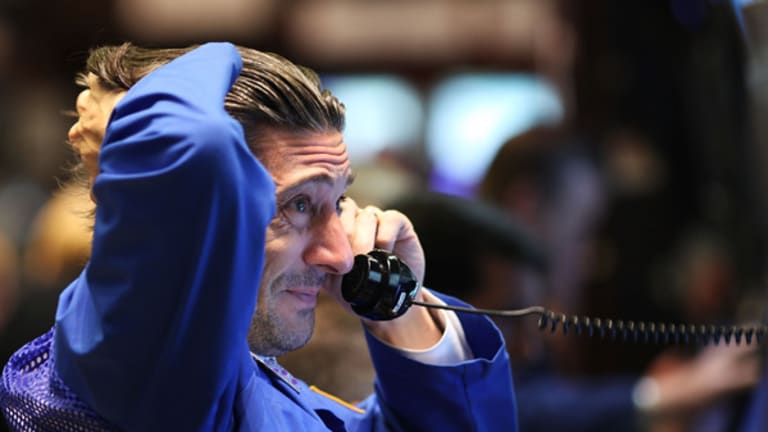 Currency ETFs in the Era of QE
With the looming specter of QE3, the dollar stands lost ground against global currencies, making these ETFs attractive.
The following commentary comes from an independent investor or market observer as part of TheStreet's guest contributor program, which is separate from the company's news coverage.
NEW YORK (
ETF Expert
) -- The minute the Fed floated "QE3″ on 7/13/11, I added more to my positions in funds like
WisdomTree Asia Local Debt
(ALD)
and
WisdomTree Emerging Market Local Debt
(ELD)
. Both bond funds are unhedged for currency fluctuations, giving shareholders an opportunity to benefit from a reasonable yield
and
gains against the greenback.
Granted, when the entire world panics, it may prefer the perceived safety of the U.S. dollar. Yet developing nations are extremely well-positioned to pay back debt obligations and their currencies have steadily risen throughout the quantitative easing timeline.
The timeline could include actions taken in 2008 to purchase mortgage-backed securities. It could also include comments — like those made in December 2008 or those made today — where the Fed "floated" ideas to gauge market reaction. Indeed, it may be difficult to pinpoint the exact moment where the quantitative easing era began.
For example, did QE1 begin with the actual purchase of U.S. Treasury debt on March 18, 2009? Or did it begin with the Nov. 25, 2008 announcement of Fed intervention vis-a-vis mortgage-backed securities purchases? Did QE2 start in the summer of 2010, as the Fed discussed the possibility of more stimulus? Or did QE2 start in November of 2010, when the Fed officially began its new $600 billion buying binge?
For purposes of this exercise, I am using the earliest announcement in November of 2008. After all, it's a date that is not perfectly aligned with the inception of the new bull market in U.S. stock assets.
Here's what I found:
Dollar devaluation has occurred across the currency board. However, materials-rich countries from Brazil to South Africa to Australia witnessed super-sized appreciation in their respective currencies. Canada's "loonie" likely prospered due to energy resources, while India's gains may be a function of tight monetary policy.
The European Monetary Union's euro? In spite of dwindling faith in member nations of the EMU, Bernanke's counterpart at the European Central Bank, Trichet, has actually been raising rates to fight inflation. In effect, even the euro may hold its own against American paper.
I have seen a number of analysts citing the dollar's 17% decline against a basket of world currencies since QE policy began. This corresponds to the result you see for the decline in PowerShares Dollar Bullish (UUP).
However, the percentage drop is severely understated, not unlike the difference between headline U-3 unemployment (9.2%) and the broader U-6 measure (16.2%). When you measure dollar depreciation against a basket of developed world currencies like the British pound, Japanese yen, EMU euro as well as the Swedish krona, one doesn't get a picture of the dollar's decline across the entire world.
India? Brazil? South Africa? Chile? Put them all together… and the dollar's gotten whacked much harder than a -17% loss in the quantitative easing era.
Disclosure Statement: ETF Expert is a website that makes the world of ETFs easier to understand. Gary Gordon, Pacific Park Financial and/or its clients may hold positions in ETFs, mutual funds and investment assets mentioned. The commentary does not constitute individualized investment advice. The opinions offered are not personalized recommendations to buy, sell or hold securities. At times, issuers of exchange-traded products compensate Pacific Park Financial or its subsidiaries for advertising at the ETF Expert website. ETF Expert content is created independently of any advertising relationships. You may review additional ETF Expert at the site.