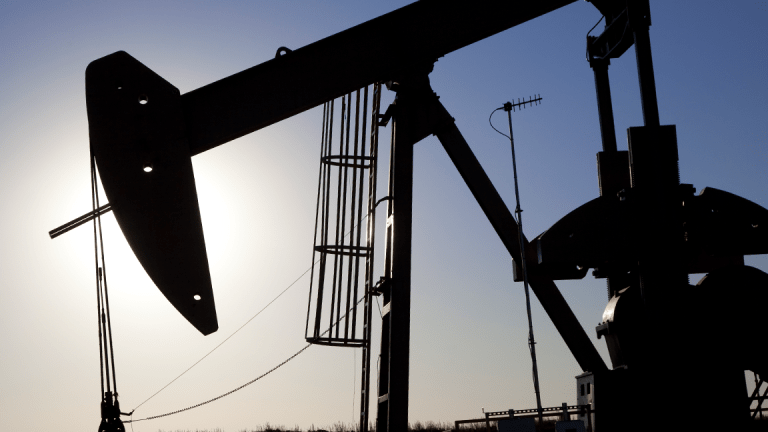 After Crude Oil's Roaring Rip, It May Pay to Be Cautious For Now
The oil rally may be running out of steam, according to a little-watched chart indicator. But things could heat up again later this year.
The oil rally may be running out of steam, according to a little-watched chart indicator. But things could heat up again later this year.
If you haven't already placed a bullish bet on oil prices, now may not be the best time to start.
The risks would likely far outweigh the potential rewards, according to a little-watched indicator that rarely gets mentioned outside the trading rooms of Wall Street.
"If you were to put money into the oil market now it would be considered inordinately risky," says Rick Bensignor, president of Bensignor Investment Strategies in New York. 
For the time being, that means you should avoid buying the United States Oil exchange-traded fund (USO) - Get Report , which tracks the price of crude oil futures contracts.
That shouldn't be a problem for anyone who has already bet on crude prices rising these past few weeks. The price of light sweet crude has rallied to $60 a barrel recently, up more than 40% from $42.53 on December 24, according to data from Bloomberg.
But if you don't want to be foolhardy, then stay away from opening new oil trades, at least for now.
Bensignor says he sees a sign of so-called "exhaustion" in the crude oil market, which shouldn't be too surprising given the extended rally since late last year. In other words, the upward price momentum is running out of steam and so the price action is likely to be less robust for a while.
Secret Signal
In a recent research report, he highlighted a pattern in the oil price chart dubbed the TD +9 +13 +9 sequential signal. Identifying the signal is tricky. Thos says those inclined to do so can learn more about it here.
However, given that Bensignor has already done the work of identifying the potential problem, you don't need to worry about reading the chart.
What you do need to understand is the subtlety of what Bensignor recommends. 
This signal does not mean that oil prices will immediately drop straight down, he says. All it means is that opening a bullish trade on oil at this point would be highly risky. Remember the goal of investing is to take on as little risk as possible for any potential gain.
Bensignor sums it up succinctly: "It is a bad time to invest dollars in the direction of the trend," he says. In this case, the trend since December 24 has clearly been higher prices.
In other words, for now, stay away from buying the United States Oil ETF or futures contracts on light sweet crude.
Why the oil bull will be back
The cautious tone doesn't necessarily mean that the oil rally is dead forever. Later this year, prices could easily see a further jump, analysts say.
"In our view, the oil market's focus on global macroeconomic conditions, Trump's tweets, U.S. policy, and the publicly reported U.S. E&P [exploration and production] industry risks an overly bearish tone," states a recent research report from British bank Barclays.
Put simply, the pessimism about future oil prices is likely overdone at the moment, and there are signs that the supply-demand balance will stay favorable for a further price rally.
Barclays sees oil demand "holding up" despite the general slowdown in economic growth across the globe. That means that prices haven't gotten too high for consumers.
Contrary to popular belief, the major supply risks shocks will not come from the White House but rather from OPEC, the Organization of Petroleum Exporting Countries. The oil-rich members of OPEC typically agree on oil production quotas to keep the price of crude at a level where the oil cartel and the customers are both happy.
However, in the past, President Donald Trump has posted tweets pleading with Saudi Arabia, the largest OPEC producer, to increase production so that oil prices don't get too high, which would hurt U.S. car drivers.
That strategy may have worked in the past, but it probably won't work this time, says Barclays.
"[...] we think the biggest source of uncertainty for oil markets this year is not the U.S. but OPEC's response to U.S. policy decisions. We think the cuts are likely to remain in place," the Barclays report states. 
In other words, White House jawboning the Saudis won't work.
"We expect all these factors to contribute to upward price pressure," the report continues, noting that the average price this year will be around 5% higher than current levels. Given the recent huge run-up in prices over the first quarter, it seems reasonable to see gains higher than 5% in futures prices.
In other words, the oil rally should resume later this year. 
Will I Have Enough Money to Retire?
Want to learn about retirement planning from some of the nation's top experts? Join TheStreet's Robert "Mr. Retirement" Powell live in New York on April 6 for our Retirement Strategies Symposium. For a limited time, tickets are available for $99 for this full-day event.
Check out the agenda, learn about the speakers and sign up here.
Constable owns none of the securities listed in this story.