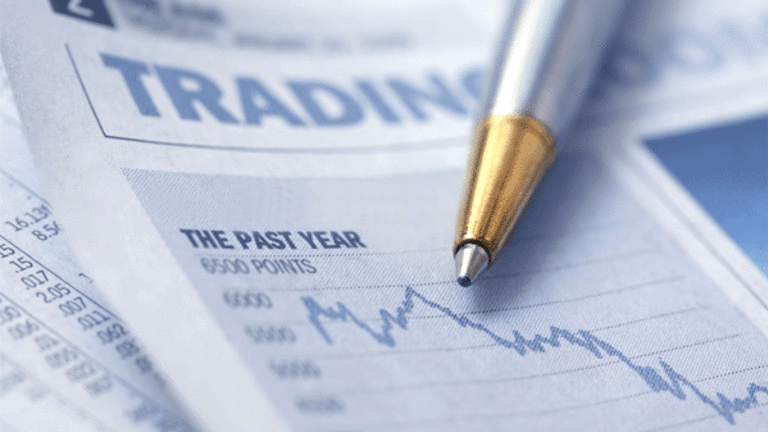 Consumer Staple ETFs Stay in the Black
When the economy struggles, companies that supply everyday necessities maintain their high profits.
NEW YORK (TheStreet) -- Consumer staple ETFs have provided protection lately. While the S&P 500 lost 3.6% in the last three months, Consumer Staples Select Sector SPDR (XLP) - Get Free Report returned 0.7%, according to Morningstar. Other ETFs that stayed in the black include Vanguard Consumer Staples (VDC) - Get Free Report and Guggenheim S&P 500 Equal Weight Consumer Staples (RHS) - Get Free Report.
The strong showing was not surprising. Consumer stocks have long been steady performers. The sector includes companies that make beverages, food, household goods, and tobacco. Prominent consumer stocks include
Procter & Gamble
(PG) - Get Free Report
,
Coca-Cola
(KO) - Get Free Report
, and
Kraft Foods
undefined
.
Providing low-priced necessities, the companies tend to record reliable sales year after year. Consumer stocks have enjoyed a special appeal lately because they offer rich dividends, which investors crave at a time of skimpy bond yields. The Vanguard consumer ETF yields 2.80%, compared to a yield of 1.67% for the
.
Though consumer stocks sometimes lag in bull markets, they
. When the S&P 500 lost 37% in the turmoil of 2008, Consumer Staples SPDR ETF only fell 14.8%. Avoiding big losses in bear markets, the consumer ETFs have delivered solid long-term returns. While the S&P 500 lost 0.2% annually during the past five years, the SPDR ETF returned 7.4%. The Vanguard and Guggenheim funds each returned 7.3%.
After their strong performance of recent years, the consumer stocks are no longer screaming bargains. The SPDR fund has a price-earnings ratio of 17.7, compared to a multiple of 15.4 for the S&P 500. Still, the consumer sector is appealing, says Robert Goldsborough, a Morningstar ETF analyst, who recommends the SPDR ETF for cautious investors. "The fund can be a sound defensive holding," he says.
The SDPR ETF is the biggest in the field with $5.7 billion in assets. The fund charges an expense ratio of 0.18%. The Vanguard fund has $1 billion in assets and charges 0.19%.
5 Best Housing Markets for the Next Five Years>>
Goldsborough argues that consumer stocks should continue delivering steady returns. The sector is full of dominant companies that can increase their sales at mid-single digit rates, he says. Even if sales in the U.S. and Europe stagnate, the companies could continue growing because of their expanding presence in the emerging markets. Companies such as Coca-Cola and
Colgate-Palmolive
(CL) - Get Free Report
have been spending heavily to reach eager consumers in Asia and Latin America. That has provided a big boost to earnings.
Part of the appeal of the consumer ETFs is that they are anchored by companies with long records of producing high returns on equity. Big holdings with rich profits include
Kimberly-Clark
(KMB) - Get Free Report
, maker of Kleenex tissues, and cereal maker General Mills (GIS). According to academic research, businesses that generated fat profits in the past tend to thrive in the future. In a recent study, Chuck Joyce and Kimball Mayer, portfolio managers for GMO, looked at the profitability of the 1000 biggest stocks five years ago. Then they checked to see if the performance persisted. The researchers found that profitable companies tend to stay that way.
The GMO managers say that companies can only achieve persistent high profits if they have big advantages, such as superior brands, strong franchises, or intellectual capital that competitors cannot easily duplicate. Companies that gain advantages tend to keep them for years. The researchers cite the example of
Tootsie Roll
(TR) - Get Free Report
and lubricant maker
WD-40
(WDFC) - Get Free Report
. "Each of these companies has huge brand recognition and the profitability to match," Joyce and Mayer wrote in a recent white paper.
8 Post-Downgrade Bank Stock Bargains>>
The profitable companies rewarded investors with
, the GMO researchers found. This occurred because the reliable performers tended to be undervalued and overlooked by investors who had little interest in boring companies. "Their predictably higher profits are not quite high enough to command the attention of a market in thrall to the possibility of the next big jackpot," the researchers wrote.
The GMO research should reassure investors that the consumer ETFs can make solid holdings. Just as consumer staples delivered steady returns in the past, they should remain reliable holdings going forward.
Stan Luxenberg is a freelance writer specializing in mutual funds and investing. He was executive editor of Individual Investor magazine.