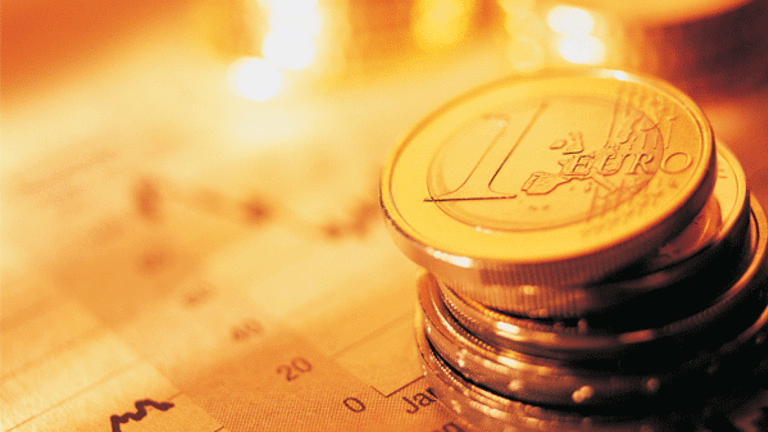 Publish date:
Chinese Inflation Fueling Copper Bubble?
Increased industrial activity driven by Chinese lending may be responsible for the boost in copper prices, but demand could also be speculative.
Increased industrial activity driven by Chinese lending may be responsible for the boost in copper prices, but demand could also be speculative.
Copper, the metal that tells the fortune of the economy, may be on the fritz, with important implications for the global economic recovery.
iPath Copper ETN
(JJC) - Get iPath Series B Bloomberg Copper Subindex Total Return ETN Report
, a debt instrument that tracks the Dow Jones-UBS Commodity Index Total Return position in copper. JJC gained 13.95% in the two weeks ending July 24, an impressive run that bested many equity indices.
The two main theories for the rebound are Chinese growth and inflation, and the intertwining of these two ideas. Chinese banks loaned a staggering sum of money in recent months and it has fueled GDP growth as well as speculative buying of commodities, equities and real estate. China's central government also wants to diversify away from the U.S. dollar, and natural resources are a good way to "short" the dollar.
Furthermore, Chinese investors want to diversify away from the Chinese yuan. While the
Federal Reserve's
inflation met a stone wall of credit-sated consumers and businesses, in China credit flowed out of the banks and M2 advanced at a 28.5% rate in June. Moreover, in the U.S. inflation concerns often come from outside the mainstream, but in China even government economists have issued inflation warnings.
On the other hand, Simon Hunt, chairman of
Simon Hunt Strategic Services
, says that investors have shipped copper into China for storage purposes and this does not show up in the reporting system. If that's the case, investors may be misreading copper imports into China as industrial demand rather than speculative demand.
For some investors, it doesn't matter as long as someone is stockpiling commodities in anticipation of greater inflation, but as I've argued in the case of interest rates,
inflation fears can stop inflation in its tracks
.
Anticipatory increases in commodity prices, as with interest rates, are deflationary because they raise costs for business and consumers and thus far, the Federal Reserve has not pumped enough currency into the economy to offset credit losses.
The copper debate lies on the critical fault line in the recovery/recession, inflation/deflation debate. Both inflationists and deflationists may agree that whether they are right about the direction of inflation, speculative commodity-buying based on inflation expectations rather than growth expectations is not a healthy way to revive the economy.
If it's based on real demand, however, the increase in copper demand signals an economic recovery is underway. Investors taking the optimistic side of the argument can try
iShares Chile
(ECH) - Get iShares MSCI Chile ETF Report
, which is close to a 52-week high due to the rolling off of higher prices from last summer.
iShares Peru
(EPU) - Get iShares MSCI Peru ETF Report
, a newer ETF with much less liquidity, also offers indirect exposure to the commodity. Those looking for a widening of the rally to other metals can consider
PowerShares DB Base Metals
(DBB) - Get Invesco DB Base Metals Fund Report
, which holds aluminum, zinc and copper.
Pessimists may want to simply avoid the sector. PowerShares does offer inverse ETNs based on the same index underlying DBB, but they are very illiquid to the point of being untradeable for even small investors.
PowerShares DB Base Metals Short ETN
(BOS) - Get DB Base Metals Short Exchange Traded Notes Report
averages 900 shares per day compared to 3,000 shares per day for
PowerShares DB Base Metals Double Short ETN
(BOM) - Get DB Base Metals Double Short ETN Report
.
Either way, many eyes have turned to copper as a gauge of economic recovery, and therefore it behooves investors to stay on top of developments in this market.
At the time of publication, Dion was long ECH.
Don Dion is the publisher of the Fidelity Independent Adviser family of newsletters, which provides to a broad range of investors his commentary on the financial markets, with a specific emphasis on mutual funds and exchange-traded funds. With more than 100,000 subscribers in the U.S. and 29 other countries, Fidelity Independent Adviser publishes six monthly newsletters and three weekly newsletters. Its flagship publication, Fidelity Independent Adviser, has been published monthly for 11 years and reaches 40,000 subscribers.
Dion is also president and founder of Dion Money Management, a fee-based investment advisory firm to affluent individuals, families and nonprofit organizations, where he is responsible for setting investment policy, creating custom portfolios and overseeing the performance of client accounts. Founded in 1996 and based in Williamstown, Mass., Dion Money Management manages assets for clients in 49 states and 11 countries. Dion is a licensed attorney in Massachusetts and Maine and has more than 25 years' experience working in the financial markets, having founded and run two publicly traded companies before establishing Dion Money Management.