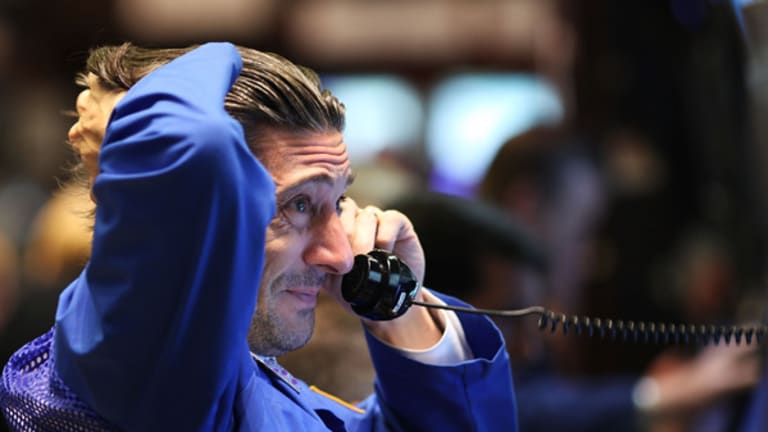 Carrying Apple in the ETF Basket
Without owning shares of a large company directly, investors may still have considerable exposure.
NEW YORK (TheStreet) -- A client recently asked why
Apple
(AAPL) - Get Apple Inc. Report
was not in the portfolio. That presented a good opportunity to explain the role that sector ETFs play in a diversified portfolio, how what is under the hood of any ETF is very important and that the client does indeed own Apple by virtue of its large weighting in the tech sector ETF in his portfolio.
Just about every large ETF provider has a broad tech sector ETF and Apple is the largest holding by far in all of them.
In the iShares DJ US Technology Sector Index Fund
(IYW) - Get iShares U.S. Technology ETF Report
Apple currently has a 22.7% weight. In the
Technology Select Sector SPDR
(XLK) - Get Technology Select Sector SPDR Fund Report
Apple has a 19.7% weighting and in the
Vanguard Information Technology ETF
(VGT) - Get Vanguard Information Technology ETF Report
it has a 14.5% weight.
The huge weighting in one stock, in this case Apple, is neither bad nor good. It simply reflects the fact that Apple has by far the largest market capitalization. The huge weighting does require having some sort of opinion on Apple; it would make no sense to own any of these ETFs while at the same time believing Apple was destined to go out of business quickly.
First You Screw Up, Then Lie and Finally Die
The technology sector currently comprises 20% of the
S&P 500
. An investor who benchmarks to the S&P 500 might reasonably allocate 18% to 22% to tech. Keeping the example simple, a 20% allocation to IYW would result in a 4.5% portfolio weight in Apple, a 20% weight in XLK would result in a 3.9% weight in Apple and a similar exposure to VGT would put 2.9% of the portfolio in Apple.
In the mutual fund industry a so-called concentrated portfolio has 30 to 40 holdings which implies an average weighting for each stock of 2.5% to 3.3%, so the exposure to Apple available in the sector ETFs is substantial and the performance of the three sector ETFs reflects that fact.
7 Companies That Keep on Growing
Year to date, IYW is up 21%, XLK is up 18.5% and VGT is up 20% compared to an 11% gain for the S&P 500. Obviously all three funds have benefitted from the 56% gain in Apple. The reason for the lag in XLK is that this fund actually combines the tech sector and the telecom sector and telco stocks have generally lagged the rally in the broad market this year.
The dominance of one stock exists in a couple of other sectors as well. For example the large energy sector ETFs are heaviest by far in
Exxon Mobil
(XOM) - Get Exxon Mobil Corporation Report
. The
iShares DJ US Energy Sector Index Fund
(IYE) - Get iShares U.S. Energy ETF Report
allocates 25% to XOM, the
Energy Select Sector SPDR
(XLE) - Get Energy Select Sector SPDR Fund Report
has 18% in XOM and the
Vanguard Energy ETF
(VDE) - Get Vanguard Energy ETF Report
has 23% in XOM. This also occurs with
AT&T
and
Verizon
(VZ) - Get Verizon Communications Inc. Report
in telecom sector funds.
9 Stocks That Prove Dividends Make All the Difference
Clearly the tech sector ETFs have benefitted from the huge lift in Apple as that stock has become the largest company by market cap in the world by a wide margin. It should also be clear that a reversal of fortune for Apple will then become a drag on the performance of these funds. In the past, becoming the world's largest stock has not been a positive. It ended badly for
Cisco
(CSCO) - Get Cisco Systems, Inc. Report
,
Microsoft
(MSFT) - Get Microsoft Corporation Report
,
General Electric
(GE) - Get General Electric Company Report
and
Petrochina
(PTR) - Get PetroChina Co. Ltd. Report
although it did not seem to signify any sort of top for Exxon Mobil.
If an investor would build a portfolio of individual stocks, they would do some form of research on each stock. The examples of Apple and Exxon Mobil means that there must also be some stock research even in an all-ETF portfolio.
This contributor reads:
On Twitter, this contributor follows: