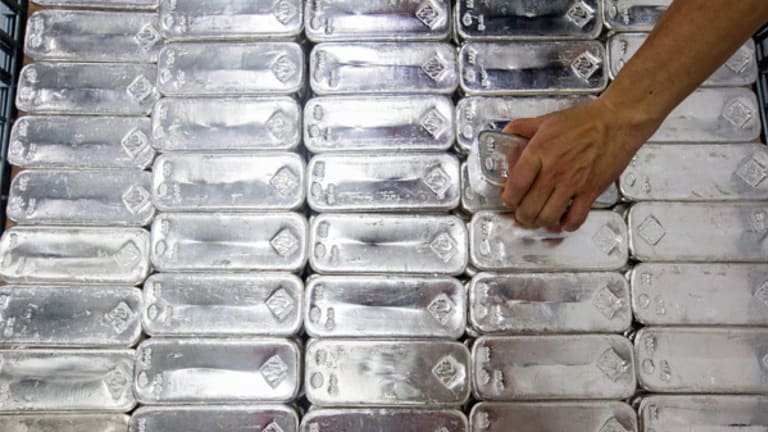 Can the Rally in Silver Continue?
Silver has soared this year, because of a multitude of factors, like the Federal Reserve, foreign buyers and more. But can it continue?
Commodities like gold and silver have surged this year, thanks to geopolitical uncertainty like "Brexit," the Federal Reserve's reluctance to raise its main interest rate and foreign buyers. But with the price of silver up nearly 40% year-to-date, investors are wondering whether it can continue. Experts say it may have more room to run, particularly as global interest rates continue to stay negative.
"I think there are several driving forces, but the rampant rise in the amount of negative interest rate sovereign debt around the world is a major factor," said Andrew Chanin, CEO of Pure Funds, of the rise in silver. "People haven't wanted to own precious metals in the past, because they don't yield anything -- well something that yields zero is better than something that has a negative yield."
An ounce of silver cost $14.32 at the beginning of 2016, fresh off an increase in the federal funds rate from the Federal Reserve in December 2015. Since then, the price of silver has risen to nearly $19.50 an ounce, according to
, which tracks gold and silver prices. This comes as the Fed has pushed back interest rate hikes and concern about the U.S. presidential election has weighed on investor sentiment around the world.
In late August, Federal Reserve Chairman Janet Yellen said the case for an increase in the federal funds rate had "strengthened," thanks to a strong jobs market, which has averaged more 200,000 jobs add over the past twelve months and an unemployment rate of 4.9%. Inflation has started to tick up as well, with the consumer price index (CPI) rising 0.2% in August, as the price of shelter and medical care rose.
Still, the Federal Open Market Committee (FOMC) chose to hold off raising rates in September, fueling more fire to the rally in silver, which Chanin believes will continue.
"Given currency devaluations, easy monetary policies and geopolitical uncertainties, we're starting to see a tug of war between those who require silver for  industrial demand and those who require it as as previous metal," Chanin said, highlighting that silver is used in things like solar energy, electronics, mirrors and the like.
The PureFunds ISE Junior Silver ETF (SILJ) has risen more than 200% year-to-date, thanks in part to the rise in the price of silver, as well as the rebound in the fundamentals on the silver miners' themselves. The companies have been able to raise capital and mine silver at profitable levels. A lot of these companies were very undervalued, Chanin added, but because of the rising price in silver, "their economic viability changed very quickly."
After Brexit, which was held on June 23, the price of silver has rose 7.3%, outpacing the gain in gold. Traditionally, the two commodities, which are closely linked, trade around a 70:1 ratio. At a current price of $1,343 an ounce for gold, silver is in lock-step with its historical patterns, but any increase in uncertainty could send silver higher, with some analysts suggesting $30 an ounce might be achievable.
DoubleLine Capital chief executive Jeffrey Gundlach has championed silver for quite some time. In his most recent market webcast, Gundlach said he sees gold going to $1,400 an ounce, and he hasn't sold any this year. If gold were to go to $1,400 an ounce, silver could see $20 an ounce, based off historical patterns.
Bruce Kamish of Real Money, TheStreet's premium site for active traders, adds that lots of technical signs point to fresh strength for gold. Click here to see six bullish gold-related charts that he's compiled.
Futures traders are certainly betting on more price appreciation for silver, which has industrial use cases as well as popularity in the jewelry market. According to the CME Group website, the Dec. 2017 contract shows traders are betting the price of silver will rise to over $20 an ounce.
Since the start of the year, iShares Silver Trust ETF (SLV) , which according to its prospectus, "seeks to reflect the performance of the price of silver before payment of its expenses and liabilities," has gained 40.5% this year.
Foreign buyers are also part of the reason silver has performed so well in 2016. Chinese buyers have been actively buying silver future contracts, due in part to continued easing monetary policy around the globe. Because of its lower cost than gold, silver has traditionally seen more speculative bets, Maike Futures Co. analyst Wang Jinyu told the Wall Street Journal in July.
The prevailing thought has been that for every ounce of gold in the ground, there were between 14 and 16 ounces of silver, but that number is more like 9 ounces, Chanin said. Between the industrial use cases, as well as jewelry, investors are left with just one-third of the viable amount of silver for investment purposes.
"I don't think people are taking into account just how rare silver truly is," Chanin said. "It wouldn't be inconceivable to see a supply shortage if there was heightened demand in that case, a ratio of twenty to one or less than twenty to one is not an impossibility."