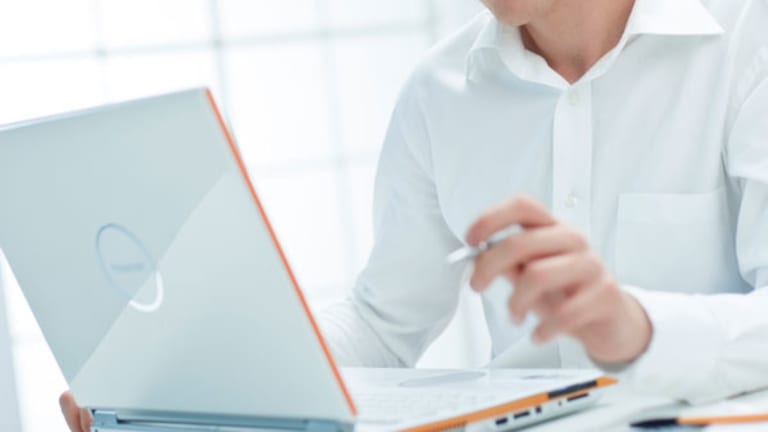 Can Online Services Replace Merrill Lynch?
Perhaps. Computerized systems are building low-cost portfolios and costing investors less.
NEW YORK ( TheStreet ) -- Some prominent Silicon Valley investors are backing a startup called Wealthfront that aims to provide cheap online money management for the masses.
Having raised $30 million in venture capital, Wealthfront is growing rapidly by offering portfolios of exchange-traded funds at rock-bottom prices. The two-year-old company manages $700 million in assets. Most clients pay 0.25% in annual fees to invest in index-tracking exchange-traded funds. In contrast, conventional financial advisers charge 1.0% or more.
Will old-fashioned advisers like Bank of America's (BAC) - Get Report Merrill Lynch have to cut their fees or risk going the way of black-and-white TVs? Probably not. Traditional advisers provide personal service, listening to problems and producing customized investments. Wealthfront does everything online. Clients answer questions about their risk tolerance and goals, and the online services provide suitable portfolios.
Wealthfront is part of a growing wave of online financial advisers. Other entrants include Betterment and Personal Capital. So far most of the online clients are young tech-savvy people. Many work for Internet employers such as Google (GOOG) - Get Report and Facebook (FB) - Get Report.
Wealthfront says 60% of its clients are under 35. "Young people like automated systems and they hate fees," says Adam Nash, CEO of Wealthfront. "They are highly cynical about active managers who say that they can beat the markets."
The new services all compete ferociously on costs. Betterment, which has $410 million in assets, charges 0.15% for clients with more than $100,000 invested. While the fees are low, the businesses are not cheap to run. All the companies compete for top computer software engineers and investment managers.
Executives concede that the companies may not be profitable until they grow substantially. "This is the kind of business that only gets exciting when you manage billions or tens of billions of dollars," says Nash of Wealthfront.

Wealthfront is associated with some big names. The chief investment officer is Burton Malkiel, a Princeton professor who advocated index funds in his groundbreaking 1973 book A Random Walk Down Wall Street. Investors in the company include Marc Andreessen, a founder of pioneering browser Netscape, and Reid Hoffman, a founder of LinkedIn (LNKD) .
Wealthfront relies on broadly diversified ETFs with low costs. For taxable investors who can tolerate some risk, the online service offers a portfolio that has 35% of assets in Vanguard Total Stock Market (VTI) - Get Report -- which charges a tiny expense ratio of 0.05% and holds 3,400 stocks -- and 20% in Vanguard FTSE Developed Markets (VEA) - Get Report. The only fixed-income holding is iShares National AMT-Free Muni Bond (MUB) - Get Report, which has an expense ratio of 0.25%.
To limit tax bills, Wealthfront uses a variety of approaches. For taxable accounts, portfolio managers emphasize municipal bonds and other holdings that don't generate substantial taxes. The managers also use a strategy known as tax-loss harvesting. If an ETF sinks, the portfolio manager can sell it and book the loss. The loss can then be used to offset taxable capital gains.
While it makes use of broad Vanguard ETFs, Betterment takes a distinctive approach that overweights low-priced value stocks. Many studies have shown that value stocks outperform over long periods. To gain an edge, the Bettterment portfolios include such ETFs as iShares S&P 500 Value (IVE) - Get Report and iShares Russell Mid-Cap Value (IWS) - Get Report.
In its most cautious portfolios, Betterment includes sizable stakes in cash and Vanguard Short-Term Inflation-Protected Securities Index (VTIP) - Get Report. More aggressive investors can have half their fixed-income allocation in foreign bonds, including Vanguard Total International Bond (BNDX) - Get Report and Vanguard Emerging Markets Government Bond (VWOB) - Get Report. "We layer on international bonds as the risk level increases," says Betterment CEO Jon Stein.
Betterment investors can use the system to devise complete investment programs. A client can enter financial goals and learn how much to set aside monthly. Then the money can be automatically pulled out of checking accounts and deposited into taxable or retirement accounts managed by Betterment. If a client's goals change, he or she can input new information and ask the system to devise a different portfolio.
At the time of publication the author had no position in any of the stocks mentioned.
This article represents the opinion of a contributor and not necessarily that of TheStreet or its editorial staff.