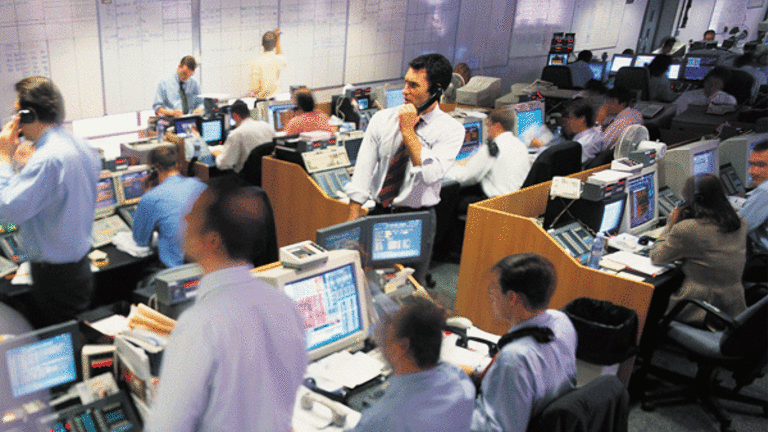 Can a Single ETF Make an Entire Portfolio?
A look at asset allocation ETFs as a one-fund portfolio solution.
NEW YORK (TheStreet) -- The Wall Street Journal recently published an article that explored the possibility of constructing an investment portfolio using only three funds: one broad-based domestic equity fund; one broad-based foreign-equity fund; and one broad-based domestic fixed-income fund. Once the funds have been purchased, the only work to do is to rebalance as needed.
A portfolio of just three funds sounds very easy to manage but not as easy as a portfolio of just one fund, and there are ETFs that own all the asset classes.
These can be a solution for investors who no longer want to make decisions about asset allocation but realize they need a positive return on their assets to keep up with or be slightly ahead of inflation.
This is where so-called asset allocation funds can play a role. These funds own both equities and fixed income. There are several of them in the market, including the
SPDR SSgA Global Allocation Fund
(GAL) - Get SPDR SSgA Global Allocation ETF Report
.
Read: Think Tech: One Way to Invest in the 'China Miracle'
GAL is a fund of 25 other SPDR funds. On the equity side, it allocates 34% to foreign equity, including emerging markets; 27% to domestic equity; and 4% to REITs. On the fixed-income side, GAL allocates 15% to domestic investment-grade debt, 7% to domestic high-yield, 5% to foreign and domestic TIPS and 3% to foreign fixed-income.
Since its debut in April, 2012 GAL has experienced relatively little volatility on its way to a 7% gain. Not surprisingly, that return falls right in between the 20% gain for the
S&P 500
and the almost 3% decline for the
iShares Core Total US Bond Market ETF
(AGG) - Get iShares Core U.S. Aggregate Bond ETF Report
. It is worth noting that during last month's Bernanke induced panic, GAL fell 7% -- more than the declines for the S&P 500 and AGG. This was because of GAL's foreign exposure.
Read: New ETFs Look to Protect Against Market Declines
The
SPDR S&P Word ex-US ETF
(GWL)
, which makes up 19% of GAL, fell more than 10% last month but has since recovered more than half of that drop.
One potential source of ongoing performance drag could be the roughly 9% allocation to Japanese equities via the 21% weighting to Japan in GWL, and GAL's 5% weighting in the
SPDR Russell Nomura Prime Japan Fund
(JPP)
. Japan obviously has many problems including a debt to GDP load greater than 200% and a relatively old population averaging 44 years not mention a stock market that is still down more than 60% from the all-time high set in 1989.
It is unlikely that GAL will ever deliver world-beating yields. The trailing 12-month yield is 2.84%. If interest rates normalize, then GAL's dividend could also go up. But if rates go up, then the bond funds in GAL should be expected to decline in price, posing another threat to performance.
There are at least two ways to use a fund like GAL. As mentioned above, one is to use it as a sole holding for the person who does not want to actively engage in watching or managing his or her portfolio but still wants to earn a positive long-term return on savings.
Read: Loans Organized Crime Might Envy
The other way to use a fund like GAL would be in a core-and-explore type of portfolio with a few other narrower holdings. The funds owned by GAL are broad-based so they don't allow for any meaningful specialized exposures. There are many smaller countries, themes and, of course, individual stocks that will never be represented in a portfolio like the one under the hood of GAL. An investor may not want to spend the time required to manage 20-30 positions, but he or she could use GAL in conjunction with much smaller positions in a couple of thematic ETFs and maybe an individual stock or two.
Asset allocation funds can be useful for getting the job done, but they will never be great performers. They are intended to be slow and steady growers over long periods of time. Success with GAL will come from remembering the long-term objective and not growing impatient with what at times will be a very slow mover.
At the time of publication, Nusbaum had no positions in securities mentioned.
This article is commentary by an independent contributor, separate from TheStreet's regular news coverage.
This contributor reads:
On Twitter, this contributor follows: